West Virginia's world-famous Mystery Hole, a roadside attraction from another era, is for sale for $495,000. For that you get a classic American tourist trap that has enchanted and befuddled travelers for decades, plus several outbuildings, including a cabin that "could easily be upgraded to year round living."
The Mystery Hole is contained in a Quonset hut on the Midland Trail, US Route 60 near Ansted, West Virginia. As RoadsideAmerica.com describes it:
A rainbow of stars, teardrops, question marks, and hypno-swirls adorn the hut's exterior, along with another emphatic "Wow!" Protruding from its side is an old VW beetle, nose buried, brake lights almost to the road shoulder, its exterior embellished with painted daisies, bird poop, a "Love" license plate, and a loosely-rendered message: "Flower Power."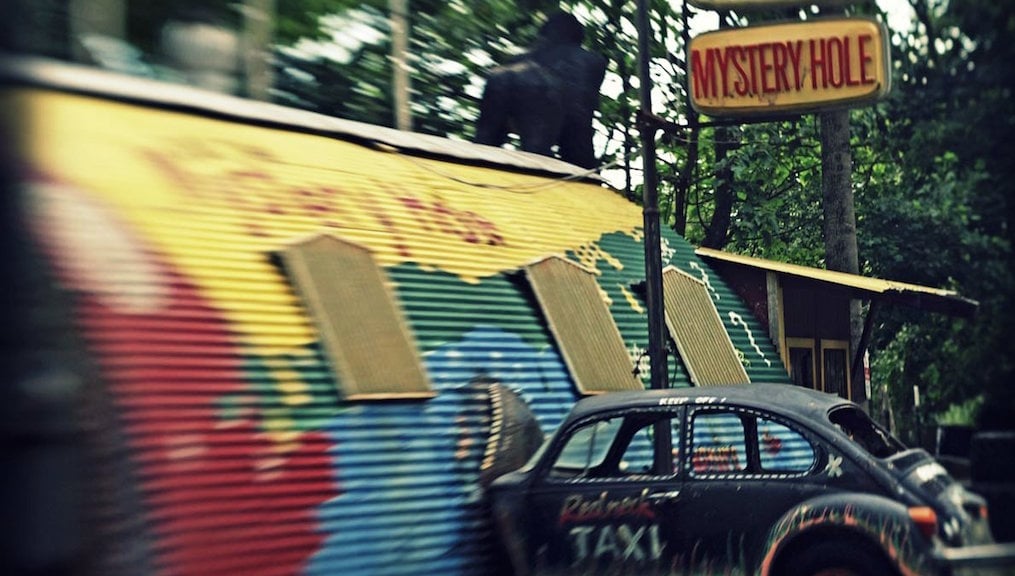 Inside the building, wonders await, though visitors are forbidden to reveal them. That hasn't stopped it from inspiring art, like a painting by David Riffle and songs by the Richmond punk band Flannel and New York weirdos Bongwater, as well as a gentle tribute by these guys:
Donald Wilson established the Mystery Hole in 1973, according to an online encyclopedia about West Virginia. After Wilson died, Sandy and Will Morrison brought it back. A phone call to the attraction was not immediately returned, but Kenneth Bryant, the agent selling the property, says the Morrisons are simply ready to "retire and go south." River rafting may soon come to the section of the New River near the property, which Bryant says could be a boon for the business.
But whether that happens or not, the spot's place in American history is already secrure. "I've been out of state and tell people I'm from southern West Virginia, and I've had a couple people ask if I've been to the Mystery Hole," says Bryant.