Dupont Circle will be home to a new live entertainment venue and sports bar this month with the opening of Buckeye + Bear. The 280-person bar from owners Ryan Seelbach and Eric Lund replaces their high-end nightclub concept, the Huxley—a transition that Seelbach says is a natural progression for the duo, spurred by the recent debut of their Shaw beer garden and restaurant, Takoda.
"Since the Huxley opened in 2012, our personal tastes have changed," says Seelbach. "We're more interested in creating warm, inviting venues as opposed to an exclusive nightclub."
Instead of velvet ropes, the new venture is inspired by trips to laid-back spots in Nashville and Austin, where customers might come for happy hour beers, no-frills barbecue, or to catch live music on the weekends. Two separate spaces, both entirely remodeled, will accommodate the range of activities. Live entertainment is scheduled for The Ballroom, where a stage will be set for Tuesday night comedy, live band karaoke on Friday, and both local and regional musicians for performances, offered multiple days a week. Live tunes range from Latin band night with Trio Caliente on Wednesdays to country music on Thursdays, and a variety of genres—think rock or 80's cover bands—on the weekends. Seelbach says certain shows will be ticketed in advance, while others may be accompanied by a small door fee; there's no cover charge planned for days and times without live shows, including DJ sets on weekends after the bands wrap up.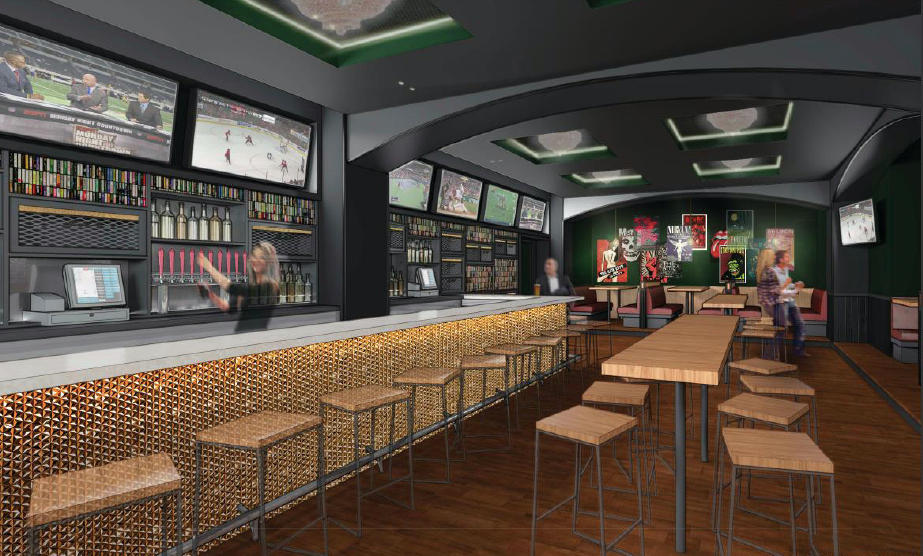 The adjoining Green Room is the place where sports fans can catch games, and the bar will eventually open early on Saturday and Sunday afternoons during football season. As the name suggests, Ohio State and the Cleveland Browns will have priority alongside Washington's home teams; Seelbach is a Cleveland native, and previously worked as a player contract manager for the Browns, while Lund is from Alaska (hence the bear reference). No-fuss brews like PBR drafts will be available alongside a Southern-leaning barbecue menu of pulled pork sandwiches and brisket nachos, plus a few local nods (DC Brau, half-smoke sausages). A number of the food and drink items offered for half-price during an extensive happy hour, which runs Sunday through Friday, from 5 to 8.
Though the concert lineup has yet to be released, expect a band to accompany the opening night on June 18.
Buckeye + Bear. 1730 M Street, Northwest; 202-670-1730. Open Tuesday and Wednesday, 5 pm to midnight; Thursday, 5 pm to 2 am; Saturday and Sunday, 5 pm to 3 am; Sunday, 5 to 10 pm (kitchen closes daily at 10 pm).