Jessica Sidman will join Washingtonian as a food editor. In an email to staff Thursday, Washingtonian Editor Michael Schaffer called Sidman, who is currently food editor at Washington City Paper, "a great champion of DC's restaurant scene and a colorful reporter about the people behind it." Here at Washingtonian, she'll "cover the business and culture of dining, writing in the monthly Taste section and at a faster clip on the website," Schaffer writes. "She'll contribute attention-snagging feature stories to the magazine and work with Ann Limpert and Anna Spiegel on our food packages."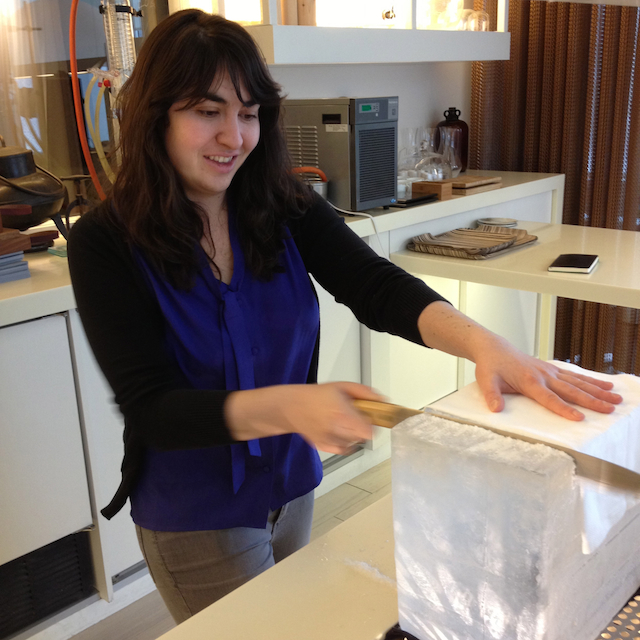 The memo also notes Limpert's new role as Washingtonian's lead food critic; she'll also continue to helm the Taste section and organize cover packages about food. Longtime critic Todd Kliman, who announced his departure in March, will be a contributing editor. Sidman will work alongside fellow food editor Anna Spiegel to keep Washingtonian's eats coverage popping digitally and in print.
"I first worked with Jessica back in 2009, when she was an intern here," Limpert says. "She immediately stood out because she jumped at the chance to do something few others were up for: ambush-interview diners on their way out of a just-opened restaurant. That same fearlessness, tenacity, and hunger to get the story have, in the years since, marked her as one of the city's very top dining reporters."
Sidman says she moved to Washington to take that Washingtonian internship in early 2009, where one of her first assignments involved fact-checking the annual 100 Very Best Restaurants issue. "I don't think I would be writing about food today if it wasn't for that internship," she says. "Ann and Todd gave me a lot of opportunities." Sidman remembers well the restaurant-patron interviews Limpert mentions. "I sat outside in the cold, rain, and snow many nights asking people about eating at fancy restaurants," she says. 
This is the second time Schaffer has hired Sidman: He brought her on to City Paper in 2012, when he edited that publication. She decided there to not pursue anonymity, a departure from the way food writers often used to conduct their roles. Sidman worked more as a reporter than a critic at City Paper, filing stories about some of the investors behind DC's restaurant boom, how DC restaurant staff profile diners, industry personnel's surprising preference for Natty Boh and Old Overholt, and sex in restaurant restrooms. She made quite a splash with her investigation of a salmonella outbreak at Fig & Olive, which also turned up the fact that the chain prepared a lot of food at a central commissary in New York and that its truffle olive oil aioli was made with Hellman's mayonnaise.
"While at City Paper, she consistently turned out stories that both went below the surface of food-scene hype and got people talking (a few months ago, I overheard Ari Shapiro talking about her Fig & Olive scoops when we were seated near each other at Maketto)," Limpert says. "We're absolutely thrilled she's coming (back) on board."
"It's a homecoming in a lot of ways," Sidman says. She will start July 19. Here's Schaffer's memo:
Colleagues-

I wanted to let you know that Jessica Sidman is going to join the magazine next month as a food editor.

This is great news for us–and, for Jessica, it completes a circle: She began writing about food in our region while she worked as an intern at Washingtonian in 2009. Since then, she's done a stint writing the very well-regarded food newsletter for Bisnow and serving as the Young & Hungry columnist at City Paper.

And during all of those various jobs, she's become known as a great champion of DC's restaurant scene and a colorful reporter about the people behind it. At Washingtonian, she'll cover the business and culture of dining, writing in the monthly Taste section and at a faster clip on the website. She'll contribute attention-snagging feature stories to the magazine and work with Ann Limpert and Anna Spiegel on our food packages.

This hire happens as we make some changes to the our dining coverage. As many of you know, Ann is stepping up as our lead food critic while continuing to edit the monthly Taste section and our dining cover packages. In the last couple of months, we've also rolled out a number of new recurring Taste features that I hope will make our food and drink journalism even more fun, useful, and vital. As we do, you'll be hearing a lot more from Anna Spiegel, as well as seeing her and Jess' editing handiwork on display.

I think a lot of people know it's an exciting time in Washington's restaurant scene. I'm excited about the folks we have writing about that scene, too. Please join me in welcoming Jess back home to Washingtonian.

mike