More than half of DC-area residents between the ages of 18 and 34 have used Uber or Lyft to get around town, according to a survey of regional transportation habits. The study, by Crofton, Maryland-based WBA Research, finds that 57 percent of people in that age bracket have used the popular ride-hailing companies since they launched, and that many older adults are using them in droves as well.
Thirty-five percent people between the ages of 35 and 54 years old have used one or both of the apps, while 21 percent of people over 55 have used them. Overall, the report states that 37 percent of Washington-area adults have used either Uber or Lyft at least once, though many are using it far more often.
WBA Research's study also shows ride-hailing apps continue to replace more traditional forms of transportation. Asked what they would use if ride-hailing apps were not available, 44 percent of the survey's respondents said they would use taxis, 22 percent said they would drive themselves, and 21 percent said they would use public transportation.
To be sure, WBA Research used a small sample size—just 401 people split almost evenly between phone conversations and online survey—but the results do seem to confirm the increasing ubiquity of these so-called transportation-network companies, especially among millennials. Though Uber is a clear favorite. Among respondents between 18 and 34 years old, 88 percent said they were at least somewhat or very familiar with Uber, compared to 69 percent. The familiarity gap is especially stark among older consumers—56 percent are at least somewhat aware of Uber, but only 18 percent said they have heard of Lyft.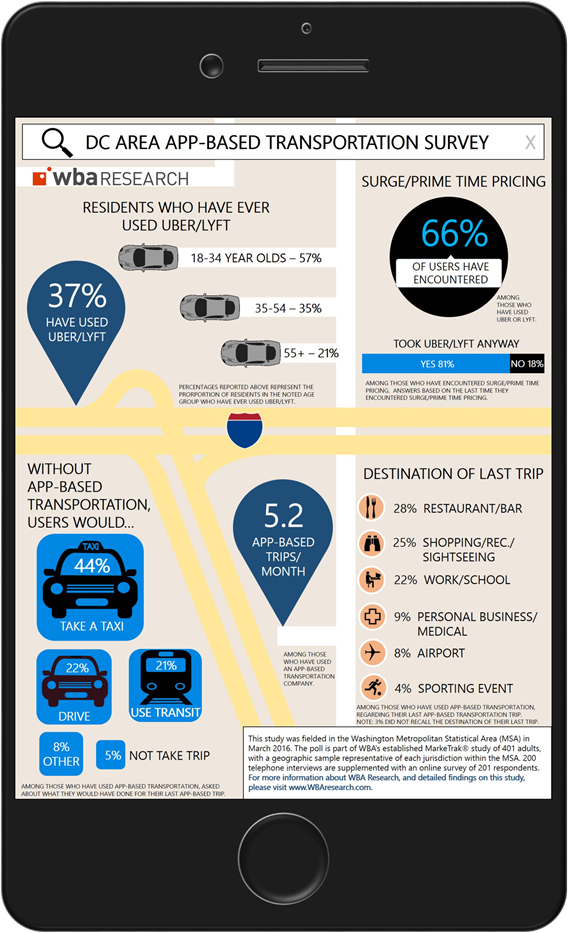 The survey also reinforces how Uber is remaking notions of personal transportation around the Washington area, but especially inside the District. Only about one-quarter of Virginia and Maryland residents who responded to the survey said they never used either Uber or Lyft. Compare that with the 57 percent of DC residents say they use it at least once a month, with three-tenths using it at least six times a month, and 16 percent using it 11 times or more per month. Overall, District residents who rely on ride-hailing software use the apps an average of 7.7 times per month.
Ride-hailing apps are also pulling close to public transportation as a preferred mode among younger consumers. Of 18-to-34-year-old respondents, 48 percent said they used an app in the previous month, 55 percent said they used public transit, while 34 percent said they have used both.
Those figures may spike for the next nine months as Metro's SafeTrack rebuilding program shuts down segments of its rail network for weeks at a time. Uber has been responding to SafeTrack aggressively, expanding the reach of its shared-ride Uber Pool service, and offering fares even lower than its standard rates, which are well below taxi fares. Of course, there is no holiday from Uber and Lyft's sometimes-notorious premium pricing when demand peaks: 66 percent of users told WBA Research they have been hit with Uber's surge pricing and Lyft's "Prime Time" fares, with 81 percent of that group accepting the higher charges.