Yes, this St. Michaels crabhouse packs in the tourists, thanks to its central location abutting the Chesapeake Bay Maritime Museum, waterside tables, and half-century history. And yes, we've sampled sweeter steamed crabs. Still, the brick-red eatery isn't without its draws—a prime harbor view from the second-floor dining room, crisp-edged crabcakes and crab balls with sweet-pickle-heavy rémoulade, and towering wedges of Smith Island Cake for dessert. 304 Burns St., St. Michaels; 410-745-2900. Open March through November.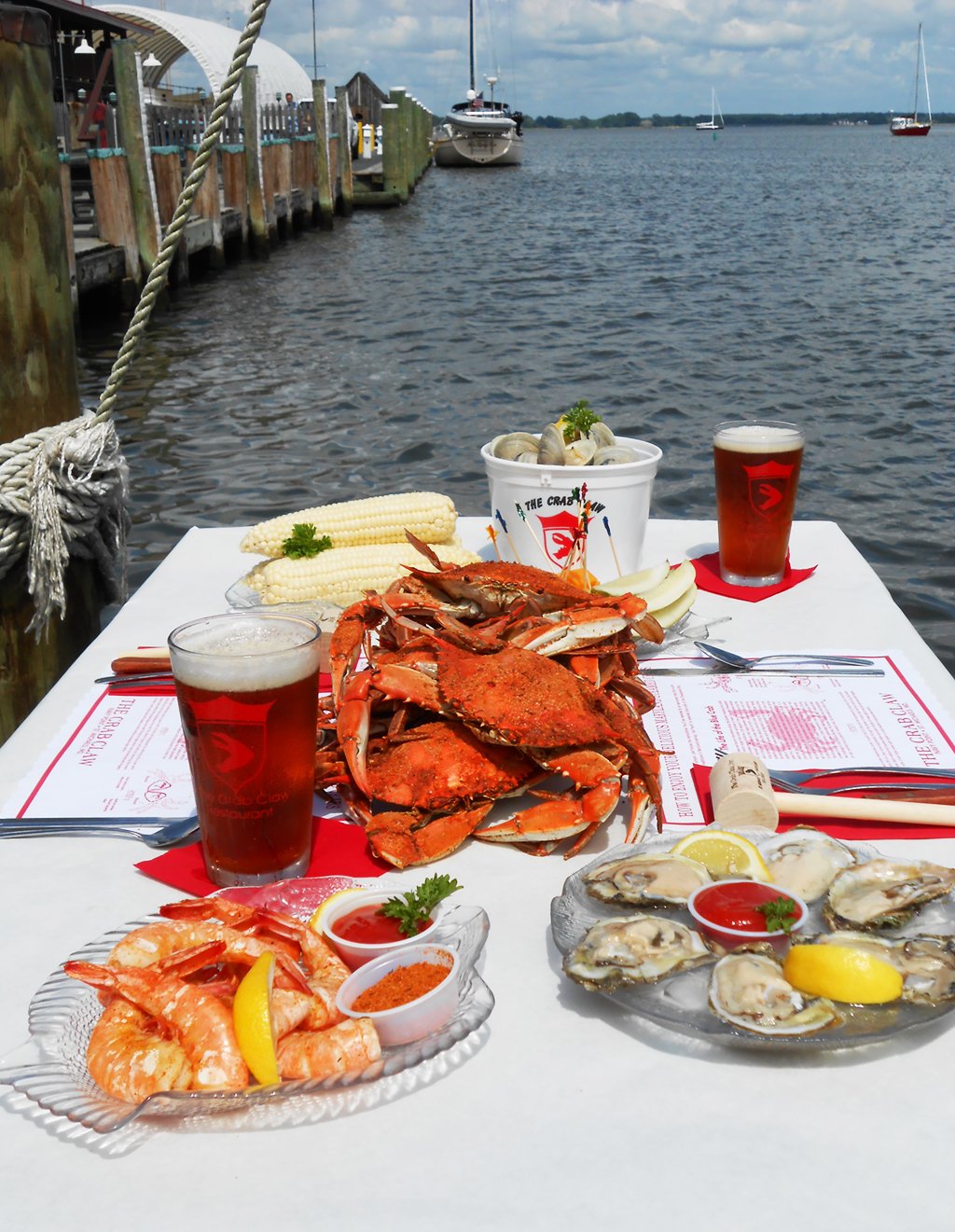 Just ten minutes from the Bay Bridge, this old-timey crabhouse makes a good pit stop en route to the beach—and a fine destination in itself. The eatery is enormous, as is the menu. Snag a table on the balcony overlooking Kent Narrows, forgo new dishes like lobster grilled cheese, and stick to what the place knows best: imperial stuffed soft-shells, all-you-can-eat steamed crabs (Monday through Friday), or the lightly fried seafood combo platter. 433 Kent Narrows Way N., Grasonville; 410-827-9500. Open year-round.
Two things to remember at this 42-year-old favorite: corn and crabs. The corn on the cob, steamed in its husk, is local and wonderfully sweet and juicy. The crabs (from the Chesapeake when possible, other times from Louisiana or Texas) are usually full of flavor and can be bashed on an open-air table overlooking breezy Mill Creek. Tax the kitchen with more creative dishes (bacon-wrapped scallops with plum sauce, say) and you risk disappointment. Waits tend to be long, so hang out with a canned beer in the parking lot—or do as the locals do and pull up in your boat. 458 Forest Beach Rd., Annapolis; 410-757-1311. Open year-round.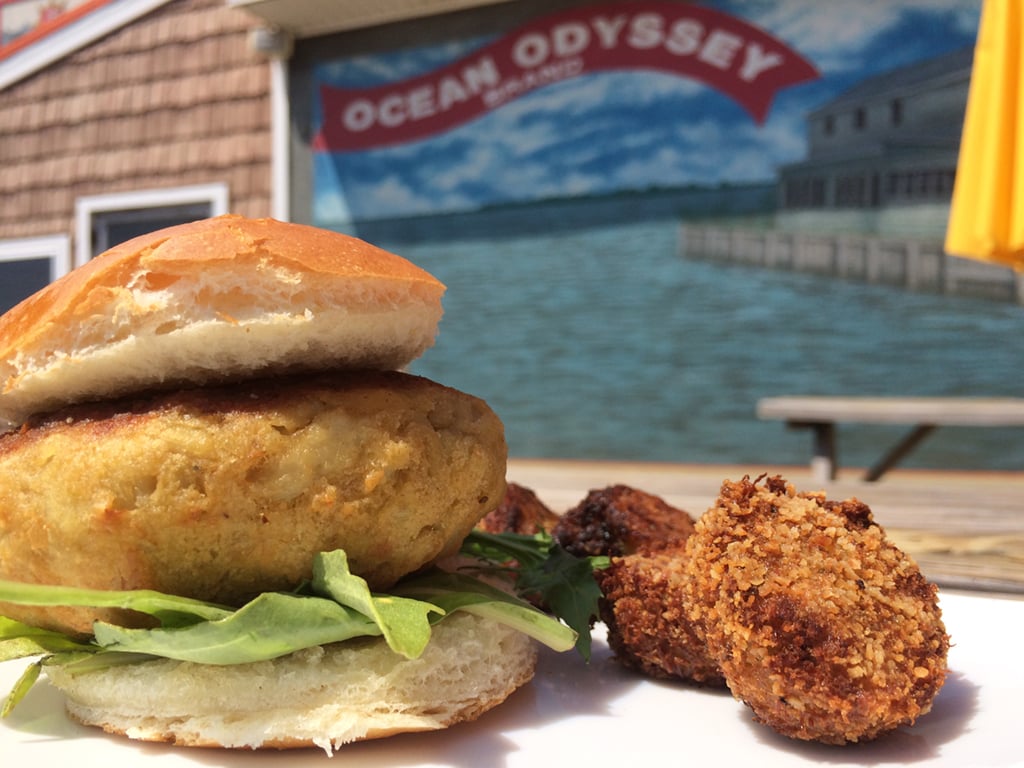 Come for the gorgeous water views—especially at sunset—at this crabhouse that features a spacious deck along the Tred Avon River and $3 margaritas. We like to round out our order with a bread bowl of creamy crab dip to start and a plate of pickles and cheese for snacking while picking. 104 W. Pier St., Oxford; 410-226-5171. Open April through October.
Watch the boats pull in at this 58-year-old South River institution, a short drive from downtown Annapolis. Crowds on the river-side deck whack away at nicely steamed and spiced hard-shells, in a full spectrum of sizes during the summer peak. The menu runs large and crabhouse-classic, with many steamed, broiled, and fried specialties from the bay and beyond. Don't miss the soft-shell clams with melted butter for dunking, fried oysters in season, or bacon-capped clams casino anytime. 3030 Riva Rd., Riva; 410-956-2784. Open year-round.
The picnic tables outside don't have much of a view (just cars whizzing by on Route 50), but it won't matter if you're in the mood for a tasting menu's worth of crab dishes. Consult the chalkboard for sizes and pricing on the hard-shells (often caught right there in Cambridge) or go for a meaty, light-on-filler crabcake. Don't ignore a trio of indulgent starters—gloriously gooey crab dip, fried crab nuggets, and crab-flecked tater tots with pink Marie Rose sauce. To go with it all are Maryland and Virginia brews. 316 Sunburst Hwy., Cambridge; 410-228-8633. Open April through November.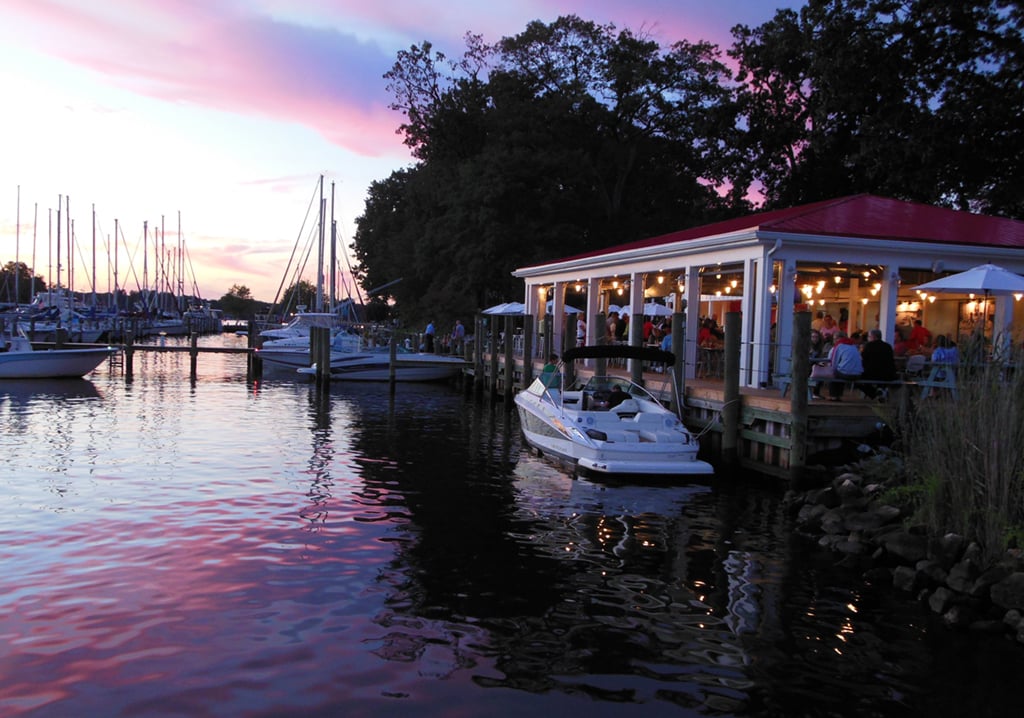 It takes a little work to find this glass-walled hangout—wind your way through a subdivision until you hit the marina, then walk toward the docks—but boy, is it worth it. These hard-shells were the sweetest we tasted. (Even the mediums were satisfying.) Salads are bountiful and fresh, the delicious crab dip is spiked with a good dose of sherry, juicy wings are perked up with Old Bay, and often standard-issue sides like mayo-bound slaw get unusual twists such as a shower of blue cheese. One caveat: The bar fills early; on many weekends, you can expect a Rose's Luxury–level wait. 700 Mill Creek Rd., Arnold; 410-544-5448. Open year-round.
If tasty fried chicken, barbecue, and steamed crabs sound like a perfect combination, head to this atmospheric eatery in a former chicken house on the Delmarva Peninsula. The menu panders to big appetites, with four all-you-can-eat options, loaded steam pots, and the ironically named "just enough" meal (fried shrimp and chicken, clam strips, fries, hushpuppies, corn, and a choice of steamed crab or shrimp). Take a break over craft beers—the owners are also behind Salisbury's Evolution Craft Brewing Co. 2670 Clara Rd., Whitehaven; 410-546-5443. Open April through October.
When the local crabs aren't biting, Schooner's isn't steaming. It's a sign of the quality of this gem in sleepy Oxford, though there's plenty to tempt from the menu anytime. Zesty house-made Maryland crab soup and fat peel-and-eat shrimp are delicious ways to start, the latter steamed Chesapeake-style with plenty of spice and onions. The no-frills crabcake is also no-filler. Save room for cones at the Scottish Highland Creamery next door. 314 Tilghman St., Oxford; 410-226-0160. Open April through September.
You'll have plenty of opportunities for water views, rain or shine, at this popular eatery adjoining the St. Michaels Marina and boasting a 75-seat dining room that overlooks the harbor plus an outdoor bar and crab deck for 100. We'd suggest focusing on the classic fin fare from chef/owner Eric Rosen, whether sweet steamed clams or local crabs, a lush imperial (both crab and crab-stuffed oyster), or golden rockfish bites. 305 Mulberry St., St. Michaels; 410-745-3737. Open April through mid-December.
Along with steamed Eastern Shore corn and creamy coleslaw, hushpuppies are a Maryland crabhouse staple. Perhaps no place does them so well as this northern-bay dining room, strung with netting and glass buoys. It's hard not to fill up on the deep-fried orbs of soft cornbread, especially when they've been dunked in honey butter. Still, if you make it to the main event, hard-shell crabs steamed in the kitchen's own spice blend are worth it. Less work and just as tasty: deftly fried soft-shells and bountiful crabcakes (both better than the bland crab imperial and crab au gratin). 29 S. Main St., North East; 410-287-3541. Open year-round.
Want a taste of the Chesapeake beyond crabs? Find other good eateries at washingtonian.com/bayfood.