If at some point during your daily commute this week you happen to see a backpacker walking along the side of the road with a large, even-toed ungulate beside him, and for some reason you feel like you have to call the police, do Steve Wescott a favor: Describe that animal accurately. "[The police] get phone calls like 'There's a guy walking along the road with a deer! There's a crazy guy with a camel!'" says Wescott. "For some reason no one ever calls it a goat."
Wescott's 120-lb companion, Miles, is probably an Alpine goat, a breed also known as the French Alpine with roots in ancient Persia that at some point emigrated to the French Alps. Wescott found him on Craigslist in North Carolina after his previous companion goat,  LeeRoy Brown, passed away of a stomach ailment late last year. Wescott has spent the past four years trekking across the country in order to raise money for an orphanage in Nairobi, Kenya; he required another goat immediately.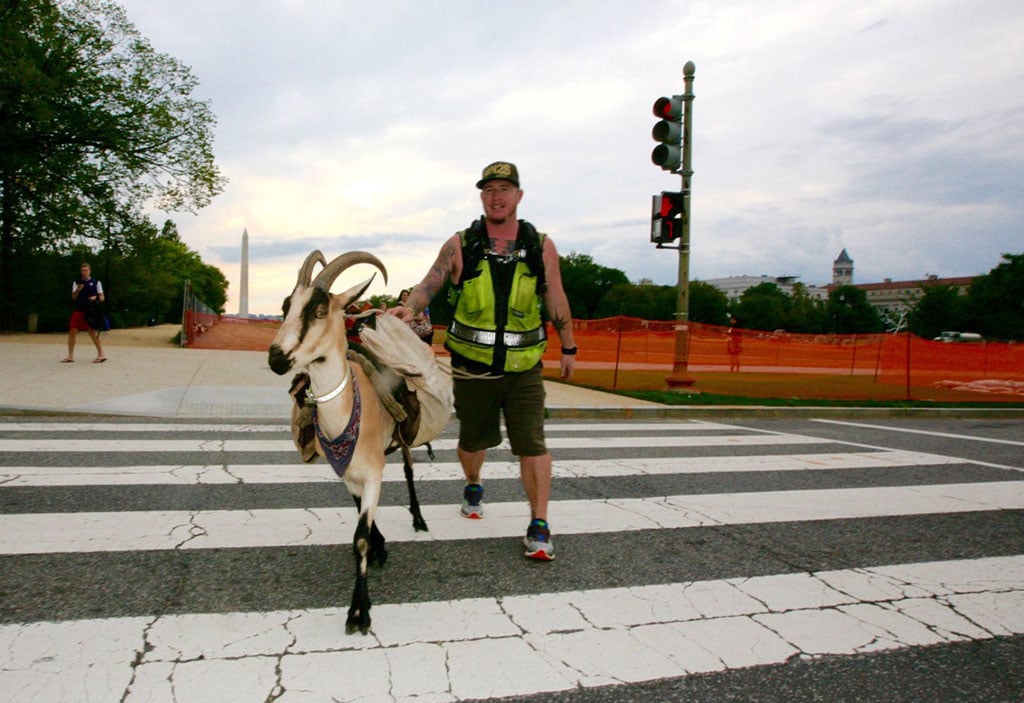 Originally the former musician considered a dog. Then he stumbled upon New Moon Farm Goat Rescue and Sanctuary in Arlington, Washington, where he met LeeRoy Brown.
"I met this goat and he was amazing," says Wescott, "I thought, okay this is it. I'm taking this goat to Times Square."
Why not a pack horse or a llama? Wescott preferred a smaller animal–one he at least outweighed–to venture off alone into the wilderness with. "If I had to do a fight between me and a llama or a horse, or a donkey, I figured I'd lose. So I wanted an animal that I could maybe alpha dog if I needed to. And goats fit in cars."
Wescott's journey began on May 2, 2012. He felt called to the open road when his best friend, Stephen Turner, began working on an adult rehab center in Nairobi. The project eventually grew into Uzima Outreach, expanding to include an orphanage. Wescott would be the one responsible for outreach, education, and funding here in the States by journeying, on foot, from the Space Needle in Seattle to Times Square in New York. Turner would be on the ground in Nairobi. They called their mission Needle2Square.
By the time LeeRoy and Wescott made it to Portland, Wescott realized he would have to trim down on supplies and find a better way to carry them. A friendly camp store supplier helped him purge his own gear, and Wescott also acquired a specialty pack for LeeRoy (often mistaken as a saddle), so he could bear some of the load. "I realized, I am going to break down physically. And so is my goat," says Wescott. LeeRoy, and now Miles, are usually packing about 12 pounds; Wescott carries closer to 25. One of the reasons he's brought a goat is to carry extra water through drier climates, areas in which the goats are able to pull additional water from the plants they eat, but Wescott might go parched.
"If you want your goat to go far and fast, you can't put a lot of weight on them," says Wescott, "So who do you thinks carrying all this weight? I'm the dang goat's pack animal. That's the reality. It's like role reversal: I'm his sidekick. And that's the truth. Nobody knows my name. Everybody knows Miles' name…Miles has fans. I have critics."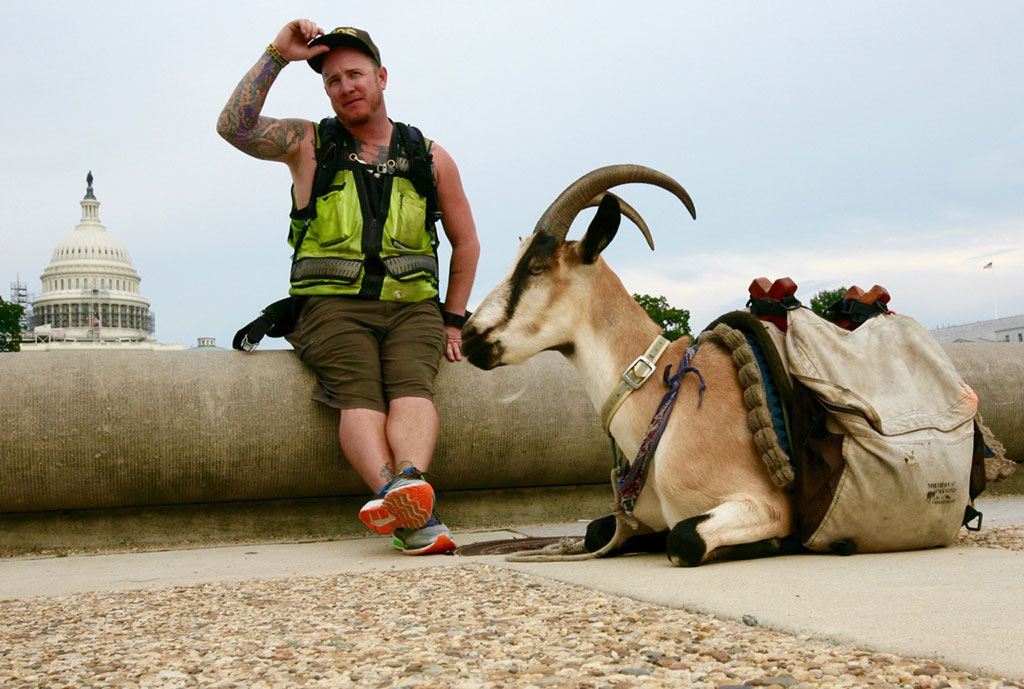 They've walked roughly 3,600 miles now, through Washington, Oregon, Idaho, Utah, Colorado, Kansas, Missouri, Illinois, Indiana, Kentucky, Ohio, West Virginia, Pennsylvania, Maryland, and now, Washington, DC. The pair stops at night, staying at a home they've found through social media. They also stop during winter, when there isn't enough for the goats to forage. Miles, with his elegant curled horns and motley brown coat (the coat coloring is technically Chamoise), has followed Wescott some hundreds of miles up from North Carolina. Last month the pair wandered through Frederick and down Route 40 to 355. They spent the past two weeks in DC, as Wescott was under the weather, but then kicked off their journey again Monday with a round of sightseeing: the Jefferson Memorial, the National Mall, and the Washington Monument. By next Wednesday, they hope to have made the journey up Route 1 to Baltimore.
The sightseeing, was, in part, a celebration: Uzima Outreach just hit $100,000 in fundraising, which, among other things, will allow the institution to purchase two acres in Nairobi and build both a fence and a well for the orphanage. The fundraising will continue until Wescott and Miles finally trod into Times Square. After that, Wescott plans to travel to Kenya as soon as possible. Miles will stay on a farm owned by someone in Wescott's network until he returns–"He's my guy," says Wescott.
Wescott says it's been easier to walk with a goat on the East Coast, where people are less likely to approach him just to talk, and more likely to snap a quick picture and be on their way. That's just fine with Wescott and Miles: less talking means more walking. "[Miles] doesn't talk, but he starts more conversations than anybody I know," says Wescott. "Sometimes people react with sympathy like, "Oh my God, that guy has lost it all– he's homeless and all he has is his goat and a backpack."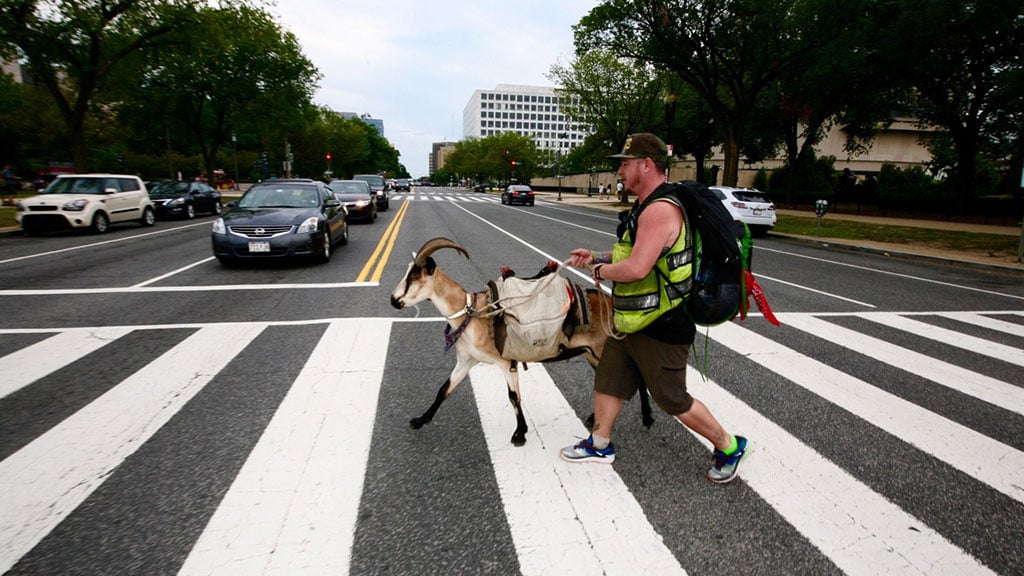 Wescott has also had to make the transition from walking with LeeRoy Brown to walking with Miles, who he characterizes as a bit more of a diva.
"LeeRoy Brown was like an old soul: a tough, bad-to-the-bone goat. If anybody came close to the herd, he'd give him the horn. He was like the Morgan Freeman of goats. [Miles] is like the Miley Cyrus. He's a diva," says Wescott.
"He only wants Evian water, only eats organic. He's a sucker for the camera…it's a totally unique experience comparatively. LeeRoy never said no, he would always go the mile. We would be limping–both of us– limping into a town in the middle of nowhere. But this goat, like the second things get rough, he's done."
Still, Wescott insists, "I think everybody should get a goat over a dog, I'll tell you that right now."