This Memorial Day, Oklahoma Joe's opened in a shiny new town center in Dunn Loring. Maybe that news had you shrugging your shoulders. But if you're a barbecue fanatic—or a Kansas native—it likely had you grabbing your car keys and gunning the gas toward the Vienna neighborhood.
In the canon of Midwestern barbecue, few places are as hallowed as the Kansas City institution Oklahoma Joe's. Two years ago, President Obama ordered 30 racks of to-go ribs for his trip home on Air Force One. The thing is, this Oklahoma Joe's isn't quite that Oklahoma Joe's.
A little backstory: Started in the mid-'90s by two barbecue-competition nuts—Jeff and Joy Stehney—and their friend Joe Davidson, who ran a smoker company, the restaurants (one in Oklahoma, more in Kansas) quickly turned into meccas on the national barbecue trail. But Davidson and the Stehneys soon split up, with Davidson retaining rights to the name and the couple keeping the original restaurants (now called Joe's Kansas City Bar-B-Que). This year, Davidson started his expansion of the brand; he'll open a location in Orlando, too.
The Northern Virginia results, at least in the early days, are mixed. You won't smell any whiffs of smoke before you walk into the soaring, exposed-beam space, which is next to a Metro commuter parking lot. But you will see some promising touches, such as rolls of paper towels on the tables and framed black-and-white photos of Davidson in barbecue competitions. The chalkboard menu offers meats in sandwiches and platters as well as by the pound. But you'll also find newfangled creations including a riff on Chinese chicken salad made with pulled pork ($10.99) and a hulking baked potato ($9.99) loaded with sour cream, cheese, and chopped brisket.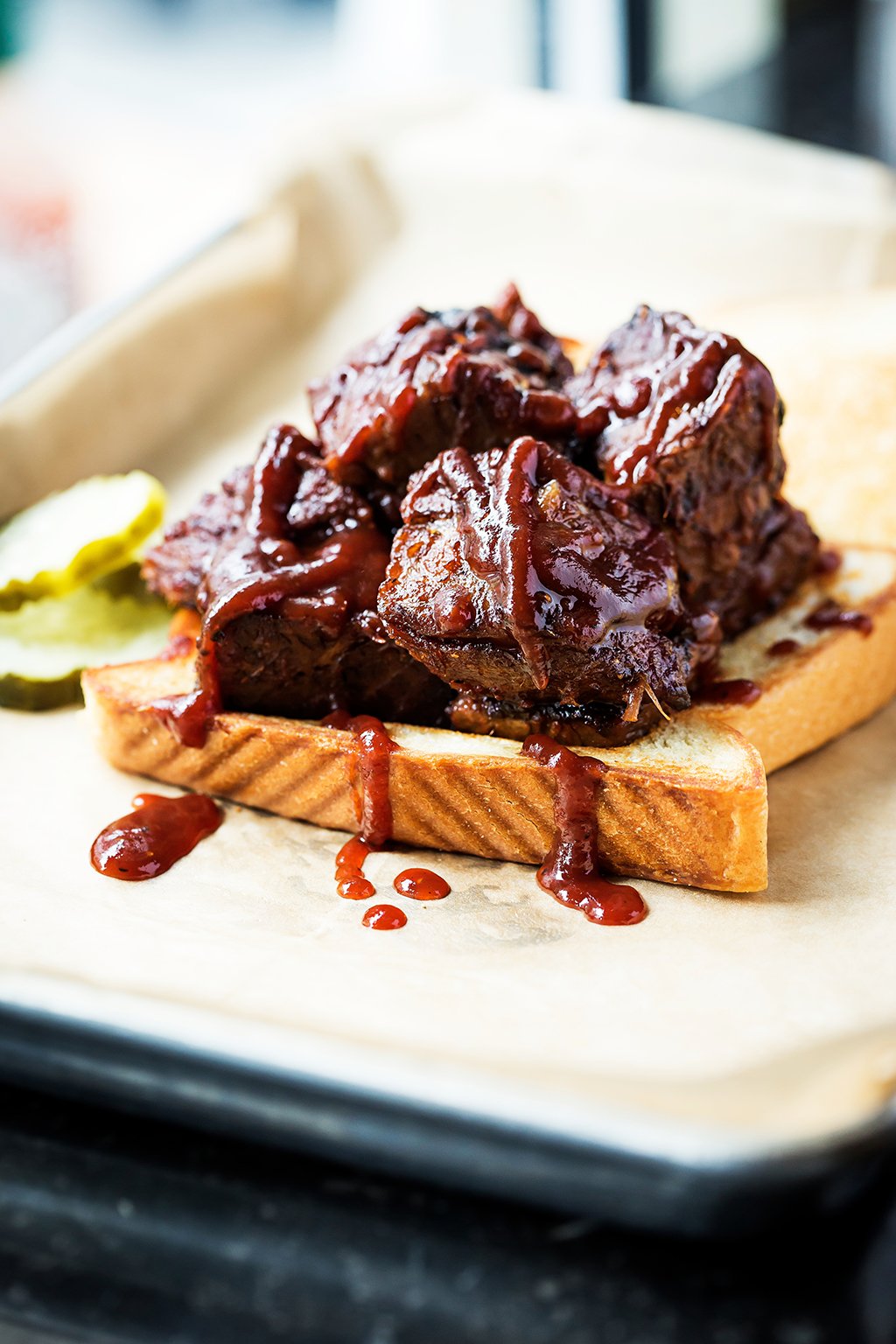 Your smartest move is to lean traditional. The meat on a rack of ribs ($25.99) was so succulent it hardly needed any of the otherwise terrific crimson sauce. Smoked turkey ($9.99 in a sandwich, $15.99 a pound) was tender and full of savor without turning dry. But the star of the menu was the burnt ends ($9.99 in a sandwich, $17.99 a pound)—nubs of charred, bark-encrusted brisket doused in more of that thick red sauce. They're even better piled onto a puffy, heavily buttered, lightly toasted bun.
But not all meats are so winning. Faintly smoky pulled pork ($9.99 in a sandwich, $12.99 a pound) needed a serious hit of vinegary Carolina-style sauce, and slices of brisket ($9.99 in a sandwich, $15.99 a pound) emerged flabby, chewy, and gray. No amount of sauce could save those.
When it comes to sides, I remember the onion rings at the Kansas City location as the best I've ever had; here, the thick-cut rounds ($2.29) are merely good. A tiny cup of slightly spicy coleslaw ($2.29) was decent, but mac and cheese ($2.29) was bland and a tad plasticky. Best bets: the crispy, zestily spiced fries ($2.29) and the triangles of fluffy Texas toast that accompany the meats. If you stick around for dessert, skip the stiff, plastic-wrapped chocolate-chip cookies ($1.29) and go for the nicely creamy, not too cloying banana pudding ($1.99).
If you order right, you can have a pretty fine barbecue dinner at Oklahoma Joe's version 2.0. But if you're thinking you'll be mentally airlifted to KC, it's time to adjust your expectations.
Oklahoma Joe's. 2670 Avenir Pl., Vienna; 703-573-2370. Open daily for lunch and dinner.