DC's brunch scene has many things to offer, but all-male burlesque isn't one of them—at least until September. Sax, the gilded downtown cabaret owned by the group behind Lost Society, plans to spice up Sunday afternoons with a cast of minimally-clad male pole performers, aerialists, and dancers, all to the tune of bottomless mimosas.
Local choreographer Derek Brown (not to be confused with local bartender, Derek Brown) saw a gap in DC's female-friendly entertainment lineup—at least when it comes to the Magic Mike variety.
"You can find countless places to go see women do everything," says Brown, the live entertainment director for Sax. "There's nowhere for you to go see a male show where women can cut loose, feel empowered, feel sexual, and be in a safe environment."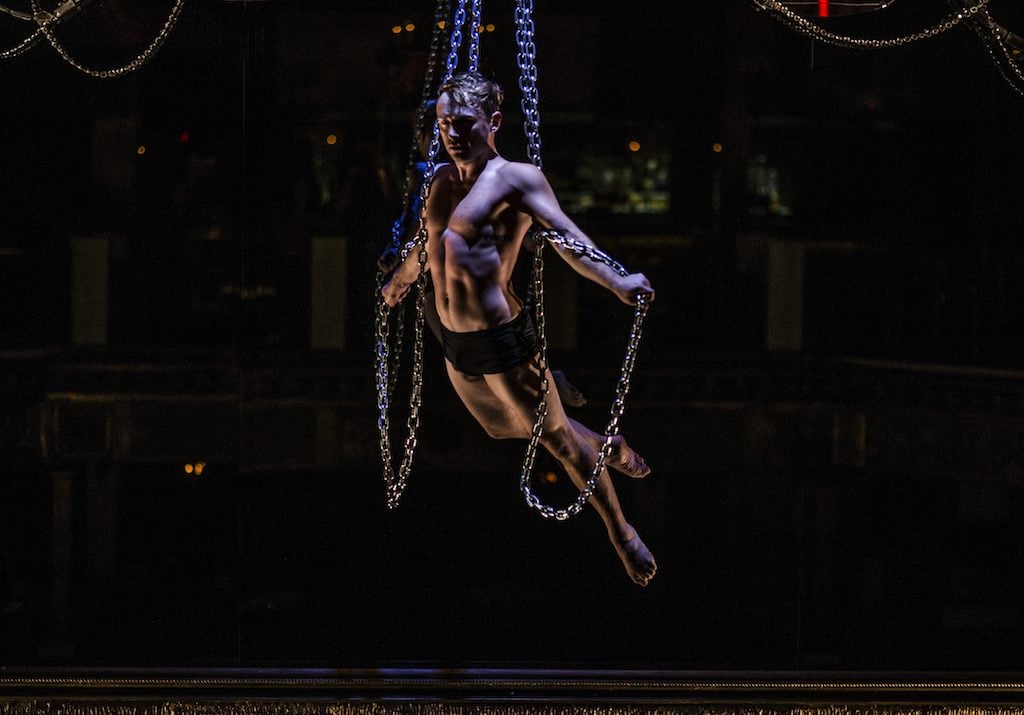 Brown is quick is to note that burlesque brunch isn't just for women. "Anyone who appreciates the male physique and male entertainment" is welcome for the two-and-a-half hour shows, which are fully staged with dance acts, costume changes (and un-changes), and acrobatics from the aerialists, who twirl from the ceiling on silk strands and/or chains. There's a policy against nudity and audience participation—so no, a Channing Tatum lookalike will not dance on your face a la Magic Mike XXL (yep, seen it). That said, "table studs" guide guests to their seats, and help them settle in for bottomless mimosas—traditional or pomegranate—and snacks like charcuterie and cheese plates, which are included in the ticket price ($50 to $65). The goal is to create a vibe where moms, or even forward-thinking grandmas, could attend.
Brown says it was fairly difficult to put an eye-catching and coordinated all-male cast together; Men with cheese-grater abs who can also do the splits aren't easy to find. Still, mission accomplished. The group has been training for nearly two months for their debut. The troupe includes 17 men—many of whom are dancers and/or body builders—ranging in age, race, and nationality.
"I wanted it to be universal," says Brown. "It's like a box of chocolates."
The Sunday burlesque brunch starts September 11, and tickets are available via the event website.