The highly-anticipated Shaw ramen shop from the team behind Daikaya and Bantam King is almost here. Haikan will open its doors for dinner on Saturday evening in the Atlantic Plumbing building (hence the name, which translates to "pipework"). The 59-seat restaurant is the biggest venture yet for partners Daisuke Utagawa, Yama Jewayni, and executive chef Katsuya Fukushima, with an additional 40-person patio for winding down the summer over sparkling sochu sangria. Here's what you need to know before you go.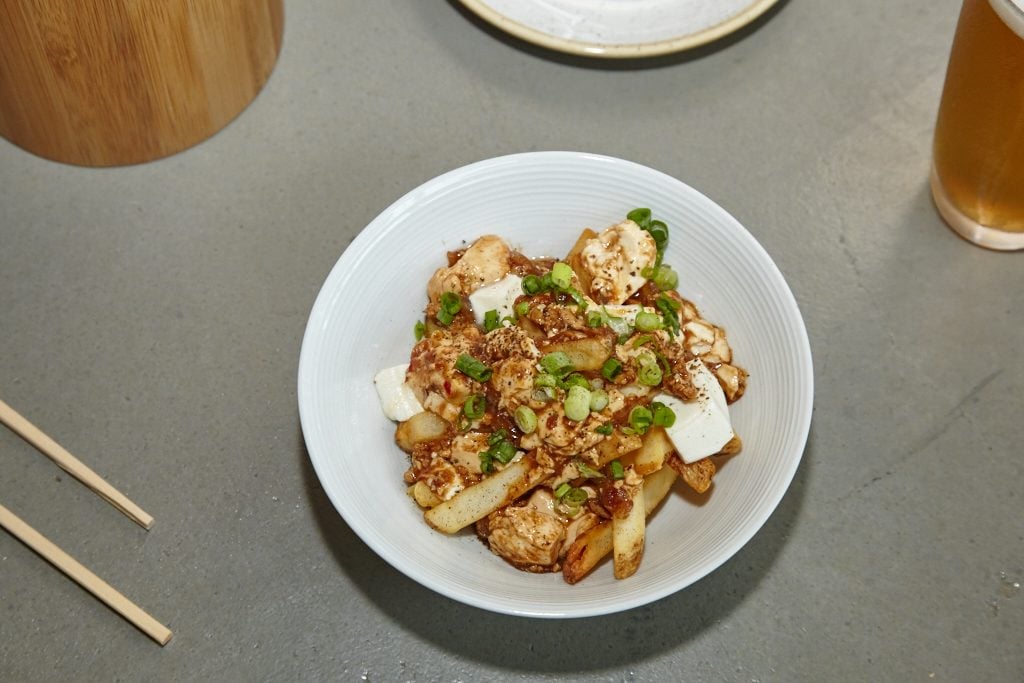 There's more than ramen on the menu.
While Daikaya diners have to pick between the ramen shop and izakaya for small plates, the best of both worlds come together at Haikan. You can tell Fukushima is having fun when it comes to the snacks, especially the ma po tofu poutine—a Canadian-Szechuan mashup of crispy fries, mozzarella curds, soft tofu, and mouth-tingling chilies. Other items include a spiffed-up crab Rangoon, and a "pea-sar" salad of edamame, snow peas, Caesar-like dressing, a slow-poached egg, and fried sardines. For dessert: kakigori, Japanese shaved ice in a rotating selection of flavors.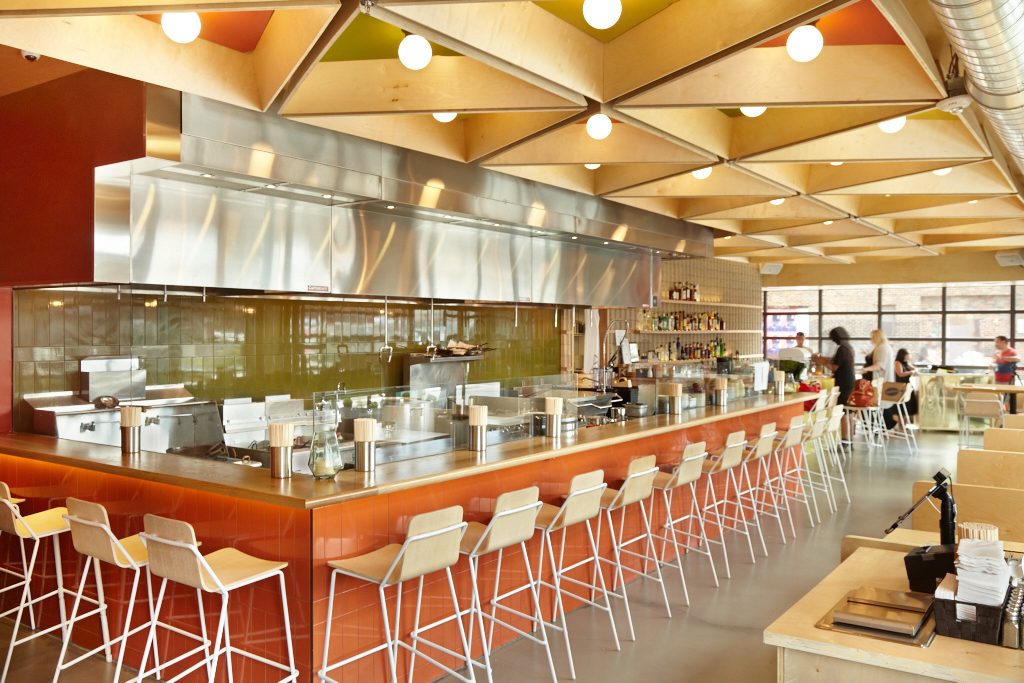 All of the noodle soups are new.
The kitchen takes creative leave with the small plates, but the ramen runs traditional. Like at Daikaya, the noodle soups draw from Sapporo, Japan and are made with a delicate chintan broth that's flashed in searing-hot woks for depth of flavor (Bantam King, on the other hand, specializes in milky paitan chicken broth). All of the ramen bowls at Haikan are new, such as a shio (salt) broth packed with umami from Hokkaido scallops, a light shoyu (soy sauce) version, or miso ramen that gets a subtle nuttiness from sesame. Vegetarians will also have a spicy option, heaped with seasonal produce. Each bowl (minus the meatless) comes with traditional topping combinations of roasted and ground pork, bean sprouts, nori, and scallions, plus house-made garlic-chive oil.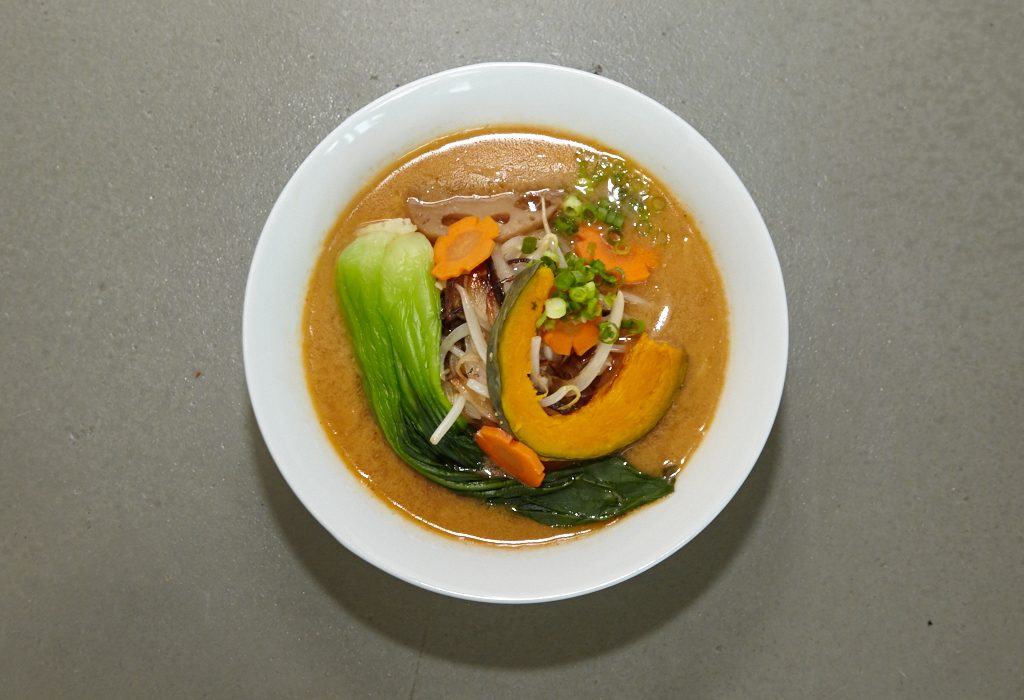 You can drink your vegetables. 
Barman Daniel Pouridas is behind the concise list of creative cocktails like the "wasabi peas," where floral Edinburgh gin is muddled with fresh snow peas, finely-grated wasabi, and citrusy yuzu juice. If you prefer a cocktail sans salad, try the sparkling sochu sangria that's carbonated in-house. Groups can go in for carafes of sake and large-format beers. Being a Sapporo-style ramen shop, Sapporo beer will always be on draft.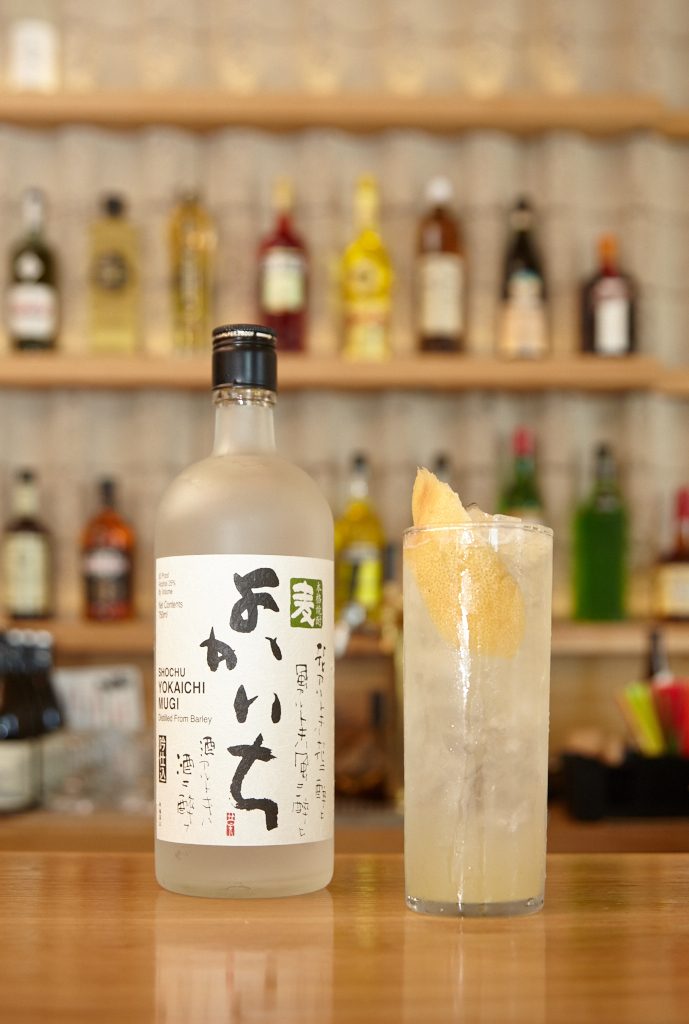 The noodles are spot-on
For Utagawa, noodles—not toppings—are the key to a great ramen. "If you have a great sandwich with bad bread, then it's not a great sandwich," he says. To that end, priority was placed on sourcing the best ramen noodles. Utagawa and the team traveled to Sapporo and created a custom blend with a producer—half Hokkaido flour, half American grain—which is imported to the restaurant. To eat ramen like a pro, slurp the noodles first before they're soggy, then the broth.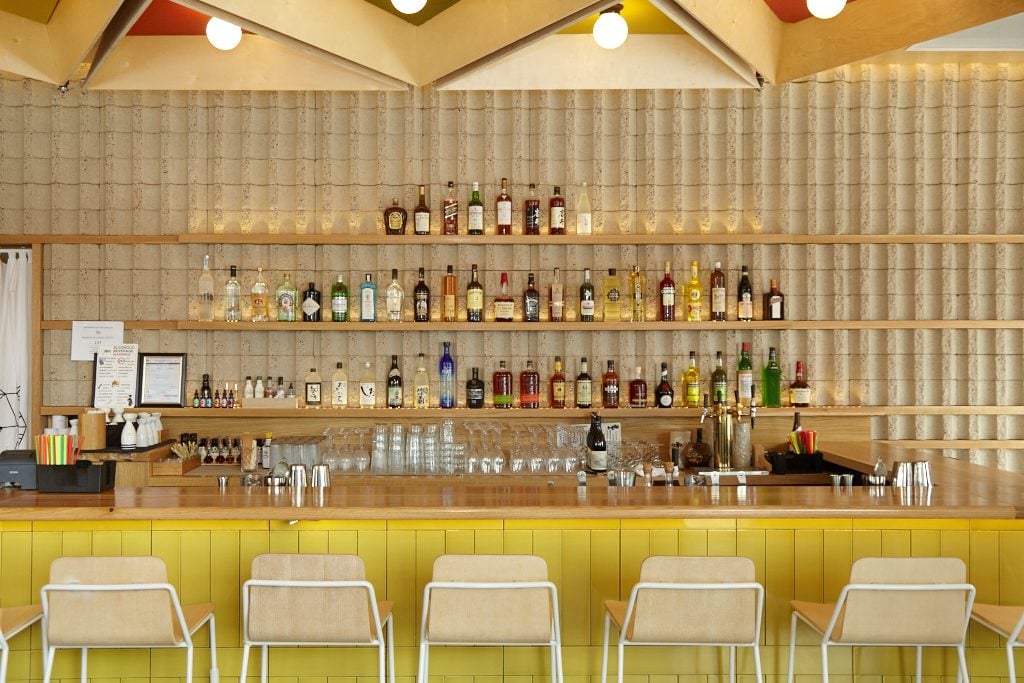 Brunch ramen may be in your future.
Initially Haikan will be open only for dinner, with lunch and weekend brunch to follow. The menu is still in the works for the latter, but we hear Fukushima can make a mean bowl of breakfast ramen inspired by bagels n' lox.
Haikan. 805 V St., NW. Opening Saturday, August 27