Daisuke Utagawa is really passionate about ramen noodles. Sitting in the cheerful, pop-art-styled Bantam King, slated to open this Friday, Utagawa discusses the traditional method for cooking and plating the delicate golden strands. As at his other ramen shop Daikaya, the noodles will be sourced from Japan.
Otherwise, Utagawa says, "It's like opening a sandwich shop and not using quality bread."
His meticulous sourcing is almost ironic given the Burger King themes that pervade the eatery (the space was once home to the fast food chain). Utagawa and co-owners Yama Jewayni and Katsuya Fukushima retained the original ceramic mosaic tile on the floor, lined a wall in fast food-style trays, and dusted up the Persian blue booths. Still you won't find any patties on the menu, which is solely devoted to all things chicken ("bantam" refers to a small bird), including Japanese soups and fried chicken dinners.
Here's what to look for if you go.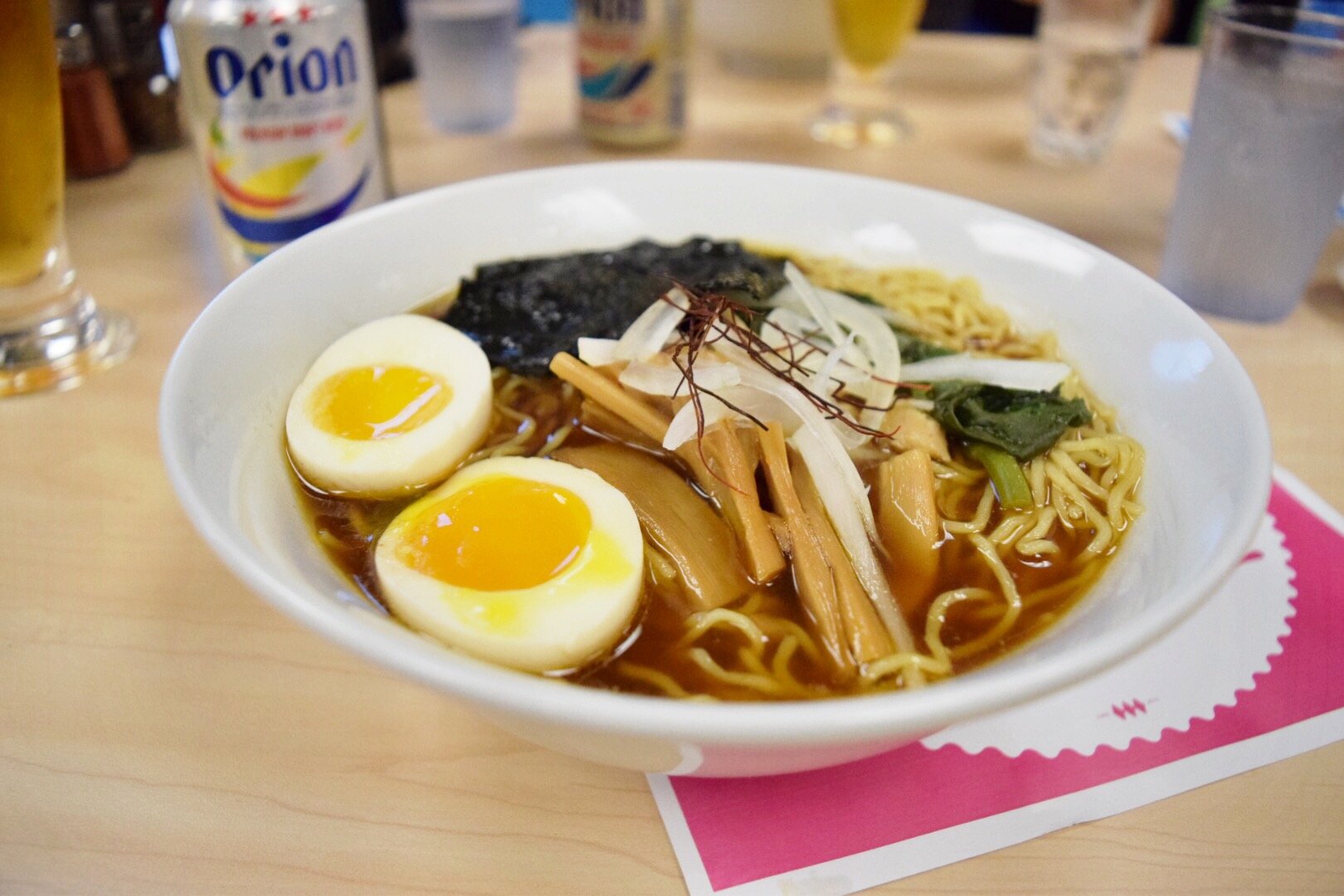 Serious broth options
In order to accommodate all types of ramen-lovers, the menu will offer seven broths, divided into three types. The menu will feature a vegetable broth and two chicken-based broths: chintan, a thin, delicate broth and paitan, which has been cooked down over several hours to yield a heavier, richer texture. The latter two options can be dressed up three different ways: shio, which tastes like straightforward chicken-soup-for-the-soul goodness; shoyu, which is seasoned with soy; and miso, which is bolstered with the fermented-soybean seasoning.
Southern-inspired sides
The fried chicken dinner option veers off the Japanese track with Southern-style sides—think coleslaw, mac' and cheese, mashed potatoes, and biscuits with strawberry jam.
A little prep work
If you order the onsen egg to top your ramen, be prepared to do a little prep work. The egg arrives in its natural form–that is, in its shell. You crack it yourself, perhaps for the theatrical effect of watching the perfectly-cooked gem emerge, then place the shell in a provided ramekin to be whisked away by the nearest server.
Furikake
Furikake is, as Utagawa puts it, "quintessential Japanese stuff." Look for the rice seasoning on the corn on the cob, a side that could be called Japan's answer to Mexican elote.
Nostalgic drinks
You might expect a ramen house/Southern fried chicken mashup to offer Sapporo on its drink menu, but sweet potato shochu and white-peach sparkling coolers make for funkier ramen pairings. You can also sip throwback favorites like Yoo-Hoo in a can or Sunkist Orange, and even the sake options are kind of adorable: options like Otokoyama Namacho and Nezumi Otoko Jungin come in brightly-illustrated pop tops.
A sense of humor
The walls are papered with comics, the is ceiling strung with Charlie Brown-style Christmas lights, there are Kleenex boxes studding the communal tables so eaters can slurp in comfort. In the bathroom, portraits of bantams peer quizzically at visitors. Bantam King even offers guests an ironic token of appreciation to take home with them, a bright blue pen with Japanese script when they sign the check. "Super cheap pen," it reads, "take it you thief."
Bantam King, 501 G St., NW. Opening Friday, June 10. Sunday and Monday, 5 to 10:30; Tuesday through Thursday, 5 to 10; Friday and Saturday, 5 to 11.