What happens when Bon Appetit magazine's #2 New Restaurant in America is a tiny Filipino spot with only 24 seats–mostly stools–and no reservations?
Lines. Long, Rose's Luxury-style lines.
"We haven't seen anything like the lines that are greeting us every day," says Bad Saint co-owner Genevieve Villamora of the recent crowds outside the Columbia Heights restaurant. "We're so appreciative—especially in the second half of August when it can easily be a slow time for restaurant."
The Bad Saint team shouldn't worry about slow business anytime soon. Crowds have been so large, and the space is so small, that there's no guarantee of getting into the restaurant, period. So how do you score a table?
Arrive early—really early
Villamora says eager diners camp outside the restaurant as early as 3:30 p.m. in anticipation of the 5:30 p.m. opening, when the first wave of patrons are sat and the inevitable wait-list forms. A second, much bigger wave tends to arrive around 4:30 p.m. Lawn chairs, picnic blankets, and even pre-dinner snacks are the new norm along 11th Street, Northwest (pro tip: bring bug repellant—the mosquitos are hungrier than the last person in line). Unless you're among the first wave of diners, a greeter will add your name to the wait-list, collect contact info for text updates, and suggest a local watering hole for a pre-dinner cocktail or three, depending on your status (there's no separate bar for waiting in Bad Saint).
Be open-minded when it comes to seating
The loveliest and trickiest thing about Bad Saint is the cozy space. "Our dining room is essentially like a game of Tetris," says Villamora. The 24-seats mostly consist of stools along counters, and there are only two tables that accommodate up to four diners (a fact on the website, but still a surprise to frequent groups of five-plus). If you're with a larger party, it helps to embrace counter seating, or even divide the party. Otherwise, risk getting turned away. "Once we're full, we know that we can only take a certain number of larger groups," says Villamora. Also, note the Tetris-seating game takes time—don't expect to speed along, or even creep, when the doors open.
If you want to eat at prime time, arrive at late-lunchtime
When the doors open at 5:30 p.m., the first people in line can ask to be placed at the top of the wait-list instead of eating right away—the best chance for scoring a 7 p.m.-ish seat. Villamora asks those people to wait in a second, much shorter line until the dining room fills, at which point she can start taking names for the second wave. If there's ever a time to splurge on a line stander—i.e. someone who's willing to wait in line for a fee—this is it.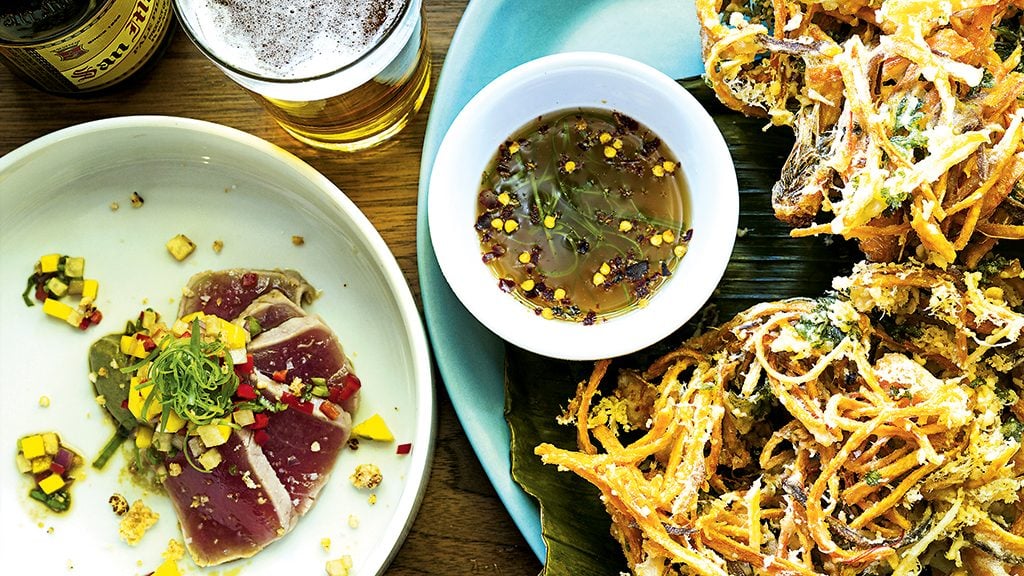 Don't bet on Wednesday over Saturday
Before the Bon Appetit article, Villamora says the line tended to follow a logical pattern, starting later and running shorter on weekdays, earlier and longer on weekends—not to mention super-short on Game of Thrones Sundays. Now, all bets are off. "Lately, the lines are starting earlier during the week," says Villamora, who does her best to constantly update the crowd as the wait-list fills. Also, never count on a Tuesday: the restaurant is closed.
Save your $20 bill for drinks at Room 11 
Villamora says she often (politely) turns down cash offers for seats. The only exception to the no-cuts rule? "If POTUS and FLOTUS felt a hankering for Filipino food, we could find seats for them," says Villamora. "Otherwise we try to be democratic."
Dine like a night owl, and don't dismiss the "cancellation list"
The last seating is at 10 pm on weekdays, 11 pm on weekends—which can be your best bet. "The end of the night it when seats can become available that we weren't counting on getting," says Villamora, who keeps a "cancellation list" of patrons who haven't made the wait-list, but who'd still like to be alerted if space opens (she'll text periodically throughout the night with updates).
Don't be worried about a lesser-experience if you're dining last. "Something we've been so humbled by is how patient and good-humored folks have been—especially the last round of the night," says Villamora. "They really boost our spirits at that hour, because lately service has felt like sprinting through a marathon."
Bad Saint. 3226 11th St., NW