Our Washingtonian Recommends lists bring you the best places to eat, drink, and be entertained—all selected by Washingtonian editors.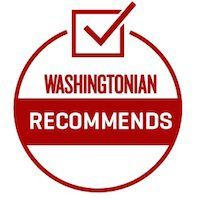 Here's where to make the most of your hour off—all a quick walk from the Moultrie Courthouse.
Jose Andres's Peruvian/Chinese/Japanese spot has a lunch-in-under-an-hour prix fixe deal: three courses for $20. Our picks from the short menu: the chicken dumplings with cloud-ear mushrooms, the "aeropuerto" fried rice with 20 veggies, and the freshly made grapefruit sorbet. 418 Seventh St., NW. 
Fabio and Maria Trabocchi's luxe Italian dining room sits just across the street from the Courthouse. The bar is the place you'll find their Presto! menu—get an entree, such as Fabio's top-notch risotto, and a drink (a mocktail or Aperol spritz) for $20. 601 Pennsylvania Ave., NW (entrance is at 678 Indiana Ave., NW).
When you need to get in and out super-fast, grab a lobster roll. The lobster at Luke's is bound with mayo then drizzled with butter and stuffed in a hotdog bun. There isn't a ton of room to sit, but it'll only take you a couple minutes to eat the thing. 624 E St., NW.
The hefty sandwiches at this butcher shop are filled with charcuterie and cuts from animals that have been humanely raised without antibiotics or hormones. Go for the beef-and-cheddar slathered with ranch aioli, a killer burger with shredded lettuce and thousand island, or the classic Italian sub with aged provolone and pickled peppers. Then grab some beef jerky to snack on later. 709 D St., NW. 
Snag a seat at the bar and go for one of the entree salads—we like the Chinois-style chicken, a classic from the Wolfgang Puck playbook—or a round of the excellent duck buns with hoisin sauce. If you're hungrier, there's a $25 three-course menu (dumpling soup, sushi rolls or a sandwich, and chocolate-chip cookies) that guarantees to you have you out the door in under an hour. 575 Pennsylvania Ave., NW.