Our Washingtonian Recommends lists bring you the best places to eat, drink, and be entertained—all selected by Washingtonian editors.
300 Tingey St., SE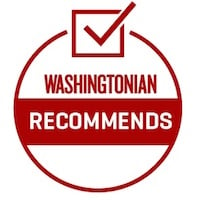 This brewery from the Neighborhood Restaurant Group is a go-to for beer nerds, and also serves tasty gastropub fare. Post up at the bar before or after the game for fresh-made brews, burgers, and smothered fries (if you can elbow your way in). Chefs often fire up the patio grill around big games, and there's a sit-down dining room for those who want a full meal.
301 Water St., SE
Drop into the roomy bar area of this colorful Mexican for frozen margaritas, sangrias, and Mexican cervesas. An outdoor patio overlooking the water is a pleasant place to linger in warm weather. Happy hour runs from 3:30 to 7 daily, and also from 9 to close—convenient for weekends and post-game night margs.
20 M St., SE
One of the newer Navy Yard drinking spots comes from the team behind Justin's Cafe. The look is a little snazzier—think ski chalet meets sports bar—while the menu centers around brews that can be ordered in 20-ounce mugs and "shotskis" (exactly what it sounds like: shots served on a ski).
1015 Half St., SE
Addictive Korean fried chicken is found at this chain's big bar area and 65-seat dining room (plus: a carry-out section for game day takeout). Double-fried birds glazed in soy-garlic or spicy sauce are the must-order dish, as well as steamed pork buns and cold beer.
The Bullpen at the Fairgrounds
1299 Half St., SE
If you've ever gone to a Nats game, chances are you've grabbed a drink at the Bullpen—essentially the stadium's rowdy front yard. Domestic tallboys and Red Bull vodka slushies are the go-to drinks while playing corn hole or listening to the live band, alongside food truck eats. Note all drinks are $5 from the first pitch of the third inning to the final out of the seventh.
301 Water St., SE
Tasty barbecue and baseball come together at this bar/restaurant from the owners of the Bullpen.  Televisions in the bar play the game (with sound) for watching over bourbon and beer. Patrons can also head to the outdoor patio, which offers drafts and special grab-and-go items for fans headed to the stadium.
1025 First St., SE
This popular, no-frills neighborhood bar/restaurant is typically packed with fans before or after games. Grab a drink and join the fun. A variety of happy hour deals run regularly, including beer/wine/rail drink discounts from 4 to 8, Monday through Friday.
301 Water St., SE
This New York-based Italian restaurant is one of the best dining options in the neighborhood, with ample patio seating in warm weather. The bar area caters to fans looking for a quick bite and glass of wine (happy hour runs on weekdays from 4 to 7).  It's worth lingering for decadent pastas, wood-grilled meats, and stellar desserts.
1212 Fourth St., SE
Fast-casual service makes this Korean taco joint a great spot for a quick bite and a beer. We love the tofu tacos heaped with kimchi slaw, as well as the meatier beef bulgogi and chili-marinated chicken.
301 Water St., SE
This Yards Park newcomer offers delicious seafood and raw bar offerings for a more upscale nosh (though it's not too fancy for fans in their gear). If you're craving local oysters or a crispy soft shell sandwich before the game, this is your spot.