Breakfast Bombs: They make the best grab-and-go meals.
Breakfast sandwiches are typically sloppy affairs, with their runny egg yolks or oozing cream cheese. So pastry chefs have found a more portable solution: breakfast "bombs." Cousin to Texan kolaches, the balls of dough come stuffed with all kinds of goodies. Buttercream Bakeshop (1250 Ninth St., NW) supplies one of the best versions around. Warm milk-bread envelops scrambled eggs and a rotating variety of meats, such as maple sausage with fontina or poblano sausage with pepperjack. A close second: the bagel bomb at Momofuku Milk Bar (1090 I St., NW), with smoky-bacon/scal-lion cream cheese inside and everything-bagel spice outside.
English Breakfasts: Where to find a proper plate.
Small-plate brunches are all over the place these days, but some weekend mornings call for an overflowing plate of food. Duke's Grocery (1513 17th St., NW) delivers with its full English breakfast, loaded with rashers (bacon), a banger (sausage), black pudding (blood sausage), roasted cherry tomatoes, braised mushrooms, and two eggs over baked beans and thick pieces of toast. Don't want meat? The veggie version subs in a chive-potato cake called a boxty.
Pastry Baskets: Especially the one made by Alex Levin.
At Osteria Morini (301 Water St., SE), we wouldn't dream of skipping dessert, thanks to pas-try chef Alex Levin, who has been responsible for the place's grand finales since it opened three years ago. So it goes on weekend mornings, when his warm pastry basket is the must-order. The oft-changing selection of three sweets and savories has included dark-chocolate Danishes, salted-caramel sticky buns, and warm brioche rolls with ramp pesto and ricotta. Whether you follow it with pasta is up to you—we won't judge.

Pancakes: These will make your mom jealous.
Michael Abt, executive chef at Le Diplomate (1601 14th St., NW), has been carrying this recipe with him ever since he worked at sister restaurant Parc, in Philadelphia. For good reason—his pancakes are the fluffiest we've ever tasted, somehow more flavorful than the ones we whip up at home but still comfortingly familiar. Abt's secrets: not over-whisking the buttermilk batter, so the inflating pockets of baking powder don't get beaten out, plus adding dashes of vanilla, honey, and salt. The kitchen will throw in blueberries or chocolate chips if you ask—and will also serve a single pancake, so even if you're set on ordering the Eggs Norwegian, you can still satisfy a craving.

Nitro Coffee: It's suddenly everywhere.
Guinness beer may be the most famous nitrogenated beverage, but the coffee community is quickly catching on. The "nitro" cold-brew method—coffee grounds are steeped in cold water, then the extra-strong result is infused with nitrogen gas—lends your morning joe a creamier, richer feel with micro-bubbles and a foamy head. In the past year or two, nearly every serious coffee shop in town—including Dolcezza (multiple area locations), Zeke's (2300 Rhode Island Ave., NE), and Compass Coffee (1535 Seventh St., NW)—has begun pouring the stuff on draft. You can also get it canned thanks to the local "craft coffee brewery" Confluence Coffee Co. (available at area Whole Foods and other markets).
Cinnamon Buns: A no-tricks recipe turns out to be magic.
We weren't expecting cinnamon-bun greatness when we brunched at Convivial (801 O St., NW), better known for its fried chicken and deliciously messy burgers. But pastry chef Eva Kronenberg's straightforward recipe—the only curve ball is a little dark rum in the cream-cheese icing—succeeds because it's not afraid of excess. The buns, baked every weekend morning, are big enough for two and coiled with a wonderfully ridiculous amount of brown sugar, butter, and cinnamon.
Cheap Booze: . . . doesn't have to mean lousy bottomless bubbly.
At the Riggsby (1731 New Hampshire Ave., NW), diners can pair a lavish shellfish tower with half-price bottles of sparkling wine that range from wallet-friendly Prosecco to vintage Tattinger.
Pitchers of red-wine sangría Bellinis mixed with Cava ($35) ease groups into siesta mode along with Spanish fare at Ser (1110 N. Glebe Rd., Arlington).
Want to play bartender? Try the American brasserie Pennsylvania 6 (1350 I St., NW), which devotes an entire room to its unlimited mimosa-and–Bloody Mary bar ($18) with elixirs and juices for the former and, of course, bacon for the latter.
Fine Dining: These high-end restaurants aren't phoning in breakfast and brunch.
Jacques' Brasserie (332 Springvale Rd., Great Falls): Haven't seen crepes suzette since the '80s? Then you haven't been to the downstairs dining room at L'Auberge Chez François, which serves a lovely version of the Grand Marnier–soaked sweet. You'll also find cracker-crisp tarts with bacon and onion (we'd skip the lily-gilding hollandaise and poached egg), gracious service, and the garlic bread and herbed cottage cheese that make up one of the best breadbaskets around.
Marcel's (2401 Pennsylvania Ave., NW): Robert Wiedmaier's Belgian restaurant launched its à la carte Sunday brunch last winter. It's as luxurious as dinner, with suited servers proffering velvety mussels gratin and Belgian waffles with Chantilly cream. Oenophiles, take note: All bottles in the expansive cellar, including $1,000-plus Champagnes, are half price during brunch.
Pineapple and Pearls (715 Eighth St., SE): By night, it's the hottest tasting-menu reservation in town; by day though, you can wander into Aaron Silverman's chill coffee shop when-ever you please and pick from a short list of breakfast treats: a salmon-and-avocado sandwich loaded with fennel and fresh herbs, say, or an iced sweet roll studded with pineapple.
Preserve (164 Main St., Annapolis): Chef/owner Jeremy Hoffman's Pennsylvania Dutch upbringing serves him particularly well at brunch, when he puts out strapping chicken pot pies and plates of bologna hash dashed with hollandaise. Don't skip the Tandy cake, a layering of sponge cake, peanut butter, and chocolate frosting.
Rasika West End (1190 New Hampshire Ave., NW): Big tables of Indian families crowd the dining room on Sunday mornings for Vikram Sunderam's elegant curries (go for the cilantro-heavy green version with chicken); pancakes made with coconut and cardamom; and poha, a tower of rice, mustard seeds, and crab. Nice touch: Mocktails, such as a passionfruit punch, are just as smartly conceived as the boozy options.

Kouign-amann: The Breton pastry is finally here.
After many years stalking the sweet at bakeries in New York and San Francisco, we're thrilled we now don't have to travel far to get our morning fix. Never had one? Picture a spiral of stretchy dough made with what tastes like a pound of butter, then burnished with lots of sugar. Our favorite is at Union Market's Panorama Bakery(1309 Fifth St., NE), where pastry chef Damien Le Tyrant offers a beautiful traditional version but also crowns some with apples and, even better, blueberries.
Music: You can have your coffee with a side of vinyl.
At Adams Morgan's funky Songbyrd Record Cafe (2475 18th St., NW), browse more than 600 records—the collection runs strong on soul and funk—while sipping a locally roasted Swing's coffee and noshing on $5 build-your-own egg sandwiches. Or, cut your own record in a retro Voice-o-Graph machine.
With blond wood and a concrete floor, Bump 'n Grind (1200 East-West Hwy., Silver Spring) has the feel of a Logan Circle loft. The breakfast pastries may be beside the point, but there's plenty of good coffee (from roasters Vigilante and Ceremony). Listening stations let you spin records for your own ears, or you can choose something to play for the whole place from a bin of dance and drum 'n' bass selections.
Mexican Eats: Chefs are thinking beyond the breakfast burrito.
Three Mexican-style fill-ups we love:
Tostada at Republic(6939 Laurel Ave., Takoma Park): Layer upon layer of excess, in the best possible way. Corn tortillas are smothered in bacon-braised red beans and barbecue pork, topped with coleslaw, and finished with poached eggs.
Huaraches at Espita Mezcaleria (1250 Ninth St., NW): Named after a style of sandal, the masa cakes are a staple in Mexico City. At this Shaw mezcaleria, Oaxacan corn is ground for dough that's stuffed with spicy black beans, then topped with lettuce, queso fresco, pickled jalapeños, and a must-try addition: green chorizo.
Breakfast sope at Taco Bamba (2190 Pimmit Dr., Falls Church; 164 Maple Ave. W., Vienna): Victor Albisu's breakfast version of the sope—a thin, fried round of masa loaded with earthy black beans, salsa verde, crema, and a fried egg—is available all day.
Biscuit Sandwiches: They're on the rise.
No disrespect to the everything bagel, but we've come to realize that the best base for your egg sando is a buttermilk biscuit. We'll happily abide by a little messiness in favor of a tender, salty round, especially if it's made by Nicole Jones at Stomping Ground (2309 Mount Vernon Ave., Alexandria). Our favorite DIY creation: a layering of bacon, egg, and sweet sorghum butter. At Society Fair (277 S. Washington St., Alexandria), biscuits stand up well to zesty house-made sausage.
Smoked Fish: Made in DC!
For nearly three decades, the wholesaler Profish has supplied many of the area's top restaurants with seafood. Last year, it also got into the smoked-fish business with the launch of Ivy City Smokehouse, across the street from its warehouse. You can sample a very small portion of the 5,000 pounds of fish the facility currently smokes per day at the Tavern at Ivy City Smokehouse (1356 Okie St., NE), upstairs. The $22 fish board for two comes loaded with bagels, whitefish salad, rainbow trout, cold-smoked salmon, and best of all, "Indian candy"—a Pacific Northwest–style salmon bathed in honey and brown sugar. Like what you tried? Head to the market downstairs and pick up some to go.
Hybrid Pastries: Look beyond the Cronut.
A few of our favorite inventions:
Cinnascone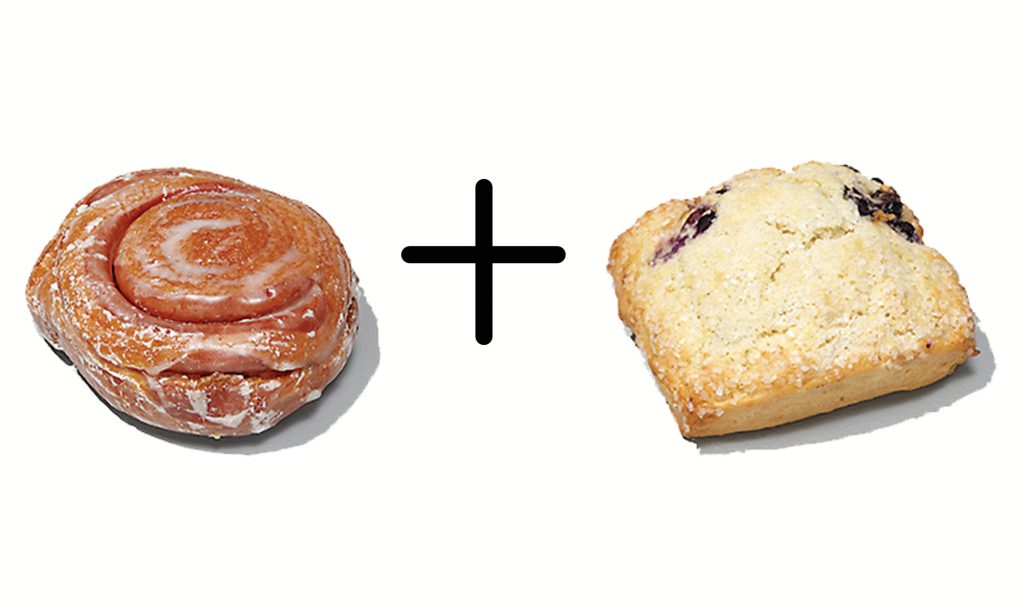 Cinnamon Bun + Scone
A Cinnabon-size knob of buttermilk dough laced with cinnamon and sugar, at Buttercream Bakeshop (1250 Ninth St., NW).
Doughnut Muffin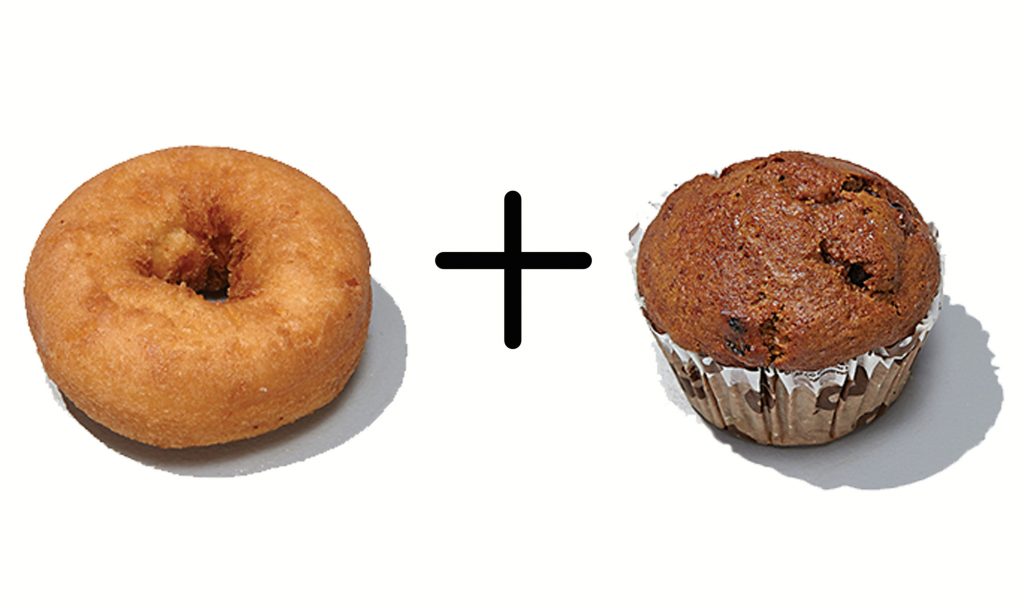 Doughnut + Muffin
A baked cinnamon confection dusted with crunchy cinnamon and sugar, at Baked & Wired (1052 Thomas Jefferson St., NW).
Everything Croissant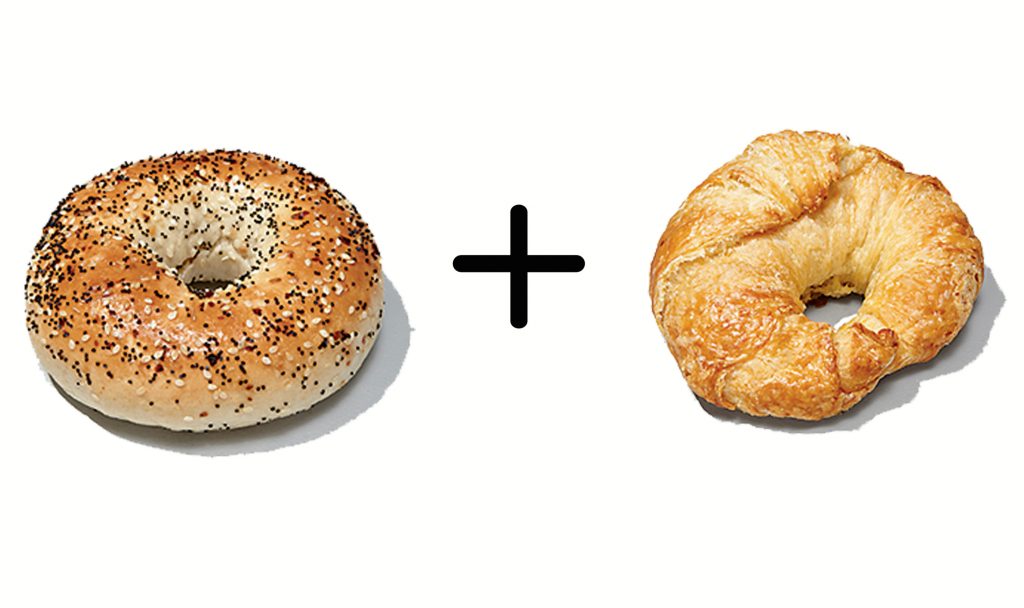 Everything Bagel + Croissant
A buttery swirl with poppy seeds, garlic, onion, and salt, at Junction Bakery & Bistro (1508 Mount Vernon Ave., Alexandria).
Cruffin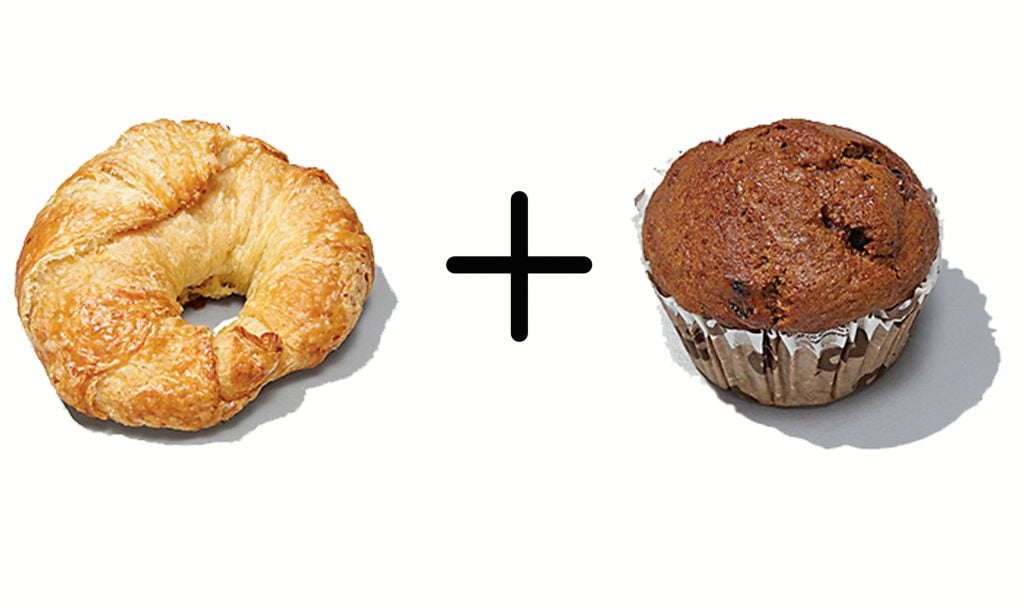 Croissant + Muffin
A Friday-only croissant roll-up stuffed with praline pastry cream, at Bayou Bakery (1515 N. Courthouse Rd., Arlington; 901 Pennsylvania Ave., SE).
Dim Sum: There are feasts for many tastes (and budgets).
Traditional Cantonese dim sum is a daily event at the year-old Gourmet Inspirations (2646 University Blvd., Silver Spring), which inherited the head kitchen staff of Good Fortune after its 30-year run. It's worth saving a visit for weekends, when food carts laden with steamed buns, black-bean-sauced chicken feet, and savory domes of Eight Treasure sticky rice circle the banquet-hall-like room.
Sundays at the Cambodian/Taiwanese small-plates spot Maketto (1351 H St., NE), the palm-filled patio draws crowds of dumpling-seekers. The steamed leek and pork buns and caramel-doused fried chicken from the dinner menu are on offer, but you'd do well to branch out for plates of rice-noodle crepes, numbingly spicy cucumbers, and a classic egg tart made by pastry chef Rebekka Baltzell. Nearly everything pops with flavor.
If you're up for shelling out more cash than your typical dim sum brunch calls for, head to the Source (575 Pennsylvania Ave., NW) on a Saturday afternoon, when we've never seen the minimalist upstairs dining room so packed. Forty bucks gets you five dishes, and $56 buys eight. Load up on dumplings—a delicate lobster version, a heartier brisket purse—and don't miss the fabulous turnip cakes with sweet soy.

Superfood Bowls: Actually, they can be pretty delicious.
Still drinking your smoothie out of a glass? Time to get with the latest California craze to migrate east—superfood bowls. The smoothie bases, topped with granola and fresh fruit, are much tastier than other yoga-crowd culinary fads (ahem, activated charcoal juice). Traditional varieties highlight antioxidant-rich açai berries or fuchsia-hued dragonfruit. At the Foggy Bottom location of cold-pressed-juice purveyor Jrink (1922 I St., NW), Blue Majik algae adds a turquoise tint to the pineapple-and-banana-based Ocean Blue bowl, topped with cacao nibs, strawberries, coconut chips, hemp seeds, and toasted oats. We've also found solid açai fixes at Fruitive (1094 Palmer Alley, NW) and South Block Juice Co. (multiple DC and Virginia locations).
Prix Fixe Menus: Some really are good deals.
Fixed-price menus aren't always worth the money—dish options can be limited, and flagging down the server during some all-you-can-eat brunches can feel trickier than getting a retweet from FLOTUS. Not so at these restaurants.
The place: PassionFish (11960 Democracy Dr., Reston; 7187 Woodmont Ave., Bethesda).
The price: $19 for two courses.
Don't miss: Seafood crepe; poached eggs with lobster and lemon hollandaise; lemongrass steak with vermicelli.
The place: Central Michel Richard (1001 Pennsylvania Ave., NW).
The price: $27 for three courses.
Don't miss: Goat-cheese Caesar salad; fried chicken and waffles; lemon "eggceptional."
The place: Ambar (523 Eighth St., SE; 2901 Wilson Blvd., Arlington).
The price: $39 for unlimited dishes and drinks.
Don't miss: Cheese pie with cucumber yogurt; Balkan burger; tasting of spreads.
All-Day Breakfasts: Nutella toast for dinner!
Buffalo & Bergen (1309 Fifth St., NE): You could roll out of bed at 7 pm and still make it in time for one of the quirky bagel sandwiches at this Union Market cocktail counter. We're partial to the Bayside Rabbi, an Old Bay bagel stuffed with gravlax and dill cream cheese.
A Baked Joint (440 K St., NW): The bread-baking sister spot to Baked & Wired makes it seem totally reasonable to venture out for toast—especially when it's pain de mie with butter, Nutella, and Maldon salt.
Earl's Sandwiches (2605 Wilson Blvd., Arlington; 4215 N. Fairfax Dr., Arlington): When we need greasy sustenance, this is our place. The classic bacon-egg-and-cheese is made for dousing with ketchup and hot sauce.
DGS Delicatessen (1317 Connecticut Ave., NW; 2985 District Ave., Fairfax): Go for the Benedictberg—two latkes laden with poached eggs, salmon, and sumac hollandaise.

Doughnuts: This shop has been making great old-school sweets for 31 years.
Walking into Donut Shack (497 Ritchie Hwy., Severna Park) feels a little like going back in time: There's a linoleum counter with swivel stools, wood paneling, and teenagers in aprons waiting to serve you. Bill Prevezanos and his wife, Stacey, took over the strip-mall shop in 1985, 20 years after Bill emigrated from Greece. As trendy $3-a-pop doughnut shops proliferate, his classic confections—the Honey-Dip Stick, Chocolate Frost, and Apple Crisp are among the most popular—shirk any gimmicks. "If I want bacon, I'll eat bacon—I don't want bacon on my doughnuts," Prevezanos says. He works 15 to 18 hours a day (the shop is open 24-7), making up to 60 varieties by hand. Another old-time touch: They're only a buck each.
Distillery Drinking: You can sip your Bloody Mary where the vodka is made.
Booze rarely feels like the star of a Bloody Mary, but a brunch-cocktail tour of Ivy City's distilleries might make you think differently. In the bright, airy tasting room at Republic Restoratives (1369 New York Ave., NE), the cocktail menu changes with the seasons, but you can usually count on a fresh-horseradish Bloody or a Civic Crush with squeezed-to-order orange juice and Cointreau—both include Civic vodka, produced mere feet away. About once a month, the distillery hosts brunch collaborations with other local producers, such as Confluence Coffee Co. and Mason Dixie Biscuit Co.
A short walk away at Jos. A. Magnus & Co. distillery (2052 West Virginia Ave., NE), the cocktail menu rotates monthly, but a recent riff on a Bloody included its jerk-spiced Royal Seal vodka, tomatillo juice, fresh herbs, and a jerk-spiced jerky garnish.

Creative Cocktails: 
No standard-issue mimosas here.
At vermouth-crazy Nido (2214 Rhode Island Ave., NE), cinnamon-scented Vya Sweet—a fortified wine made with muscat grapes—is blended with fresh OJ.
Dan Searing's burnt-sugar old fashioned has been a Room 11 (3234 11th St., NW) staple since the place opened. It's mixed with caramelized West Indies sugar, Kentucky whiskey, and bitters.
Wake up with a zinger at Blue Duck Tavern (1201 24th St., NW): The Cafe Park is part iced espresso, part Grand Marnier, and all energizing after short-rib hash.
At Republic (6939 Laurel Ave., Takoma Park), the Localist highlights DC's Green Hat gin, Maryland-made Bee George honey, lemon, and candied grapefruit.
China Chilcano (418 Seventh St., NW) specializes in pisco, and the Jade Garden is a refreshing shake-up of the Peruvian brandy with cucumber juice, cilantro, lemon, and a touch of vanilla.

Breakfast Pizza: Fresh from the Dupont farmers market.
What goes into our favorite breakfast pie, courtesy of the mobile wood-fired-pizza business Red Zebra? A whole lot of local ingredients culled from fellow vendors at Dupont Circle's FreshFarm Market (20th St. and Massachusetts Ave., NW), where you'll find the oven parked on Sundays.
Lightly charred sweet potatoes from Tree and Leaf Farm in Virginia add subtle sweetness.
The secret to runny yolks? Organic eggs from Farm at Sunnyside are slow-cooked in a sous-vide machine, then cracked atop the pies to order.
"I could say it's Neapolitan style, but I don't really care about that," says co-owner Susan Painter of the crust. Its dough ferments for 36 hours.
The only topping you won't find at a nearby stall: smoky Benton's bacon from Tennessee. Vegetarians can ask for "bacon" made with Virginia shiitakes.
White cheddar from Pennsylvania's Keswick Creamery provides the melty finish.
Great Starts: Brunches (and breakfasts) for five occasions
Place to Take the Parents: Garrison
Rob Weland's hyper-local American restaurant on Barracks Row manages to feel both elegant and unassuming—and seldom falters when it comes to deliciousness. (Plus it's fairly quiet.) Start with warm ebelskiver, Danish pancake puffs with jam, and a few of the beautiful vegetable plates, then move on to poppy-seed gougères with soft-scrambled eggs, house-smoked trout, and caviar. 524 Eighth St., SE.
Place to Take a Group: Masa 14
Few restaurateurs throw a brunch party better than Richard Sandoval, whose DC ventures (El Centro D.F., Zengo) are known for their raucous all-you-can-eat-and-drink affairs. We're partial to his Latin/Asian spot, where groups can camp out on the covered rooftop or in the moodily lit dining room. For $39 a person, you can feast with abandon on 18-odd small plates—barbecue steamed buns, egg-and-chorizo hash—plus various mimosas, bloodies, and beertails. Another perk: a patient waitstaff. 1825 14th St., NW.
Place to Celebrate a Special Occasion: Fiola Mare
We love chef Fabio Trabocchi's opulent Italian spot during the day, when the Potomac River views shine and the nautical-chic dining room feels positively Mediterranean. The $45 prix fixe brunch menu includes a glass of bubbly, a warm pastry basket, and three courses, such as burratawith grilled peaches, spaghetti with crab and chilies, and Sardinian ricotta doughnuts. 3100 K St., NW.
Place to Take the Kids: Ted's Bulletin
And not just for the house-made pop-tarts. The eateries open bright and early at 7 am (breakfast is served all day) and cater to little ones with word games, mazes, and crayons, plus pancakes with smiley faces made out of berries. For adults, there are enormous breakfast sandwiches and "walk of shame" breakfast burritos bursting with hash browns, sausage, and green-chili sauce. 1818 14th St., NW; 505 Eighth St., SE; 220 Ellington Blvd., Gaithersburg; 2911 District Ave., Fairfax; 11948 Market St., Reston.
Place for a Late-Night Breakfast: Silver
This spiffier sibling to Silver Diner stays open until midnight during the week and 2 am on weekends, and its late-night menu is rife with big plates of stomach-padding indulgences. We dig the huevos rancheros heaped with bison hash and goat cheese and a rib-eye-stuffed omelet inspired by a Philly cheesesteak. In other words, the kind of thing you want when there's nothing left to do but sleep. 7150 Woodmont Ave., Bethesda.
This article appears in our October 2016 issue of Washingtonian.