The image of Dorothy Gale's red, glittery shoes clicking together three times as she recites "there's no place like home" in The Wizard of Oz is ingrained in American culture. The ruby slippers are perhaps the most recognizable object ever from a film, which is why the Smithsonian's National Museum of American History is raising money through a Kickstarter to conserve them.
Launched on Monday, the campaign has already raised $67,000 of its $300,000 goal, which, to most people, seems like an unbelievable amount of money to spend on conserving a pair of shoes. "I am in the wrong business," one disgruntled commenter wrote on the Washington Post's story about the Kickstarter. "$300,000 to repair and conserve the slippers that were crafted almost 80 years ago seems like an exorbitant amount of money."
Try telling that to Richard Barden, the head of conservation at the museum who will work on conserving the slippers if the Kickstarter is successful. He says that the shoes are incredibly complex artifacts composed of more than 12 different materials, each of which demands different preservation conditions.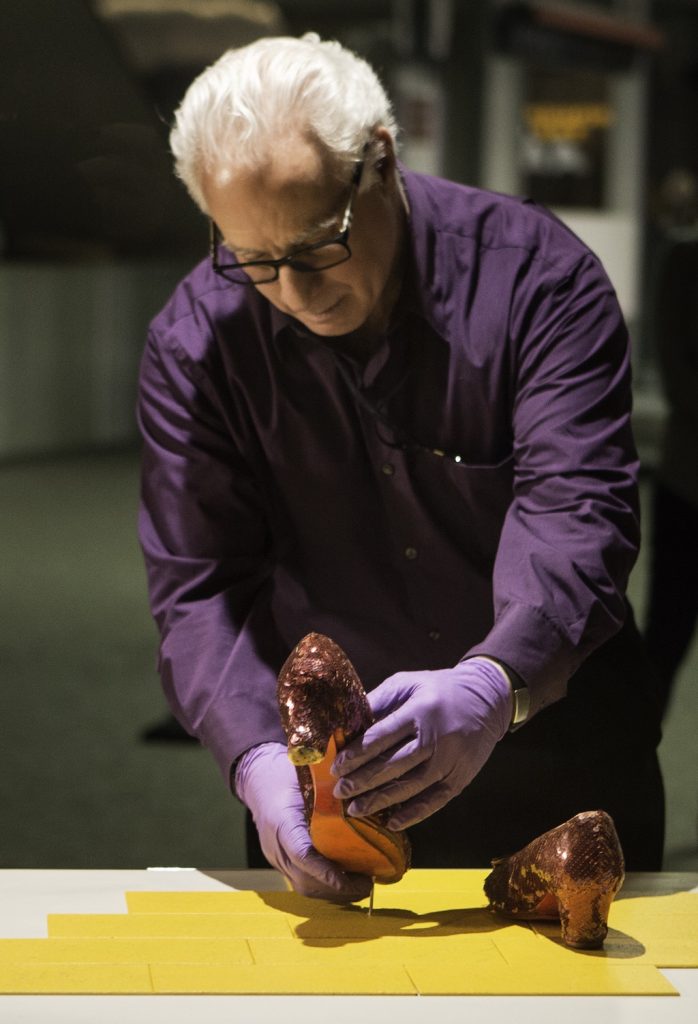 "It becomes expensive to save something forever," he says. In his more than 30-year career as a conservator, Barden has never worked on an object of such cultural significance and physical complexity.
And because federal funds do not cover special projects such as this, the Smithsonian has to seek outside funding. Last year, the National Air and Space Museum launched a "Reboot the Suit" Kickstarter to conserve Neil Armstrong's spacesuit from the Apollo 11 mission in time for the 50th anniversary of the moon landing. It reached its $500,000 goal in five days and eventually raised $719,779 from more than 9,000 people.
Barden and a team of at least five scientists who specialize in the analysis of materials will first have to figure out what the best conditions are for the slippers, taking into account temperature, light, humidity, and oxygen. Then, a case-maker and designer will create the new display box. The entire process can take up to a year. Barden says that the Kickstarter money will go toward labor costs, not just the actual conservation.
To Barden and many people who associate The Wizard of Oz with their childhoods, the slippers are more than just shoes. "They are a cultural icon that transcend differences," he says. "Something like the ruby slippers brings people together."
And if you don't agree, he says, you don't have to donate.