Going grocery shopping presents its own unique challenges. Sure, we all know we should eat more vegetables, but somehow those boxes of cereal and cartons of ice cream always seem to find their way home with us. To see how professional healthy eaters tackle the grocery store, we reached out to DC health coaches and a nutritionist to take a peek inside their grocery carts.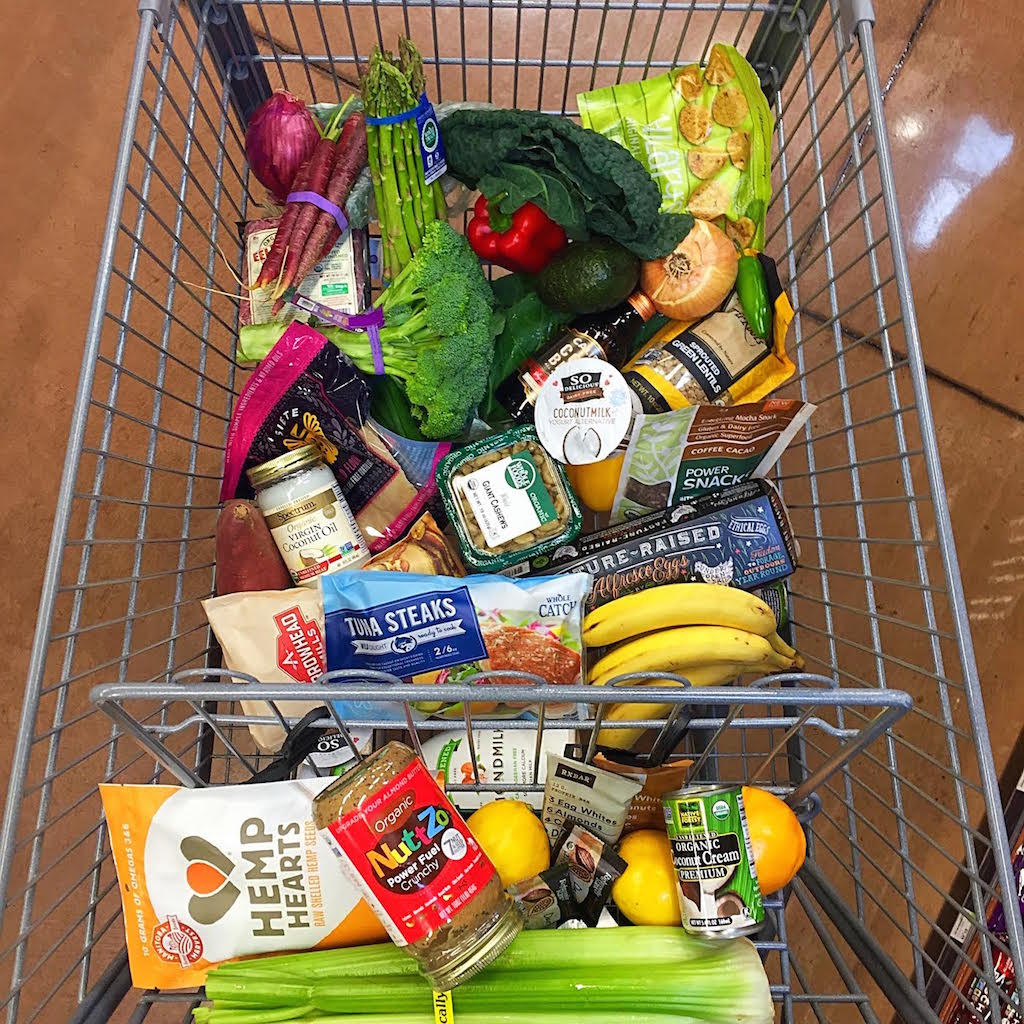 Her approach: "I love to make grocery shopping fun by purchasing colorful whole foods that don't need labels. I make it a point to choose local, seasonal, and fresh produce and compliment it with quality meats, nuts and whole grains to fulfill my healthy eating intentions."
What she bought: "Greens and veggies (broccoli, chives, celery, kale, collard greens, carrots, bell peppers, onion, garlic, asparagus, cherry tomatoes, sweet potato, jalapeño), fruit (apple, lemon, lime, orange, bananas), nuts and healthy fats (avocado, Nutzo 7 Seed Nut Butter, cashews, coconut oil, coconut cream), protein (wild caught fish, pasture-raised eggs, grass-fed beef, lentils, hemp hearts), miscellaneous (Hillary Eat Well Veggie Burger, almond flour tortillas, buckwheat flour, coconut yogurt, Cacao Goji Power Snacks, cold press coffee, unsweetened almond milk, raw cacao bites)."
On organic foods: "Buy organic when possible. Organically grown fruits and vegetables contain higher levels of cancer-fighting antioxidants than conventionally produced foods. Use the Dirty Dozen/Clean list as a guide to buy the most important organic foods. To save money, don't worry so much about buying the Clean 15 organic (I don't)."
Rebecca Freese of Preventative & Wellness Medicine,

rebeccafreesemd.com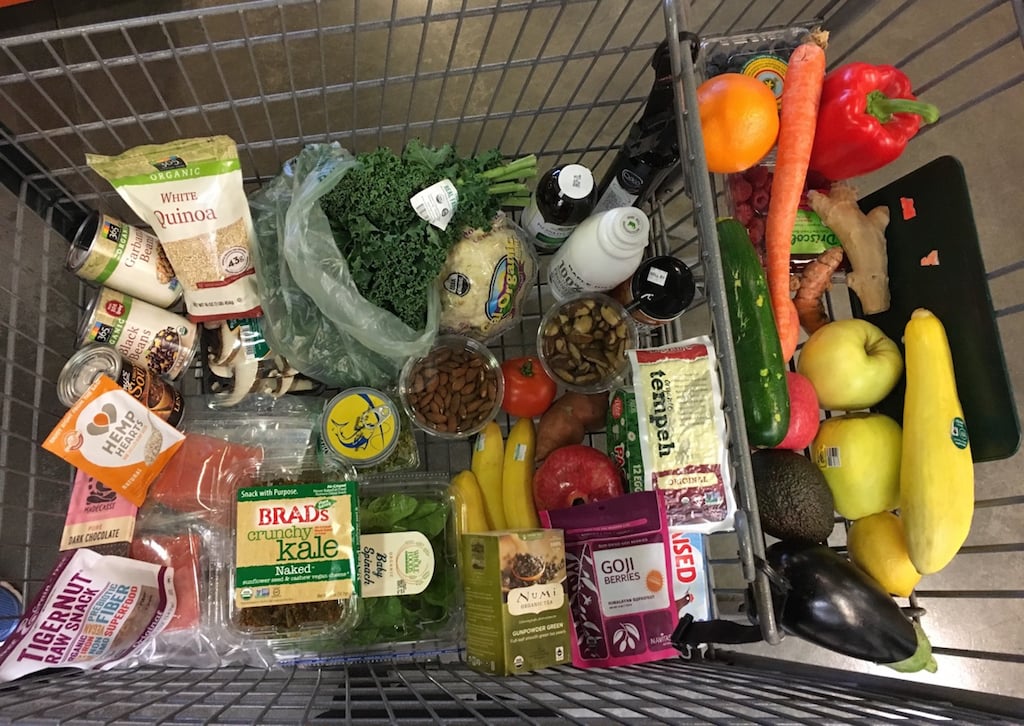 Her approach: "My grocery cart = my medicine cabinet. My grocery trips prioritize nutrient-dense foods that are not (or minimally) processed. I like to get foods/ingredients that can be found directly in nature.  This is a good sign that the foods serve a function in promoting health—healing, disease prevention, detoxification, immune system support, and overall optimal functioning of our body systems."
What she bought: Probiotic foods (kimchi, tempeh—fermented soy—milk kefir, kambucha), prebiotic foods (kale, spinach, cauliflower) and tiger nuts, produce (red pepper, orange, carrot, sweet potato, zucchini, yellow squash, red and green apples, lemon, eggplant, avocado, kale, spinach, cauliflower, mushrooms, tomato, banana, pomegranate, broccoli sprouts, ginger root, turmeric root), protein (tuna, beans, lentil soup, wild salmon, pasture-raised eggs, shelled hemp seeds), healthy fats (Brazil nuts, almonds, avocado, extra virgin olive oil), and snacks (green tea, kale chips, goji berries, dark chocolate).
On gut-healthy foods: "Many of the foods that I buy take into consideration the critical role the gut and good bacteria play in whole-body health.  This includes 1) Probiotics—provide good bacteria, usually from fermented foods and 2) Prebiotics—non-digestible ingredients that promote the growth of good bacteria (e.g. fiber)."
Janis Jibrin of Janis Jibrin, Registered Dietitian,

janisjibrin.com
Her approach: "I scour each section of the grocery store for sale foods—fruit, vegetables, cheese, fish, peanut butter and even canned sardines! Those savings balance out the $7.50 goat yogurt and other fancier foods. Freshness is even more important than cost—I examine produce very carefully before buying. Freshness is also more important than buying organic, because if it's old, both taste and nutrition suffer. I often bring a list, I'll veer from it happily if I see a good deal—meaning a food that's fresh, high quality, tasty and reasonably priced."
What she bought: 365 Toffee Popcorn Crunch, Michele's Toasted Muesli, Manchego cheese, 365 Large Omega-3 Brown Eggs ("The American diet has been stripped of omega-3 fat—essential for your heart, brain and overall health."), Coho Wild Salmon ("I rotate among salmon, arctic char, trout and mackerel—all omega-3-rich catches—buying whatever's priced best."), Austrian pumpkin seeds ("Pumpkin seeds are nutritional superstars."), Santa Cruz Crunch Dark Roasted Peanut Butter, "Scarletts" Texan red grapefruit, radishes, Redwood Hill Farm Plain Goat Milk Yogurt ("If you like tangy and creamy, I urge you to give it a try."), carrots  ("The more colors you bring into your diet, the more nutrients you score."), and parsley.
On sweet foods: "Truth is, we can all afford a small daily treat, and [365 Toffee Popcorn Crunch] offers more volume for the calories than my other fave—chocolate (130 calories vs. 200 calories per quarter cup).  Put a handful in a tiny bowl, quickly put the bag in a cupboard, and you can make this last all week."
Correction: A previous version of this post described all three sources as nutritionists. Not all three are licensed nutritionists in DC, so it was incorrect to refer to them as such.