Daniel Turissini was working 60 to 80 hours a week as DC consultant, and all he wanted was a quiet space to give his brain a break for a few minutes in the middle of the day. He tried hotel lobbies, and he asked around his other type-A, stressed-out, overworked colleagues where they'd go. Their response? Their cars in the garage or even bathroom stalls where they'd escape to doze a few minutes.
Like every great infomercial, Turissini thought to himself, "There's got to be a better way."
On Thursday, Turissini is celebrating the grand opening of Recharj, his boutique power nap and meditation center. The center is located right off the lobby of the Suntrust Bank building in downtown DC. The experience of stepping inside is quite a shift: one moment you're in a glossy office building lobby, but then you walk past the receptionist's desk, turn left, and suddenly, you're standing on turf, surrounded by bean bags and floor cushions.
"We built it for the business professional who's overworked, overstressed, and needs that break," says Turissini. "We wanted to build a natural oasis away from the steel and the concrete and the cement that you see outside, so everything is controlled to kind of optimize the experience in terms of our senses."
Included in the sensory experience is a real tree bark wall to the right of the entrance and a private room with preserved moss and plants covering a swath of wall in a private room to the left. A complimentary tea bar is stationed in one corner where visitors can fill Recharj-branded mugs with Rishi tea or purchase candles and lotions. Six-foot-long bean bags by Yogibo serve as the power nap beds, white curtains that hang from the ceiling separate the room into private pods. There are no sheets–rather, the bean bags have fabric covers that are washed daily, and throws are available for those who want an added layer.

The 20-minute power naps ($15 for a drop-in) are only part of Recharj's offering. In addition, there's 35-minute meditation classes (five classes are $69) and one or two-hour wellness workshops that focus on everything from lack of sleep to mindful eating. Turissini says the instructor-led meditation classes are a good way to try out meditation—even if you're inexperienced—while the workshops, which will primarily take place evenings and weekends, are more for going deeper into the meditation practices that interest you.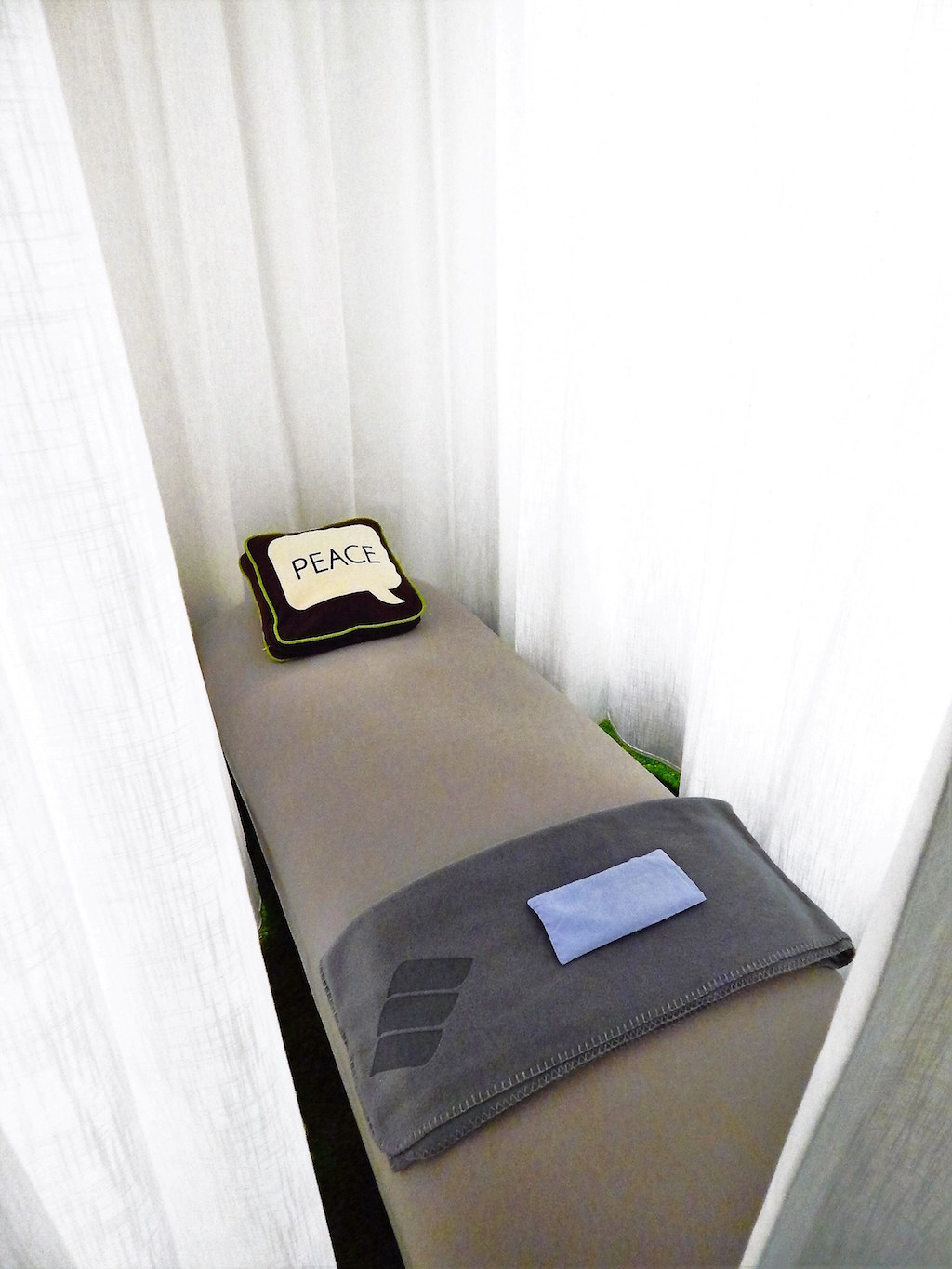 Overall, Turissini sees Recharj as part of a movement—which he in part credits Ariana Huffington for—to start prioritizing mental health.
"Just as there was decades ago about the importance and relevance of physical exercise, there's this movement towards: What is mental health? What is emotional health? How do we improve it? How do we exercise that?" says Turissini. "We want folks to leave feeling the same way I felt when I had my first meditation session, which is calm, centered, and just energized and ready to take on the rest of the day."
Recharj is now open at 1445 New York Ave., NW.