As a former Redskins cheerleader and fitness trainer at West End's high intensity interval training gym, Blast, Christa Aiken (a.k.a. DC Fit Chick) keeps to a pretty active schedule. For her, staying fueled involves plenty of protein and water. Take a peek below at her diet on a day that started with teaching two classes and ended with another class followed by her own personal workout.
Breakfast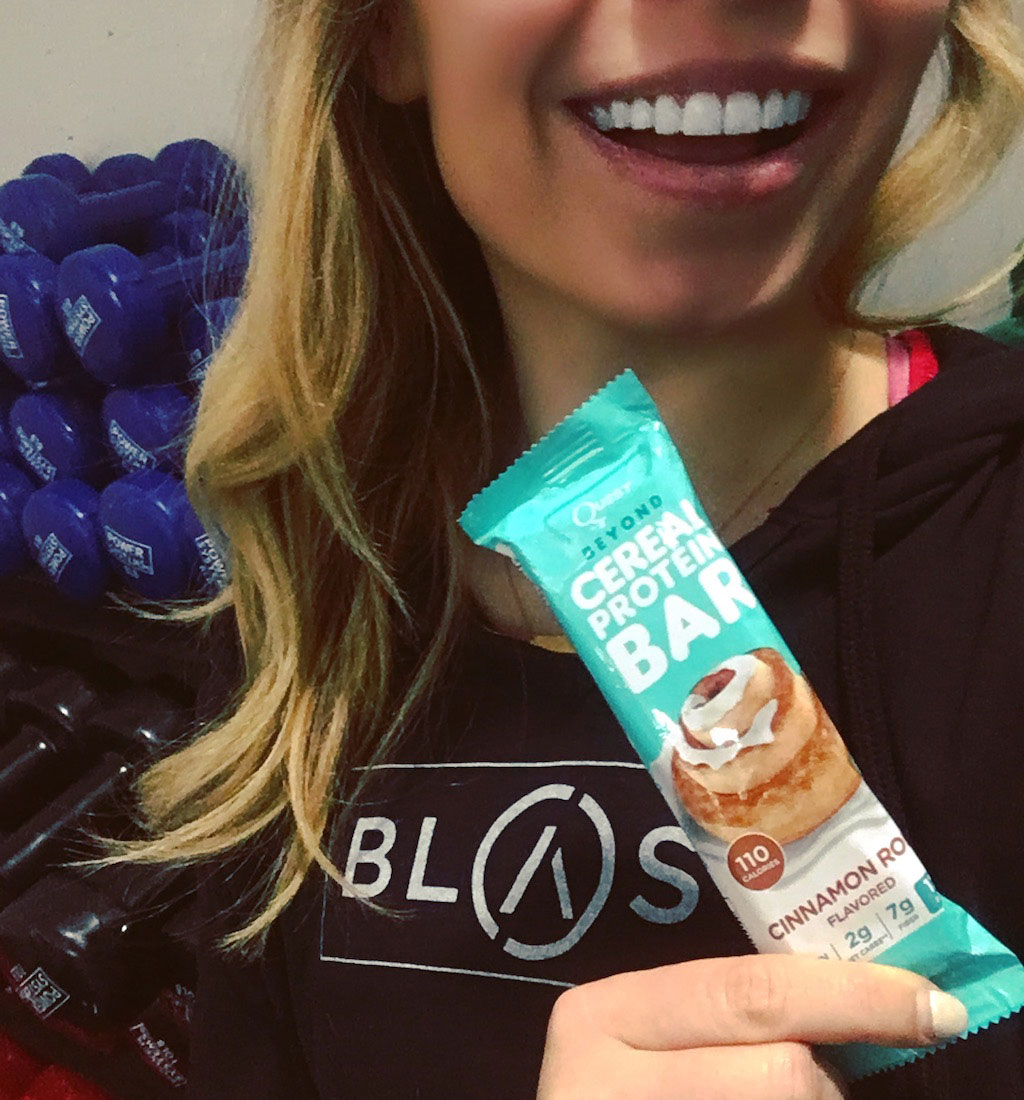 "Mondays my day starts super early at 5 AM to teach a 6 AM and 7:15 AM class at BLAST DC in Georgetown. I usually don't have time to eat beforehand, but sometimes I like to grab just a bar and maybe have it right before or after I teach," says Aiken. "On this Monday I've been trying out the Quest Nutrition's cereal bars which are amazing!"
Tea Break

"Usually I bring my own chai tea, but since it was such an early start, I went to Starbucks and bought a chai tea with a shot of espresso with coconut milk," says Aiken. "If you know me, you know I drink a ton of water so I'm refilling my water bottle throughout the day."
Lunch
"I recently found the Blu Cafe (which is connected to the Ritz Carlton on M Street), and I absolutely love it! Great prices for fresh, healthy food!" says Aiken. "I went there for lunch got salmon, wild rice, and a turkey and quinoa meatball."
Dinner
"I had another class to teach in the evening and then stuck around to get my own work out in! I was pretty hungry for some protein and nutrient-dense food!" says Aiken. "Mighty Meals, which is a meal delivery service in DC and Virginia, is one my favorite go-tos to order my meals from so I had some in my fridge when I got home that night. This one is called [Steak 'N Gainz] and it had steak, mushrooms, and more rice. This was such a long and active day I ate a little bit more carbs and proteins than I would on a day where I was not teaching as much or working out as hard."
Have a Food Diary you'd like to share? Email ccunningham@washingtonian.com.
Consult with your doctor before beginning a new diet. Washingtonian does not endorse any diet without the supervision of a medical professional.