Now that Valentine's Day is over, it's safe to get back to the business of spurning your exes. Georgetown cat cafe Crumbs & Whiskers is here to help.
Until the end of February, customers can write their exes' names in Sharpie in a newly purchased litter box. You can also follow Crumbs & Whiskers on Snapchat and send a snap with a name, which will then be written in the box for you. On March 2, the box will be filled with litter for the cats to use. Owner Kanchan Singh and her team will then stake out in front of the box, waiting to document the dumping on Snapchat, Instagram, and Facebook. Customers can also come in and watch.
"A lot of our customers were saying that there's so many places to celebrate who you're with, but there's nowhere to shit on your ex," Singh says. "We took that literally."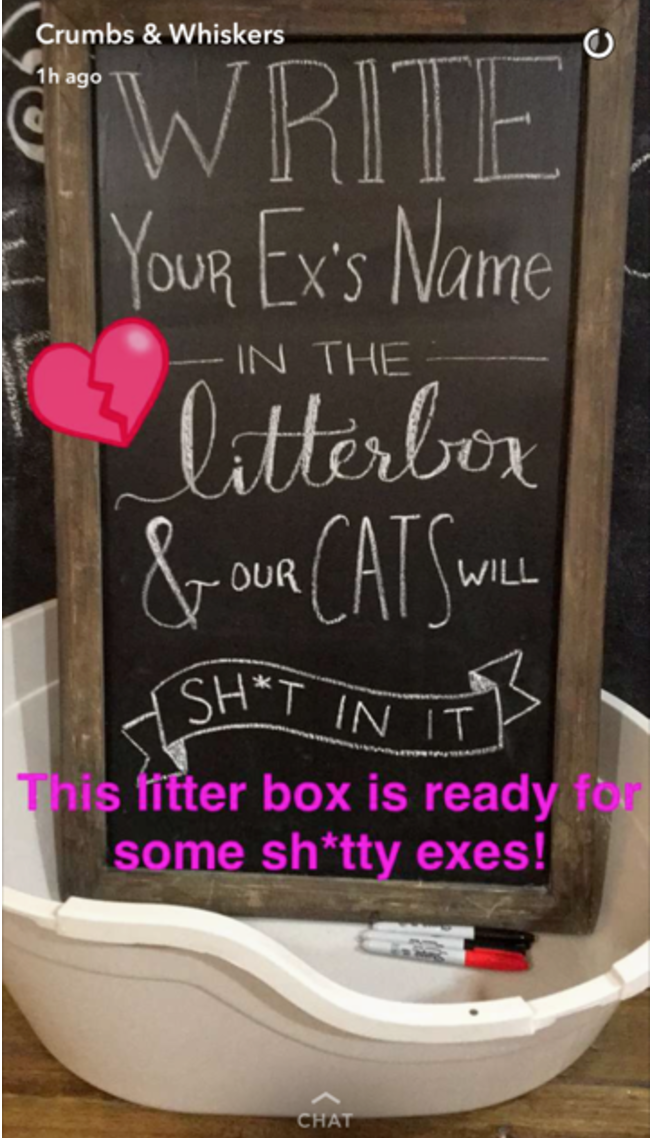 In mid-January, Singh and her team were tossing around ideas for Valentine's Day. While meeting, they remembered talking to customers who just wanted an outlet for their anger towards their exes. Deciding to change their approach, they came up with this gem.
"We all joke that coming up with this idea is the proudest moment in Crumbs & Whiskers history," she says.
The litter box is now full of names, and people are even writing names on top of others. Singh will have a very important meeting with staff soon to decide if they should buy another box.
Though it was originally intended for exes' names, Crumbs & Whiskers has allowed customers to get creative with who they think deserves to be crapped on. Singh says she's seen lots of "Trump" and "Pence" in the box as well.