If you pack a lunch or go out every day, you probably have a go-to meal. Whether it's your quick and easy turkey sandwich you make at home or the salad you pick up at Sweetgreen five days a week, it's easy to form lunchtime habits.
But if this is the food we're eating on a daily basis, it'd be nice to know how healthy it really is. Enter Charmaine Jones, a DC registered dietician nutritionist who counsels clients on healthy eating—from going grocery shopping with them to looking at photos of their meals and providing tips on how they can improve.
Below, we've asked Jones to judge some of our own lunches anonymously to see how we can improve. Want to have The Lunch Judge take a look inside your lunch box for a future feature? Shoot me an email at ccunningham@washingtonian.com.
Turkey Sandwich with Strawberries and Greek Yogurt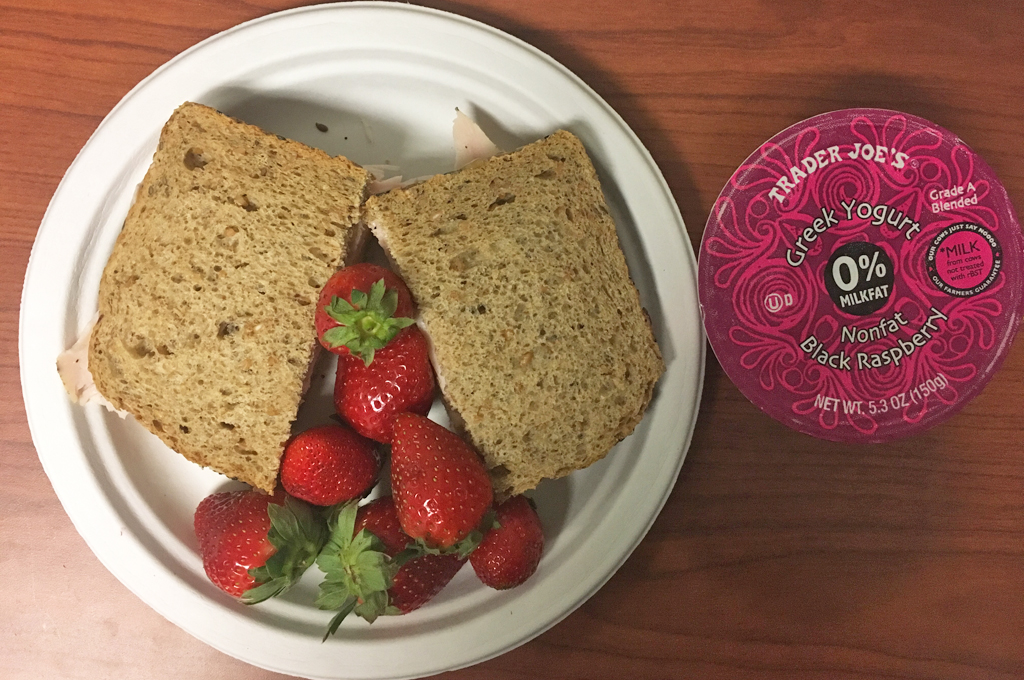 What's for Lunch: Online producer and writer Greta Weber frequently packs sandwich made on Dave's Killer Bread, with The Perfect Pita black bean & cilantro hummus, a slice of sharp cheddar from Trader Joe's, and Columbus peppered turkey breast. On the side, there's fresh strawberries and a Trader Joe's black raspberry Greek yogurt.
Jones' Take: "First thing, where are the greens, here?  Since 'Greens are the No. 1 food you can eat regularly to help improve your health,' according to Jill Nussinow, MS, RD, your sandwich should be loaded with them and other colorful vegetables too.  You could top your turkey sandwich with a handful of either spinach or kale or iceberg lettuce or romaine lettuce, and add thinly sliced tomatoes, cucumbers, onions or bell peppers strips. This turkey sandwich could offer much more than proteins and carbs.
"I am all about non-fat yogurt, but be careful with choosing flavored yogurt.  These yogurt tends to be lower in fat but higher in sugar content.  I would highly recommend plain yogurt topped with chopped ¼ cup of fresh strawberries.  And, if you can't [handle] the taste of the bitterness of plain yogurt, then you should try vanilla yogurt with ¼ cup of fresh strawberries. Let's cut down on the unnecessary sugar intake."
Hummus with Carrots and Chips, Greek Yogurt, and an Apple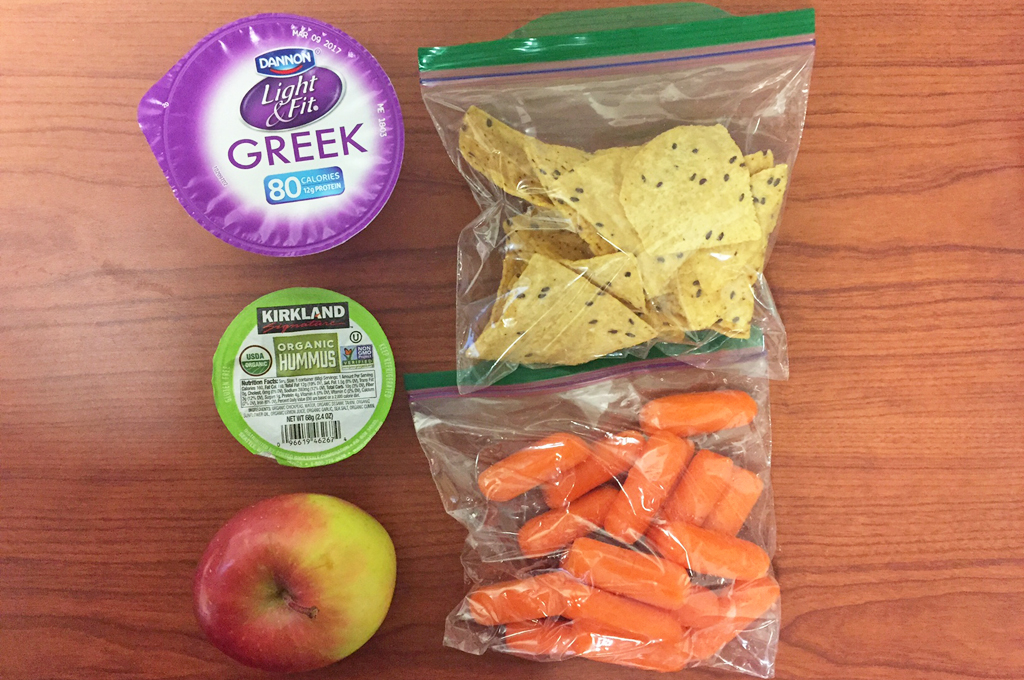 What's for Lunch: I, Caroline Cunningham, packed a Dannon Light & Fit blueberry greek yogurt, SimplyNature Multigrain Tortilla chips, Kirkland Organic Hummus, an apple, and carrots.
Jones' Take: "Not bad… not bad at all. You can add a little more variety of veggies in your snack bag, though. For examples, you can add about ten snap peas, eight bell pepper strips (red, green, or yellow), six cherry tomatoes, or four pieces of steamed cauliflower floret.  Adding a variety of colorful veggies boost the nutritional content in your meal, and definitely increase your daily fiber intake.  These tasteful veggies provide antioxidants and phytochemicals that lower your risk of developing chronic diseases, cancers, and help with weight control.
"Remember, each veggie offers a unique health benefit in supporting your overall wellness. That is why there is no such thing as one veggie being superior to another.  Therefore, I really encourage you to try making tri-veggie color snack bags instead of one with plain carrots."
Taco Soup (Normally Served with Corn Chips)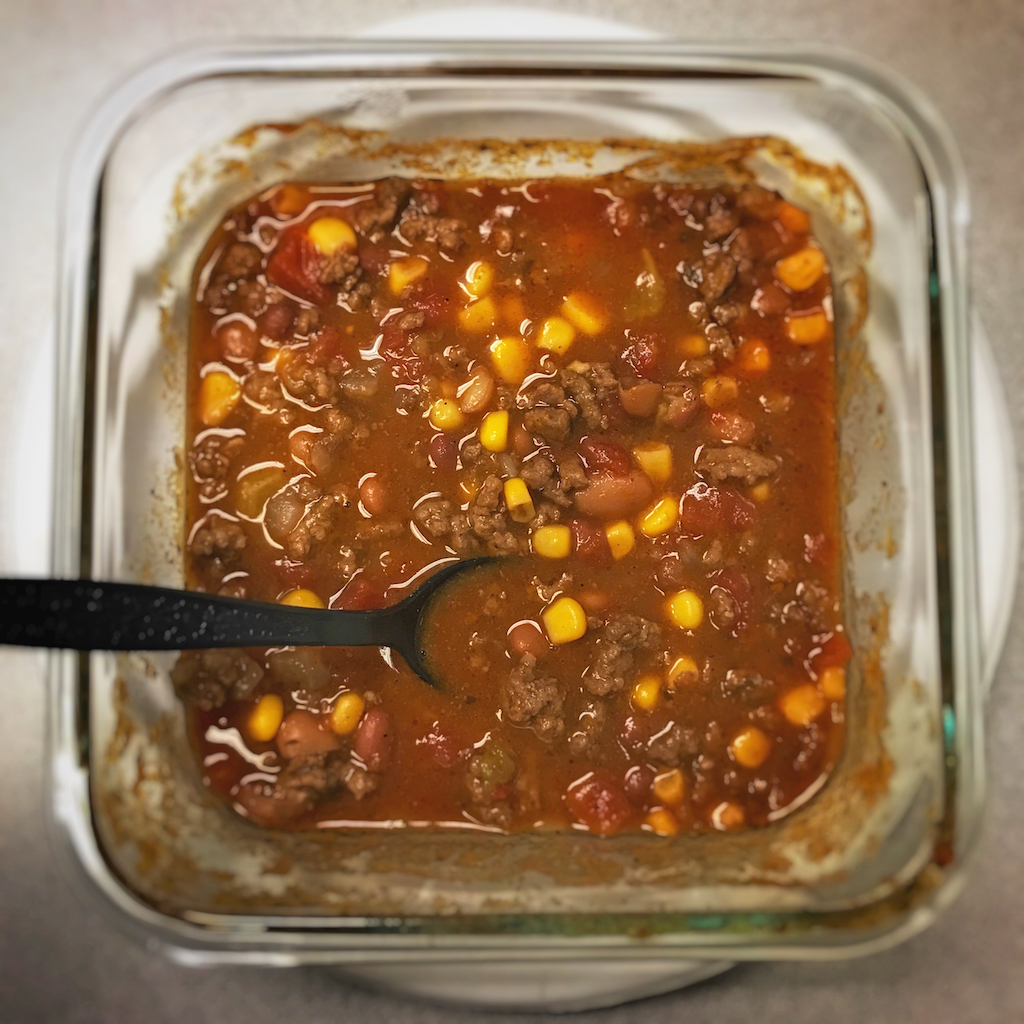 What's for Lunch: Senior editor Andrew Beaujon prepared "Taco Soup"—it's made with beef and low-sodium broth, canned corn, beans, stewed tomatoes, and Rotel, and seasoned with Ranch dressing powder. He would normally pair this with corn chips on the side.
Jones' Take: "I have a bit of a 'beef' with this taco soup.  This taco soup can be loaded and flavored up with spices and vegetables other than starchy vegetables such as corn and beans.  You could have added chopped scallions, parsley or cilantro flakes, diced white onions and yellow peppers, and for a little heat add ½ tsp of hot peppers. Now, there is nothing wrong with beans, they are super high in fiber and B-vitamins.  In fact, you didn't need to include the beef if you wanted to go the vegetarian route.
"As far as adding a bunch of corn, try sticking to the recommended portion size of 4 ounces.  You don't need to overdo it on the corn! You can enjoy your taco soup by itself or with eight to ten multigrain chips topped with plain Greek yogurt instead of Ranch dressing powder.  The plain yogurt is lower in fat, salt, calories, and contains nutritional goodies (calcium, Vitamin A, D). There is one more thing that I must recommend: a side of 1 cup of fresh kale salad with 1 tsp of olive oil drizzled on top would definitely add nutritional value to this lunch!"
Want to have The Food Judge rate your lunch? Email ccunningham@washingtonian.com with details. 
This post has been updated.