The Craft Brewers Conference will be held in DC from April 10-13. While the daytime seminars and events are aimed at beer-industry professionals, the evenings are full of tap takeovers, brewery collaborations, and other beers not typically available in DC at bars across the city. Whether you've just gotten into craft beer or have earned hundreds of badges on Untappd, there's something new for every drinker. Here are a few the most exciting events going on every day of the conference. Unless otherwise mentioned, events are free to attend, but beer prices may vary.
SUNDAY, APRIL 9
BOOKS New Belgium's beer is everywhere; the Fort Collins, Colorado brewery is best known for its Fat Tire amber ale, but it also brewed a sour beer in collaboration with the Maryland metal band Clutch. New Belgium's brewmaster Peter Bouckaert is presenting a seminar on wood and beer at Meridian Pint, discussing the history, physiology, microbiology, and flavor contributions of wood. He will also sign copies of his book Wood and Beer: A Brewer's Guide. ($5, 6:30 PM)
COLLABORATIONS Devils Backbone has collaborated with five other Virginia breweries (O'Connor, Mad Fox, Parkway, Ocelot, and Three Notch'd) and will pour those beers at RFD starting at 4 PM.
TAP TAKEOVERS Brasserie Beck is celebrating the eve of CBC with an all-domestic tap lineup of Belgian-inspired beers, from breweries both near (DC's Right Proper) and far (Colorado's Funkwerks). (4 PM)
MONDAY, APRIL 10
FOOD At every conference, Flying Dog, Surly, Maui, DC Brau, and Firestone Walker join forces to host a six-course beer dinner called "Charlie Bravo Charlie". This year's iteration will be at Meridian Pint and will also include Asheville, North Carolina sour wizards Wicked Weed; representatives from each brewery will be present. Beers from each brewery will be on tap as well. ($85 for the dinner, 7 PM).
IPA TAP TAKEOVERS IPA fans have three options on Monday night. East-coast style hazy IPAs will be on tap at Brookland Pint's "Haze for Days" event (featuring beer from Aslin, Civil Society, SingleCut, LIC Beer Project, Heist, and Lawson's Finest). West-coast style IPAs are highlighted at Smoke & Barrel (featuring beer from Societe, Pizza Port, Amplified Ale Works, Melvin, and Ocelot). And finally, Bluejacket is hosting a the DC debut of Georgia's Creature Comforts at its tap takeover, including that brewery's sought-after Tropicalia IPA.
OUT-OF-MARKET BEERS CBC is always a great time to find out-of-market beers on tap in DC. ChurchKey is showcasing East Coast beers (Bissell Brothers, Other Half, Suarez Family, The Veil, and Trillium), while the Sovereign is hosting craft beer all-stars (Blackberry Farm, Crooked Stave, and The Bruery). If Mondays are too early to start serious drinking, then stop by Jack Rose, which is hosting a low-ABV night (less than 5 percent) with beers from 4 Hands, Off Color, Oxbow, Perennial, and Stillwater.
TUESDAY, APRIL 11
RUN DC Brau's Braurunners and Stone Brewing Richmond are co-hosting a morning run on the National Mall to kick off the conference (and, ahem, to burn off some calories amidst all the drinking). The run kicks off at the corner of 9th St NW and Madison. (7:30 AM)
MUSIC Virginia-based psychedelic rock band Pontiak is headlining a show at DC9 hosted by Right Proper, Pen Druid, and Stone Brewing; this show will also be the debut of Soused, a collaboration between those three breweries and Greg Anderson from SunnO))) ($12, 9 PM).
COLLABORATION BEERS Breweries always roll-out collaboration beers at CBC; the official CBC Commemorative Beer is a Belgian Pale Ale (Flying Dog, DC Brau, Manor Hill, Waredaca, Vanish) that will be available at City Tap House Penn Quarter. DC Brau brewed six collaboration beers for CBC that will be showcased at Jack Rose's Collaboratron event. And Bluejacket is hosting a tap takeover for Arizona Wilderness that will be the debut of their Potential Grizzlies collaboration saison.
OUT-OF-MARKET BEERS The tap takeovers of out-of-market beers really ramp up on Tuesday with Florida powerhouse breweries Funky Buddha and Cigar City at Lost & Found, Asheville breweries Burial, Hi-Wire, and Wicked Weed at ANXO Cidery & Pintxos Bar, and Minneapolis brewery Surly at Red Apron Union Market. ChurchKey will showcase Southern breweries (Burial, Creature Comforts, Fonta Flora, The Answer, and Westbrook), while Meridian Pint highlights Midwestern brews (5 beers each from Rhinegeist, Sun King, Half Acre, and Columbus).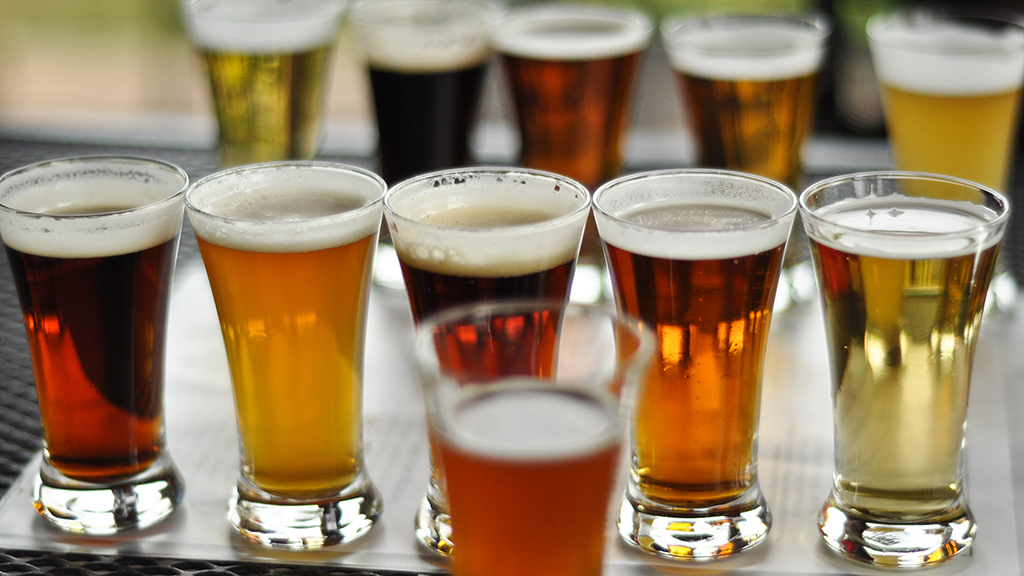 WEDNESDAY, APRIL 12
MUSIC DC Brau is celebrating its 6th anniversary at the 9:30 Club with a concert by Savannah metal band Baroness and Maryland band Trans Am. Cans of the Brau's collaborations with Melvin and Union will be available, as well as Brau's signature double IPA On the Wings of Armageddon. ($30, 7 PM).
COLLABORATION BEERS Virginia breweries are showcasing their collaborations on Wednesday, with Mad Fox revealing its double Belgian IPA collaboration with Victory, Mutually Assured Deliciousness, at its DC Taproom. Three Virginia breweries (Starr Hill, O'Connor, and Fair Winds) brewed an IPA called Ménage à VA that will be on tap at b DC Penn Quarter.
SOUR BEERS Those who like their beer tart have several options on Wednesday: Brookland Pint is showing off sour beers from Cascade, Wicked Weed, Bullfrog, and Almanac. Fruited wild ales are on tap at ANXO Cidery & Pintxos Bar, with beers from Jester King, Oxbow, and Fonta Flora.
OUT-OF-MARKET BEERS A gold medal at the Great American Beer Festival is one of the highest honors for a brewery; Indianapolis's Sun King will have its 2015 GABF gold medal winner Afternoon Delight at Red Apron Union Market. Other high-profile out-of-market brews will be available at Meridian Pint (Fremont and Crooked Stave), Hazel (Burial, TRVE, and Night Shift), and ChurchKey (Arizona Wilderness, Jackie O's, Monkish, and Perennial).
THURSDAY, APRIL 13
MUSIC It's a metal night at Atlas Brew Works, as three local metal bands– King Giant, Cavern, and Lord– are performing in collaboration with DCHeavyMetal.com. On the beer front, Atlas has teamed up with Charlottesville's Champion Brewing to debut the official Decibel Beer & Metal Fest beer (Decibeer) before the Philadelphia festival on April 22, and Denver's metal brewery TRVE will have guest taps ($10, 7 PM).
COLLABORATIONS DC locals 3 Stars are showcasing collaborations they've done with a whole slew of other breweries: Other Half, J. Wakefield, Graft Wild Ciders, Ocelot Brewing, Aslin, Charm City Meadworks, and Modern Times at their brewery ($15, 5 PM).
TAP TAKEOVERS IPA lovers should stop by Meridian Pint for its IPA festival, showcasing 30 breweries that are known for the style, such as RAR, Aslin, and Brew Gentlemen. RFD is hosting a sour night, featuring beers from Wicked Weed, Boulevard, and Allagash. And ChurchKey is highlighting out-of-market beers from the mountains of Vermont and Wyoming (Lawson's Finest Liquids, Melvin, Foam Brewers, and Black Tooth Brewing).
FRIDAY, APRIL 14
TAP TAKEOVERS CBC officially ends on Thursday, but bars around town are still hosting events and tapping out-of-market beers. Brookland Pint will have four variants and vintages of Westbrook's spiced stout Mexican Cake, while Jack Rose is featuring sours from TRVE, Upland, and Wicked Weed. The Black Squirrel is having an underdog night featuring beers from smaller craft breweries Aspen Brewing and Roy Pitz Brewing.