I'm the restaurant critic in my family, but I'm actually not the toughest one to please. The person whose presence should really set a chef on edge is my mother, a passionate home cook whose eyes turn steely if the plates aren't hot enough, the oysters aren't perfectly chilled, or the $32 roast chicken isn't as good as the one she makes.
So naturally, I was a little wary of bringing her to the Smith, a massive American-style brasserie in Penn Quarter where steaks, burrata, crab "tots," and bibim bapare all crammed onto one menu. My mom has never eaten at a Cheesecake Factory. Was I bringing her to the next-fanciest thing?
My fears of something-for-everyone mediocrity weren't due just to a cacophonous menu. (Plenty of those are out there.) The Smith actually is a small chain. Four are in New York City, with another on the way to DC's U Street. Seemingly quirky details such as the photo booths by the restrooms—and the secret peepholes nearby (peer in for a vintage burlesque fix)—can be found at all of them. The menus are virtually carbon copies of one another. And the loud dining rooms share design traits such as gleaming white subway tiles and wooden bistro chairs.
But you know what? After eating at the Smith three times, I couldn't care less that some dude in midtown Manhattan might be digging into the exact same shrimp pasta with garlicky bread crumbs. The kitchen, mostly, is minding the right details.
Oysters, from Virginia's Tangier Island, were cleanly shucked and wonderfully creamy and cool. (One mom test down!) That bibim bap—the Korean rice dish that's a mess of veggies, hot sauce, and a runny egg—leapt with gingery brightness. Poke, the trendy Hawaiian specialty you'll be seeing a lot more of this year, featured chunks of raw tuna that practically sparkled thanks to a tossing of mango, soy, yuzu, and cashews.
Simple fried calamari has fallen out of favor as a bar bite, bumped aside by junk-food hybrids like pastrami-laden nachos. If you miss it, get to the Smith, stat. The squid are beautifully fried and tossed with a zesty marinara you'll want to sop up with the good baguette that arrives when you sit down. Same goes for the "Sunday gravy" spooned atop the tender chicken meatballs, which are finished with Parmesan and sesame seeds.
In fact, I could make a meal out of the snacky stuff—miniature crabcakes sided with a tangy tartar, crunchy fried squash rings with addictive harissa-tinted mayo, a big bowl of zesty potato chips doused in blue-cheese sauce, and a skillet of excellent mac and cheese, sharp and gooey. If only the cocktails lived up to those. Blood-orange margaritas, cucumber tequila highballs, clementine-scented rickeys—they all went down harshly. You'll have better luck sticking to the smartly curated wine and beer lists.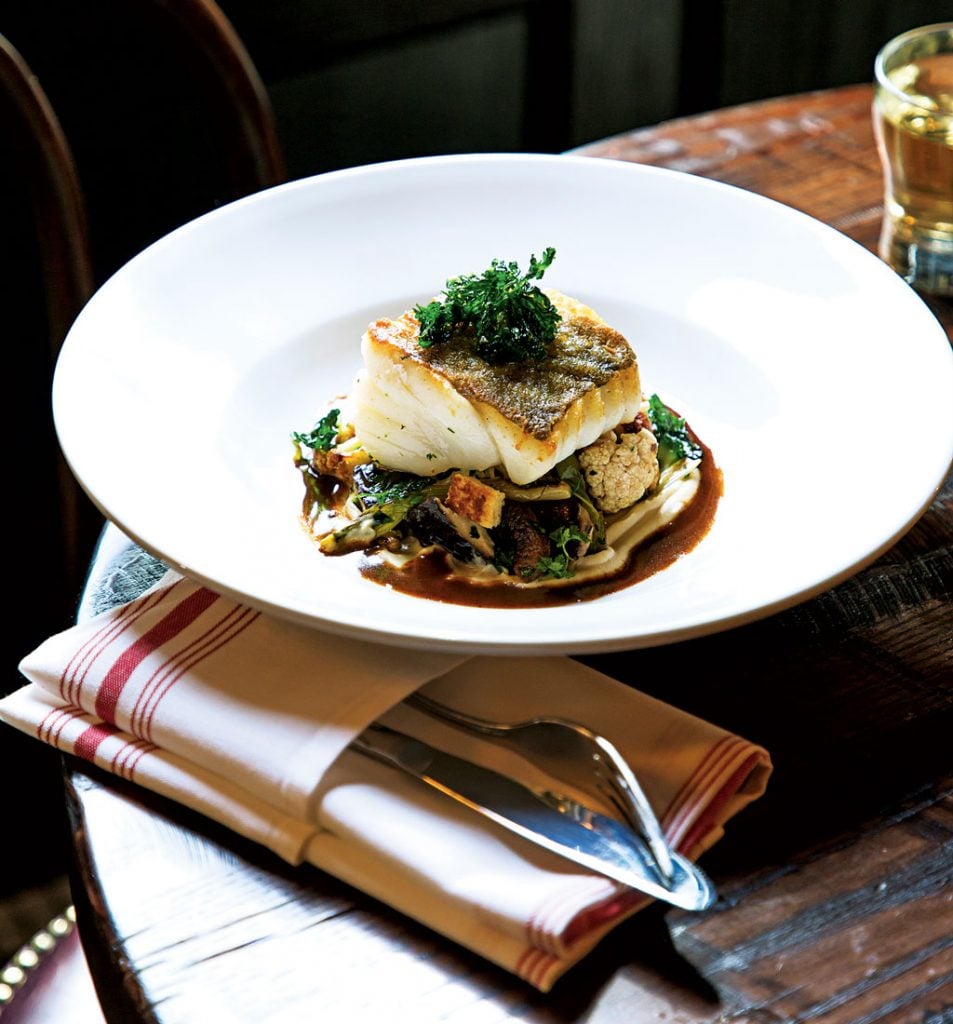 When it comes to bigger plates, things become more hit-or-miss. A cut of roast-ed cod with a lovely yuzu-scented broth wouldn't have been out of place in a far more expensive dining room. But order the salmon and you'll be stuck with overcooked fish on a ho-hum bed of chewy wild rice. A bone-in rib eye was full of savor, especially paired with a knob of herby butter (the best of the three sauce options) and a sheath of perfectly crisp fries. The most alluring part about the dry, shreddy short rib, however, was the jalapeño grits that came with it. And I should have read our otherwise chipper server's cues when I asked about the brick-cooked chicken. "It's chicken," she said with a shrug. A not very flavorful one—I didn't let my mother near it.
You might not have much room left when dessert rolls around, but it's among the kitchen's greatest strengths, if you skip the too-sweet fruit-centered options such as apple pie and lemon tart. Instead, go for top-notch chocolate-chip cookies as big as salad plates. Or a jar holding a layering of chocolate pudding, graham crackers, and fluffy marshmallow. Or best of all, a silver sundae bowl bearing huge orbs of vanilla ice cream and tufts of whipped cream. It comes with a boat of thick, warm fudge—the no-shortcut kind you'd find at soda counters of old.
That one? My mom fought me for every last bite.
The Smith ★★
901 F St., NW; 202-868-4900
Open Monday through Friday for lunch and dinner, Saturday and Sunday for brunch and dinner.
Neighborhood: Penn Quarter.
Dress: Mostly jeans and business casual.
Noise level: Gratingly loud—expect to do a lot of shouting and leaning in.
Best dishes: Raw oysters; tuna poke; chicken meatballs; fried calamari; mac and cheese; squash rings; potato chips with blue cheese; crab "tots"; rib eye; roasted cod with yuzu broth; chocolate-chip cookies; hot-fudge sundae; s'mores jar.
Price range: Snacks and starters $6 to $14, entrées $17 to $44.
---