Nearly 5,300 pedestrians in DC were struck by cars between 2009 and 2015, according to statistics compiled by the District Department of Transportation. While the collisions occurred throughout the city, data visualizations created earlier this year by personal-injury law firm Trombly & Singer reveal the 25 most dangerous intersections and worst neighborhoods for people trying to walk around.
The intersection of Minnesota Ave. and Benning Rd., Northeast, ranked as the most dangerous for pedestrians over the seven years of data, with ten collisions causing 14 injuries, followed closely by Southern Ave. and Southview Dr., on the border of DC and Oxon Hill, and 12th St. and Pennsylvania Ave., Northwest. Two other busy Northwest DC intersections, 14th and U streets and Georgia Ave. and Kennedy St., rounded out the top five.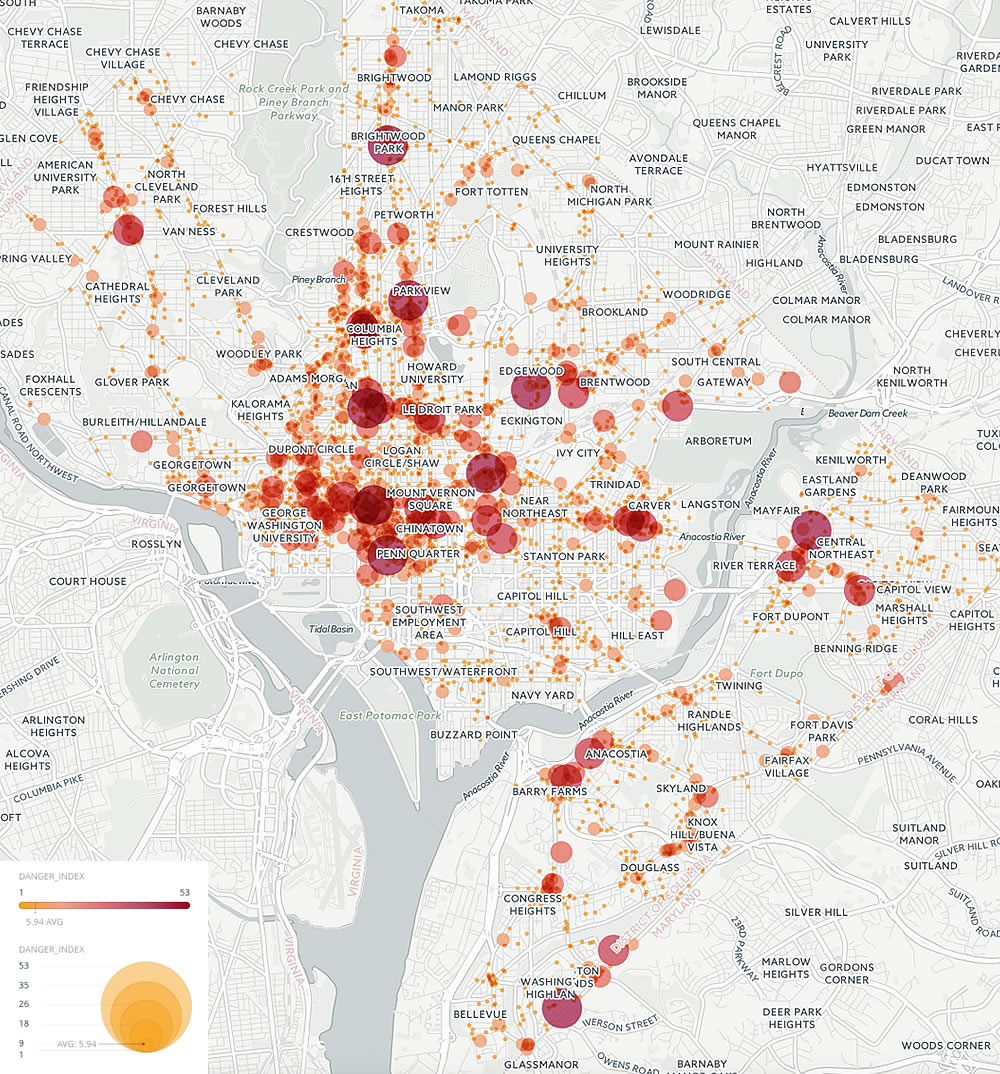 Fifteen of the 25 most-dangerous intersections are located within two blocks of a Metro station. And over the seven years' worth of data collected, 938 intersections citywide were the site of at least two pedestrian-involved collisions, while 374 saw at least three incidents.
Overall, the greatest concentration of car-on-person collisions occurred around Chinatown and Penn Quarter, with 333 incidents over the period analyzed. Other neighborhoods with high volumes of foot traffic, including Dupont Circle, Columbia Heights, Mount Pleasant, and H Street followed. Georgetown accounted for 109 incidents, while Adams Morgan had 90.
Trombly & Singer's maps and charts were released in February, just before the first anniversary of the District's "Vision Zero" program, a series of transportation policies aimed at eliminating traffic fatalities. Between 2009 and 2015, 90 pedestrians in DC were killed in collisions with motor vehicles, according to data collected by the National Highway Traffic Safety Administration; another nine died in 2016.