Around 9 p.m. on Monday, Robin Bell and a couple of his friends pulled up in front of the Trump Hotel in a van. They set up a projector and beamed the entire text of the Emoluments Clause of the US Constitution—which bars the president from receiving gifts or payments from foreign governments or heads of state—onto the Old Post Office Pavilion's façade, as well as text reading "PAY TRUMP BRIBES HERE" and "EMOLUMENTS WELCOME."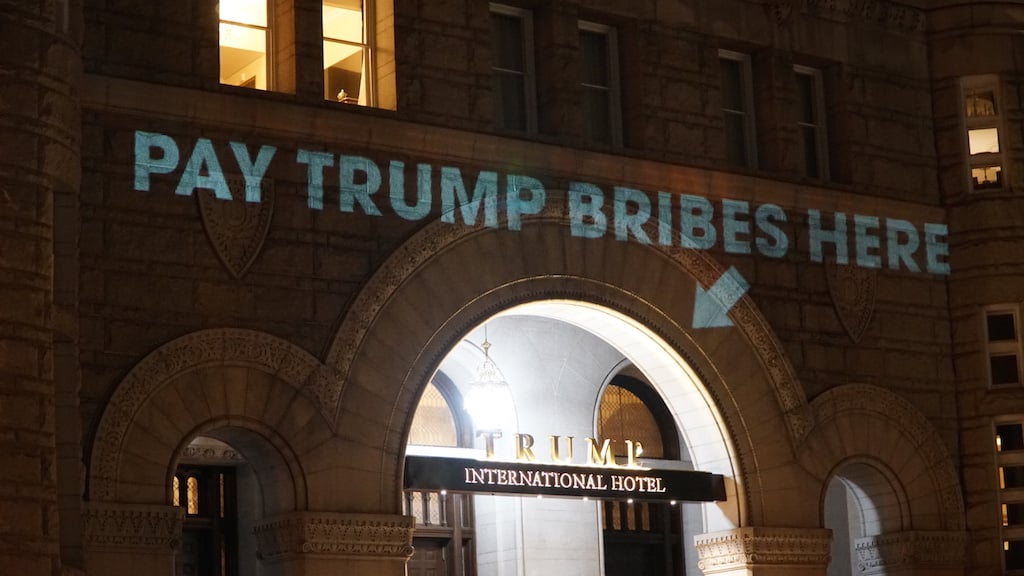 All three projections were up there for about 15 minutes before security came out and shut Bell and his crew down. It wasn't long until people were sharing photos of the projections on social media, prompting Bell to take credit for the artwork.
Had a lot of fun projecting #emolumentswelcome on Trump hotel pic.twitter.com/FlFr2ITJtj

— robin bell (@bellvisuals) May 16, 2017
"Even though the digital artwork is very temporary," Bell says, "it does create a moment in time—and it makes me feel good." Bell had the projection planned for about a month, so it isn't a response to the news about Trump revealing classified information to the Russian foreign minister and ambassador. "Now I guess I gotta make another projection," Bell says, laughing.
President Trump currently faces a lawsuit filed by ethics watchdog group Citizens for Responsibility and Ethics in Washington in January that alleges he violated the constitutional clause by accepting payments from foreign states through the hotel. Bell wanted to bring attention to the issue, seeing it as a "flagrant disregard for corruption of office." He hopes the work gives people "visual courage" to continue to challenge the Trump administration on the issue.
This isn't the only time that Bell has projected words of protest onto the Trump Hotel. For his first one in late November, he projected "Experts Agree: Trump Is a Pig," a callback to the 1980s DC punk scene, which protested the U.S. Attorney General Edwin Meese during the Reagan era with t-shirts and posters that read, "Experts Agree! Meese is a Pig." Writing for The New Republic, current Washingtonian editor Michael Schaffer described the campaign against Meese as a "pre-web meme."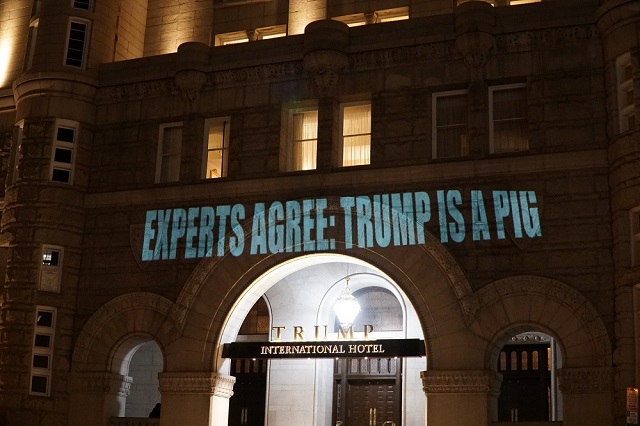 Since then, Bell has projected visual protests onto buildings such as the EPA and the DOJ. He says he tries to do one once every couple weeks or so. Because he isn't inflicting any permanent damage on the buildings, Bell's work is not technically illegal.
WATCH: We projected the truth about Trump's #climate denying pick for the EPA…on the EPA walls. #RebelAgainstEbell https://t.co/wJpgP9aroj pic.twitter.com/7fNJ4x82mx

— ClimateTruth (@climatetruth) November 23, 2016
He uses Photoshop and projection-mapping software and mocks up the work on site.
"It gets me through the day, so hopefully it'll get some other people through the day," he says.