Washingtonian is spending the day exploring Crystal City. Read all of our Crystal City Day coverage here.
Heading down US Route 1 into Crystal City, and the first thing you're likely to notice are the rows of brutalist chain hotels lining either side of the highway. There's a Holiday Inn, a Hilton, a couple of Marriotts—all of which look like they were built from the same supply of rough-hewn stone. But at the top of the strip, across Interstate 395 from the Pentagon, one hotel sticks out for the saucer-shaped protuberance on its roof.
That's the DoubleTree, generally considered to be a mid-priced, business-facing entry in Hilton Worldwide's portfolio of hotel brands, with some 500 locations around the world. But the one in Crystal City stands out for its Skydome Restaurant, a bar and restaurant with a panoramic view of Washington, and one of the last operating revolving restaurants on the East Coast.
To reach the Skydome, you take one of the hotel's elevators to the 14th floor, exit, then wait for the specially assigned elevator that shuttles between the main building and the restaurant during dinner service. Step out of the second elevator, and you're greeted with a wide-angle view of greater Washington, which on a clear evening includes Arlington, Tysons, the National Cathedral, National Mall and monuments, Capitol Hill, Southeast DC, and Reagan National Airport. The ring-shaped floor doesn't appear to be moving at all—it takes about 45 minutes to complete one full rotation—but there's a very slight jolt when I step on, and all of a sudden I'm in this throwback dining experience.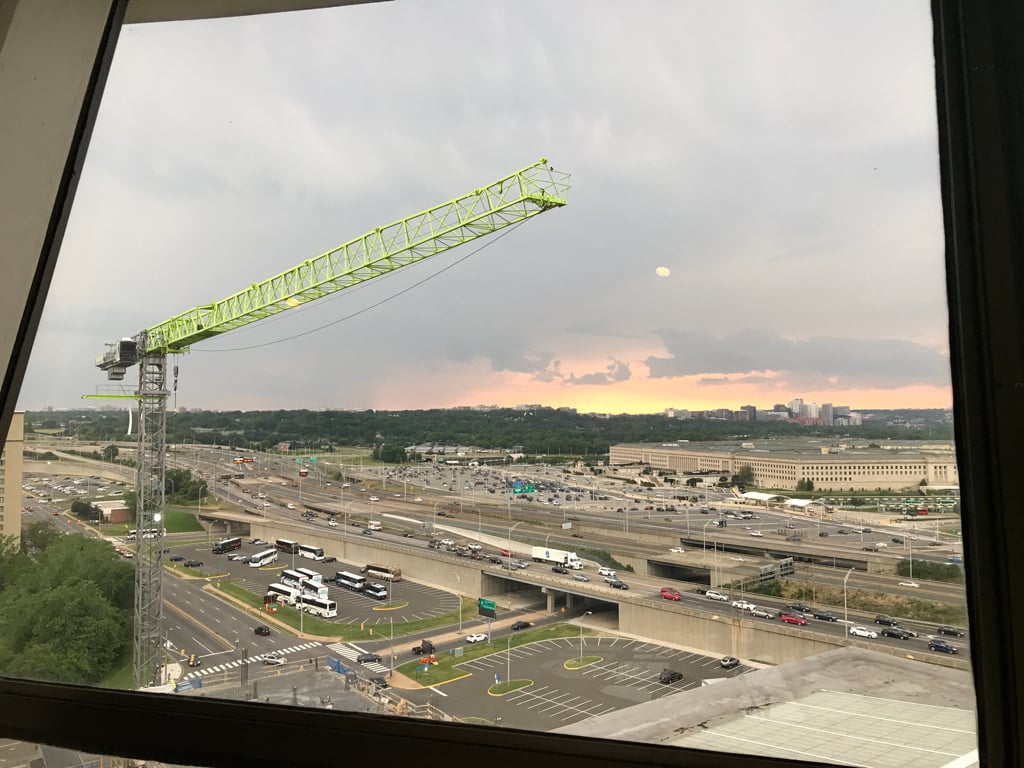 Revolving restaurants were all the rage between the 1950s and 1970s, when Western nations embraced modernist architecture. Not only could diners get a meal, they'd also be treated to sweeping views generated by what at the time would've been a taste of the future. The first modern revolving restaurant opened atop a television tower in Dortmund, Germany, in 1959. Another opened two years later in Hawaii. For the next couple decades, the format flourished, especially in landmark skyscrapers and new hotels: Seattle's Space Needle, Toronto's CN Tower, London's BT Tower, New York's Marriott Marquis. They appeared in resort towns in Florida and in the middle of South Dakota.
Washington got its rotating restaurant in late 1972, when Quality Inn opened its 15-story, 383-room hotel at the corner of 12th Street and Army Navy Drive in Arlington, capped by what was then called the Skydome Lounge. While the construction was worthy of a splashy aerial photo in the Washington Post, the restaurant's actual opening didn't catch much notice. Epic views aside, it was just another hotel bar near the airport, serving standard fare. The Skydome Lounge probably got its first big exposure in January 1979, when Representative Michael Myers of Pennsylvania was charged by Arlington Police with starting a drunken brawl with a waitress and a cashier at the restaurant. (Myers, a Philadelphia longshoreman-turned-Democratic-congressman, pleaded no contest; he was later one of seven members of Congress convicted of taking bribes in the Abscam scandal, and served three years in prison.)
Forgettable food and pugilistic congressmen aside, Skydome Lounge has always been a popular spot for sightseeing, especially on July 4. But as years passed, the hotel expanded and turned into a DoubleTree, and the revolving restaurant trend faded, Skydome Lounge didn't change much. "The venue's short menu of Buffalo wings, Caesar salad, pizza and a few sandwiches isn't anything to write home about," Tom Sietsema wrote in the Washington Post in 2001.
When the DoubleTree's current general manager, Dori Familiant, arrived from Southern California in 2009, the Skydome Lounge hadn't quite fallen into decay, but had clearly fallen out of time with a static menu, fraying carpets, and disco nights on Fridays and Saturdays.
"It was stupid, so I stopped it," he tells me as our table passes a window overlooking soccer players darting around Long Bridge Park.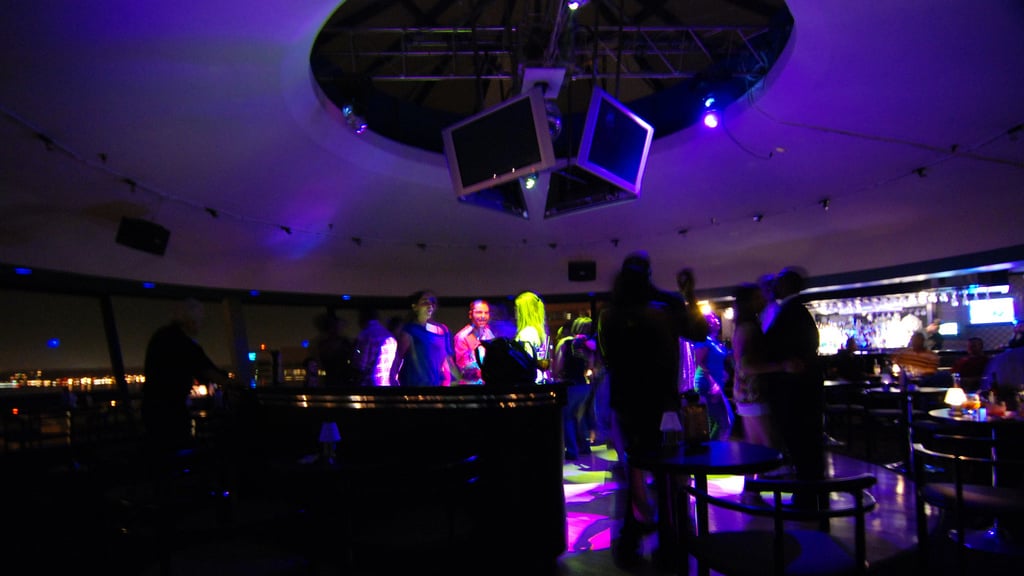 The Skydome was renovated along with the rest of the hotel 2012, and also got a menu upgrade. Instead of buffalo wings, pizzas, wraps, and nachos, the Skydome now serves small plates like Virginia ham and cheddar cheese topped with quail eggs and bite-sized lobster rolls. (The Caesar salad remains—it is, after all, still a hotel restaurant.)
"My friends say I work in that UFO-shaped building," says Andrew Dixon, who took over as the DoubleTree's executive chef last October after stints at other hotels and Mad Fox Brewing Company. (The restaurant's kitchen is actually on the non-moving 14th floor.)
Familiant says the upgrades have gotten more than just hotel guests in the restaurant, claiming its business is now about half locals who have either heard about the new menu items or just want to check out this artifact of mid-20th-century design. Many revolving restaurants in the United States have closed; Skydome is the only one between the Marriott Marquis in New York and the Sun Dial atop the 73-story Westin Peachtree in Atlanta, which entered the news last month when a five-year-old boy was killed after he was crushed between a table and a wall.
"We immediately checked this place after that," Familiant says.
Revolving restaurants might now be passé in the West, but their day hasn't passed entirely. In fact, they're surging in Asia, with 27 in China and 17 in India, according to Lucky Peach. More are on the way in cities like Mumbai, Abu Dhabi, and Dubai. And dictators have always loved them. Iraq's Saddam International Tower (now known as the Baghdad Tower) featured one when it opened in 1994; there are at least three hotels in Pyongyang, North Korea, with revolving restaurants on their roofs. Even a fictional strongman has inspired one. Piz Gloria, the revolving restaurant on top of the Schilthorn in Switzerland's Bernese Alps, was originally built as the set for Ernst Stavro Blofeld's mountaintop base in the 1969 Bond movie On Her Majesty's Secret Service. (For what it's worth, no hotel operated or branded by the Trump Organization features a revolving restaurant.)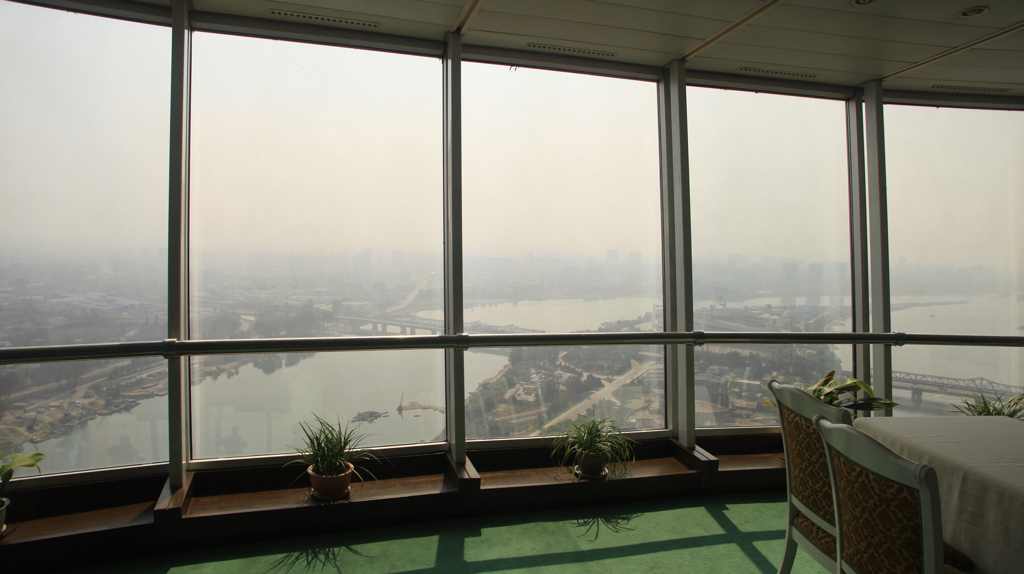 In fact, the entire concept of a revolving restaurant may owe itself to despotic whims. In 2009, archaeologists digging in Rome uncovered a circular dining room in a palace built for the first-century emperor Nero. Beneath the dining room was a circular, 12-meter-tall platform supported by arches that appeared to have been built with semi-spherical holes. The excavators theorized the holes, which were filled with loose clay, might have been some kind of engineering system designed to make the dining room rotate. In 2014, those guesses were partially rewarded when calcite deposits found on the structure suggested that water power was used to push gears that made the room spin, with the holes in the arches holding the Ancient Roman equivalent of ball bearings.
The DoubleTree might not want to connect its restaurant with Bond villains and 2,000-year-old tyrants. Still, Familiant may be on to something about the Skydome Restaurant's rebounding popularity. By the time I leave, around 8 PM, the place is mostly full. It's impossible to tell how many are hotel guests, but it's not exactly a ghost town either. The views are captivating, and nobody seems to be paying any attention to the four televisions that hang over the center of the restaurant; in fact, Familiant's thinking of ripping them out.