New DC pop-up bar/store Diet Starts Monday sparked outrage with a controversial cocktail: the "Pill Cosby," a tequila drink garnished with empty pill capsules. Bill Cosby, whom the cocktail was named after, is currently standing trial for allegedly drugging and sexually assaulting one of possibly 60 women.
"It lets people be a little more aware," co-founder Davin Gentry told Washingtonian of the drink, which was also designed to play into the bar/restaurant/retail shop's diet theme. "We took it at first as a funny name." 
Twitter users disagreed.
Every 98 secs an American woman or man is sexually assaulted. But yeah, Pill Cosby is a really fucking funny drink. Sorry I'm so humorless. https://t.co/TcI0flZQv1

— Jennifer (@leftyjennyc) May 22, 2017
Log on an see Pill Cosby trending pic.twitter.com/oGMBi4Ekzh

— DKT (@darleneturner53) May 22, 2017
I was ready for a good laugh.. and then I saw why Pill Cosby was trending pic.twitter.com/qAyNp5Iguv

— Jacques Michel ?? (@Coach_JoX) May 22, 2017
may shock you to learn the three geniuses behind the Pill Cosby, an actual drink being actually served, are all men https://t.co/eNXfiGvuNE pic.twitter.com/lPVTfm8VsK

— Caty Green (@catygreen) May 22, 2017
Yelpers weren't amused either, pummeling the pop-up with one-star "reviews."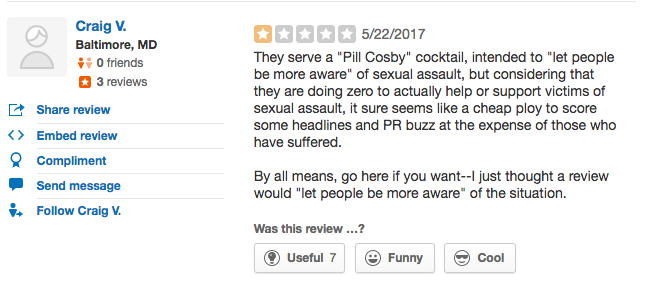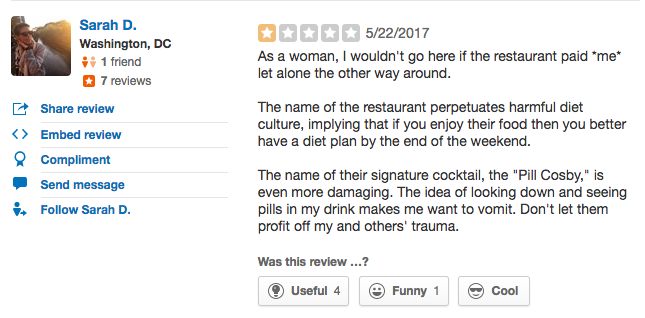 Within a few hours, Diet Starts Monday removed the drink and offered an apology over Twitter.
The drink has since been removed from the menu and we apologize to anyone who felt offended by this.

— Diet Starts Monday (@dietstartsmon__) May 22, 2017
This drink was not made with any intent to offend anyone, especially not victims of rape. We take full responsibility.

— Diet Starts Monday (@dietstartsmon__) May 22, 2017
Not everyone was appeased.
@dietstartsmon__ This translates to: "Fine, but #sorrynotsorry" you've already lost cred.– perhaps get your bar staff trained with #safebars? @SafeSpacesDC

— Nicolas Martinez (@nicmartinezva) May 22, 2017
@dietstartsmon__ Can you guys also remove the 5-star Yelp review from your co-founder while you're at it? Pretty sad, almost pathetic pic.twitter.com/iUxeGkCPao

— David (@davefromkc) May 22, 2017
Guess it's also "apologies start Monday."
Update: the Diet Starts Monday owners reached out to Washingtonian with the following statement. 
"This drink was a one-time item – its inclusion as an offering of ours was in poor taste and we've taken all necessary steps to ensure it won't happen again. We take full responsibility and apologize to anyone we offended. The allegations against Mister Cosby are serious and we in no way intended to make light of the pain surrounding his behavior. We rely on our community to help us guide everything we do. We appreciate all the feedback. This was a mistake, it will not be made again. We are sorry.
We've begun the process of reaching out to leaders in our community to teach us how to be better, and we value everyone's thoughts.
Again, we are sorry for any pain this has caused and we're working to do better."