A guide to the newest places to eat and drink.
The team behind DC's first cidery will open the city's second cidery on Saturday, May 27. Anxo Cidery and Tasting Room in Brightwood Park will become the home base for the cidery's production, but it also has its own bar serving 24 ciders on draft and a small Basque- and Catalan-inspired menu.
New to the Anxo team is cider maker Greg Johnson, who comes to DC from Virtue Cider in Michigan. At the new facility, he'll have three casks from the Chianti region of Italy plus two 1,000-gallon stainless steel fermentation tanks to play with. The first batch of ciders made exclusively on-site will be available this fall.
In the meantime, you'll be able to find all of Anxo's sour and funky collaboration ciders as well as varieties from around the country and Europe. During opening weekend, the Brightwood Park cidery will debut its latest release: Collaboration #7. Made in conjunction with Vermont's Eden Specialty Ciders, the beverage is a blend of four Vermont heirloom apple ciders. Beyond cider, the 30-seat tasting room will also carry vermouth and cocktails.
The food menu isn't quite as robust as Anxo's Truxton Circle bar and restaurant, but look for Spanish snacks, meats and cheeses, panini, and salads.
Take a look at the full menu below: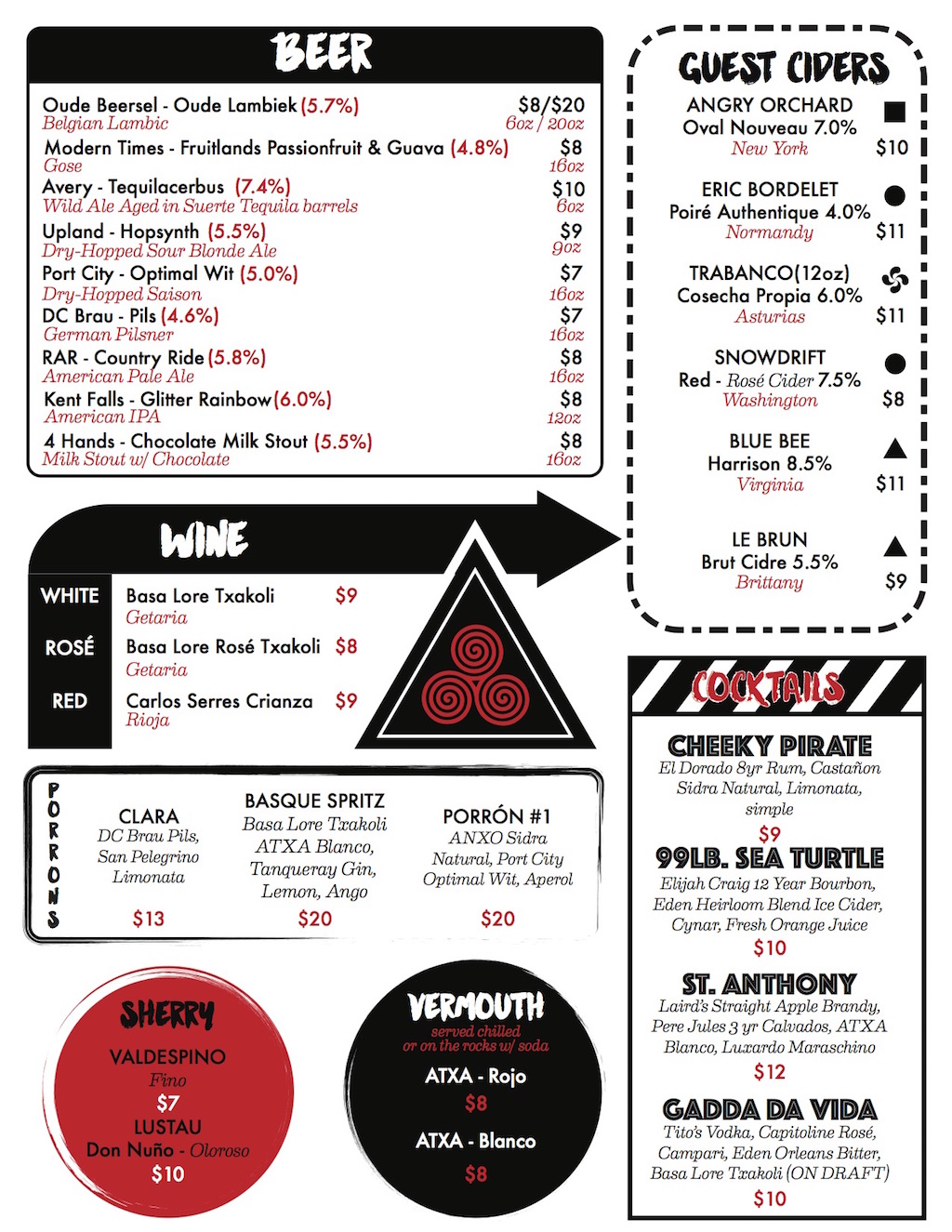 Anxo Cidery & Tasting Room. 711 Kennedy St., NW. Open 11 am to 11 pm Saturday, 11 am to 7 pm Sunday, 3 pm to 11 pm Friday, and 3 pm to 10 pm Thursday. Closed Monday, Tuesday, Wednesday.