When Yong Kon and Yon Sun Ko were ready to retire after 35-plus years of running their Eckington corner store, they faced a few options. The husband-and-wife owners could sell the two-story building that houses Yang's Market to one of the many developers transforming the Northeast DC neighborhood, or perhaps to an ambitious restaurateur who'd convert the humble grocery. Instead, they accepted an offer from Pete and Lyndsi Sitcov, a young couple who live across the street. The selling point, according to Lyndsi: "Keep the corner store dream alive"— name and all.
"This was their life's work, and they wanted it to be remembered instead of changing the name to something arbitrary with an ampersand in it," says Lyndsi. "We didn't want to change the market too much, because it's been here a lot longer than we've lived in the neighborhood."
Many things remain unchanged since the Sitcovs took over late last year. A 24-ounce Budweiser is still the top-selling beverage, and neighbors drop in to grab paper towels and Cheerios. The biggest new addition is a deli, which opened this week. The duo both have hospitality experience—he as a bartender at Cafe Saint-Ex and Quill, she at Stoney's—and wanted to bring fresh food to a neighborhood that's lacking in restaurants.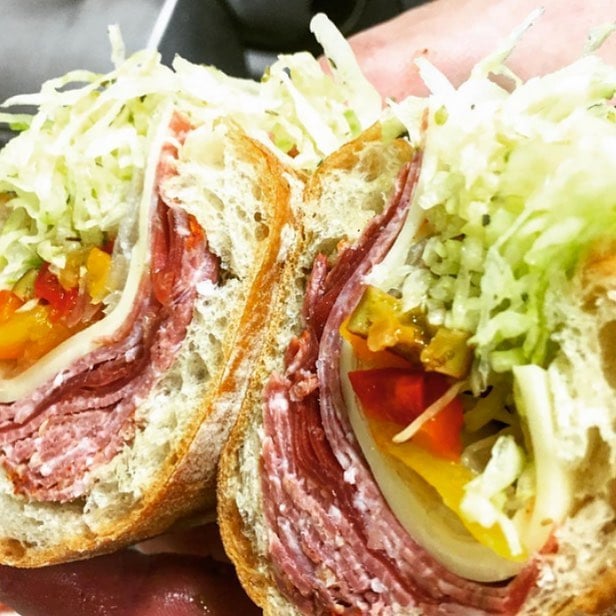 The menu runs the gamut from $2 PB&J sandwiches to a $9 Italian cold cut sub made with local La Quercia prosciutto, capicola, salami, and provolone on a fresh Lyon Bakery roll. (And if you're wondering about the sandwich names, Pete's favorite movie is My Cousin Vinny.) Customers can build their own combinations and also get sliced turkey, roast beef, tuna salad, and other meats by the pound. Weekends bring bagels, Junius cold brew coffee, and a specialty from Lyndsi's family business in Massachusetts: Golden Cannoli, filled to-order with sweet ricotta.
On the shelves, customers will find more local products like Michelle's Granola and True Tonic Syrups, plus others from small businesses operating out of Mess Hall and Union Kitchen. Down the line, they're working with barista Adam JacksonBey to add a coffee counter in the front of the shop from early morning to afternoon. Still, the idea isn't to completely transform—or artisanalize—Yang's Market.
"It's like a New York-style bodega," says Lyndsi. "If you need toilet paper or Windex, that's great. If we're not carrying something you need, we can get it."
Yang's Market. 138 U St., NE.  Open Monday through Saturday, 10 am to 8 pm; Sunday 10 am to 6 pm. Deli closed on Monday.