Squash on Fire? They should call it butts on fire, because your tush is about to get LIT.
Imagine, for a moment, doing lunges for 45 minutes straight. Sounds miserable, right? Here's the benefit of playing a competitive game as your workout: while by the end of it, your glutes will feel like you've lunged from here to Mexico, during the session, all your attention will be focused on the tiny rubber ball flying around you.
When I walked into my "Intro to Squash" clinic at Squash on Fire, West End's new boutique squash gym, I was hoping that by the end of it, I'd actually get to whack a ball around. Being a total beginner, I figured that most of the class would be spent talking technique, not actually playing. I also figured that I might not get a ton of personal attention since I had signed up for a clinic—a group lesson for up to five people at a time. But because I'd signed up for a 7 AM class on a Monday morning like a psychopath, I had the class—and the coach's attention—to myself.
After checking in on the touch-screens at the front desk and getting a key to stash my stuff in the women's locker room upstairs (PSA: showers, but no towels, so bring your own), I joined Coach Elroy Leong on the walled-in court. We started by going over the basics of how to hold the racquet—borrowed for free as part of the class price—as well as how to swing. I learned that similar to playing volleyball, in squash, you want to run to the ball and get in position, then lunge into the ball with one foot stepping forward, before swinging at it.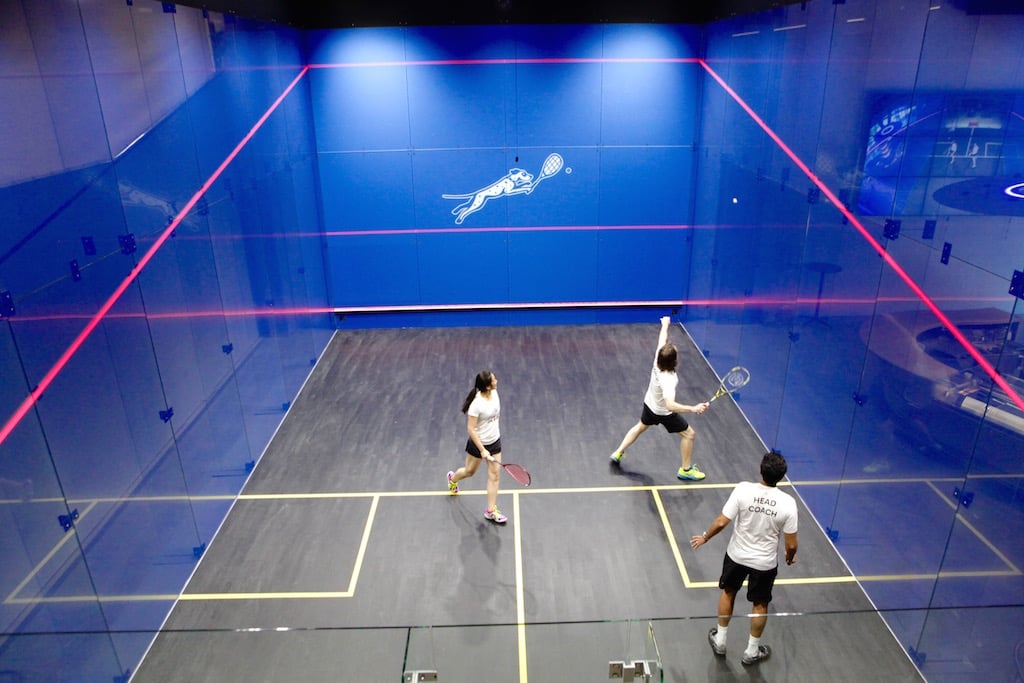 A few practice swings later, Coach Leong put the ball into play, starting just with practicing hitting the ball straight against the wall with a forehand swing. We then moved on to using the forehand swing to hit the ball at an angle against the wall so that it rebounded to the opposite side of the court. Next, we did the same hits, only this time with a backhand swing. Finally, we ended by doing a forehand cross-court hit, running back into place, and switching to a straight backhand hit.
Throughout the class, I was constantly on my toes and moving, ready to lunge forward for the ball at any moment. But because my brain was so engaged in the game—calculating how the ball was going to rebound off the wall, remembering to hold my racquet up near my shoulder so it was ready to swing, remembering to move back into the center of the court after every hit—the class flew by without one thought of how tiring it was.
It also helped that Coach Leong was a fantastic coach—correcting form and using easy, memorable language to explain a technique. It shouldn't come as a shock that he's great at teaching, though—he coached a high school team to second place in the US championships and he himself was a two-time national champion while in college. The coaching staff at Squash on Fire is filled with world-class players, so while I realize I just payed $39 for a 45-minute session, I was also got some one-on-one coaching from a champion player, which you're probably not going to get at your local YMCA. True, a clinic at Squash on Fire costs more than a SoulCycle class, but unlike at other boutique gyms where you might use the scented candles or the free tampons in the bathroom as justification for paying so much for one workout, at Squash on Fire, it's the proximity to great teachers that makes it feel worth it.
If you've never tried squash, but you like sports better than exercising, Squash on Fire might be something you want to give a try. The fast-paced game might look intimidating at the beginning, but the "Intro to Squash" clinic at Squash on Fire breaks things down to make it easy for beginners to pick it up—just be prepared to be a little sore afterwards.