Before you bought your home, you probably had visions of yourself cooking in your kitchen or filling the shelves of your pantry. The empty space seemed promising for all the belongings you acquired over the years. Perhaps, after living in your home, you've realized you'd like to make better use of it. Since your kitchen is the center of activity, it's important to really love it.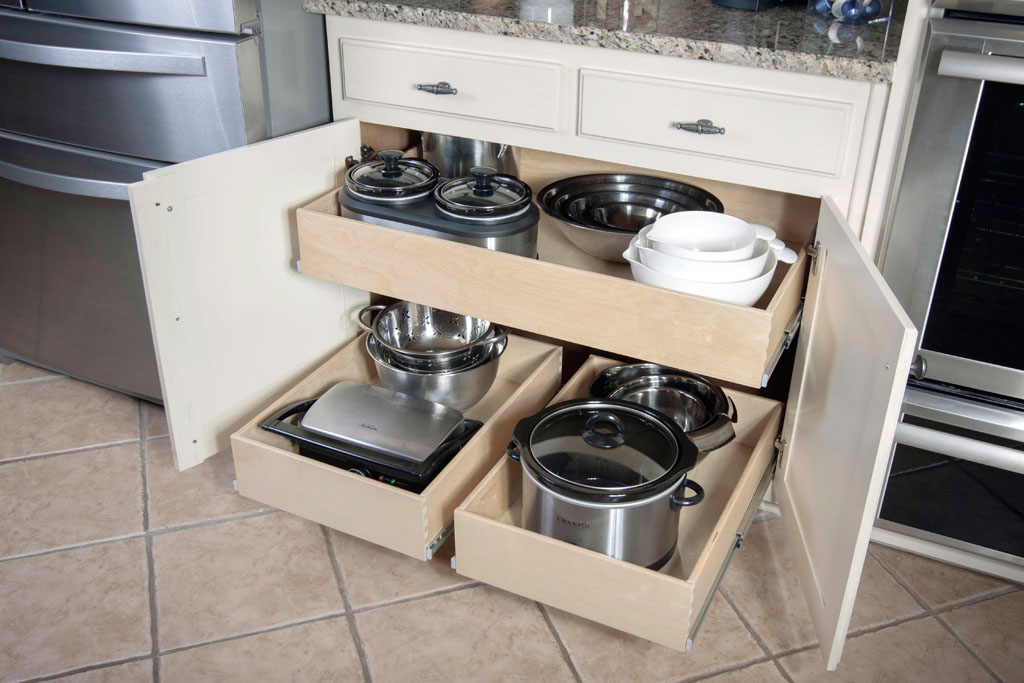 Here are some great tips for decluttering so you can fall in love with your kitchen once again.
1. Clean first
It's hard to know what to get ride of unless you can clearly see what you have and use regularly. Make sure you clean and put away all the dishes, and store food and other items in the pantry and cabinets for now. A somewhat clean slate will help you get a better vision of the whole space.
2. Prep your area for decluttering
Get a few empty bins and use them for items you are discarding, donating, putting away, or moving to another space. Get a box of heavy duty garbage bags for broken and expired food, etc.
3. Take on small tasks
Cleaning and decluttering the kitchen and pantry can take several days or more. Keep it manageable by breaking it up into smaller jobs. Make a list of what you need to accomplish and set a timeline. It might take hours to go through your cabinets, so plan to do that one or two mornings. Since your pantry is a separate space, break that into smaller tasks too–one shelf at a time or one area at a time. Since you likely have other responsibilities during the day, decluttering step-by-step will provide a natural opportunity to take care of other things.
4. Work from the top down
Your top cabinets may be out of reach and therefore probably house things you rarely use. Climb up on a sturdy ladder or step stool so you can be at eye level with those upper cabinets. Remove the items and make some decisions about what you are keeping. If you've never used the item, you probably never will.
5. Deep clean your cabinets and drawers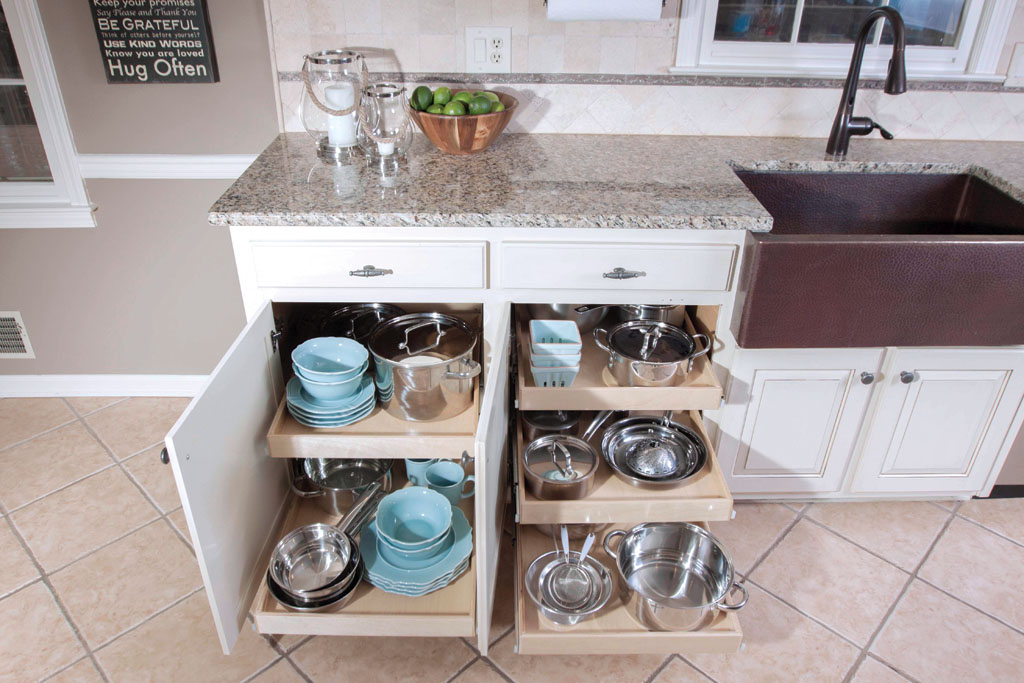 As you empty space, thoroughly clean it with warm soapy water or your preferred cleaning solution. Be sure it dries completely before you put things away.
6. Make better use of the space you have
As you are putting away the dishes and other items, pay attention to space. If you have too many mugs for your cabinet, it might be time to part with some of them. Chances are, you use the same few mugs all the time. The rest are just taking up space that could be used for other things.
7. Utilize small baskets or bins in your pantry to group like things together
By grouping similar items, you can access them easier. For example, keep all breakfast foods in one space and pasta in another. Keep fresh produce and baked goods in an open basket in the kitchen where you can monitor them for spoiling.
8. Consider maximizing your space with custom pull-out shelving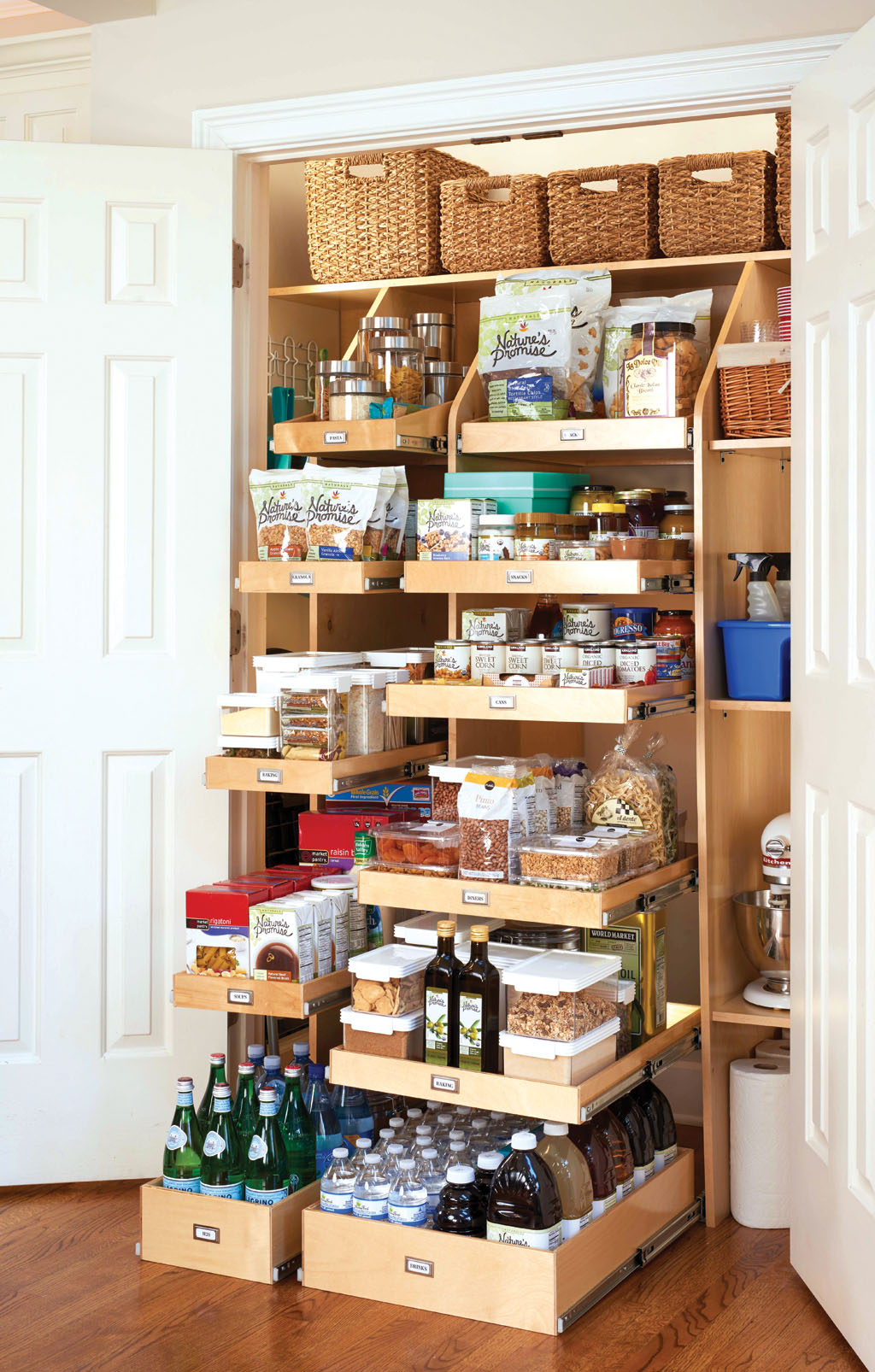 Transform your cabinets with a custom home solution so you can find what you're looking for with ease, every time. Pots, pans, and lids will be accessible, and you won't have to empty an entire cabinet to find the right one: spices will be at your fingertips and easier to use while cooking, and unloading the dishwasher will no longer be a chore when everything has its place. You will enjoy working and living in your kitchen when you optimize on organization with custom pull-out shelving.
When you declutter your kitchen and pantry, you will feel a sense of calm and renewal. You will spend less time looking for things and more time doing what you want to do. Before you know it, you will begin to love your space again.
Get more access and turn your clutter frustrations into joy with ShelfGenie. Our professional designers will assess your needs during a free in-home consultation and then design a custom plan. Your Glide-Out™ Shelves will be built to fit your cabinets and one of our certified installers will install your custom storage solutions. Learn more at http://www.shelfgenie.com/.