Welcome to How I Got This Body, our look at some of the amazing things the human body is capable of and the Washingtonians who put their bodies to the test. Want to share your transformation story? Email ccunningham@washingtonian.com.
Who I am: Katy Hamilton (@wodthefork), 27, a teacher from Old Town Alexandria
What inspired me: "I wanted to change because I simply felt bad all the time. I had been overweight my entire life, so being at my heaviest weight was surprisingly not the largest reason I wanted to change; in my 22 years I had gotten used to being plus size.  Because of that, I was motivated by the hope that I would not have to live a life of managing IBS and PCOS related symptoms, but rather live a 'normal' healthy life."
How my body changed: "To date, I've lost somewhere between 75 and 80 pounds. I never knew my highest weight, but before making lifestyle changes I was weighed at a doctor's appointment at 243 pounds. Now, I fluctuate in the upper 160s. I don't own a scale and focus more on how my clothes fit, how my endurance and strength have progressed, and how I feel in the day to day. I think my favorite transformation has been in my strength and endurance. When I was in middle school, I once faked tripping and falling during a mile run in P.E. because I was embarrassed I couldn't run that far! Now, I've completed two half marathons, three ten-milers, and a handful of 5, 8, and 10Ks."
How my health changed: "My overall health has changed drastically. I now have little to no issues with IBS.  I've been taken off any and all medication I was previously on.  My skin is mostly clear, my mood has stabilized, and my sleep quality is great. The mental and emotional shift throughout my entire health journey has been incredible!"
How long it took: "A majority of the weight (50 to 60 pounds) came off in the first six months.  The last 15 to 20 came off slowly during the next six to eight months."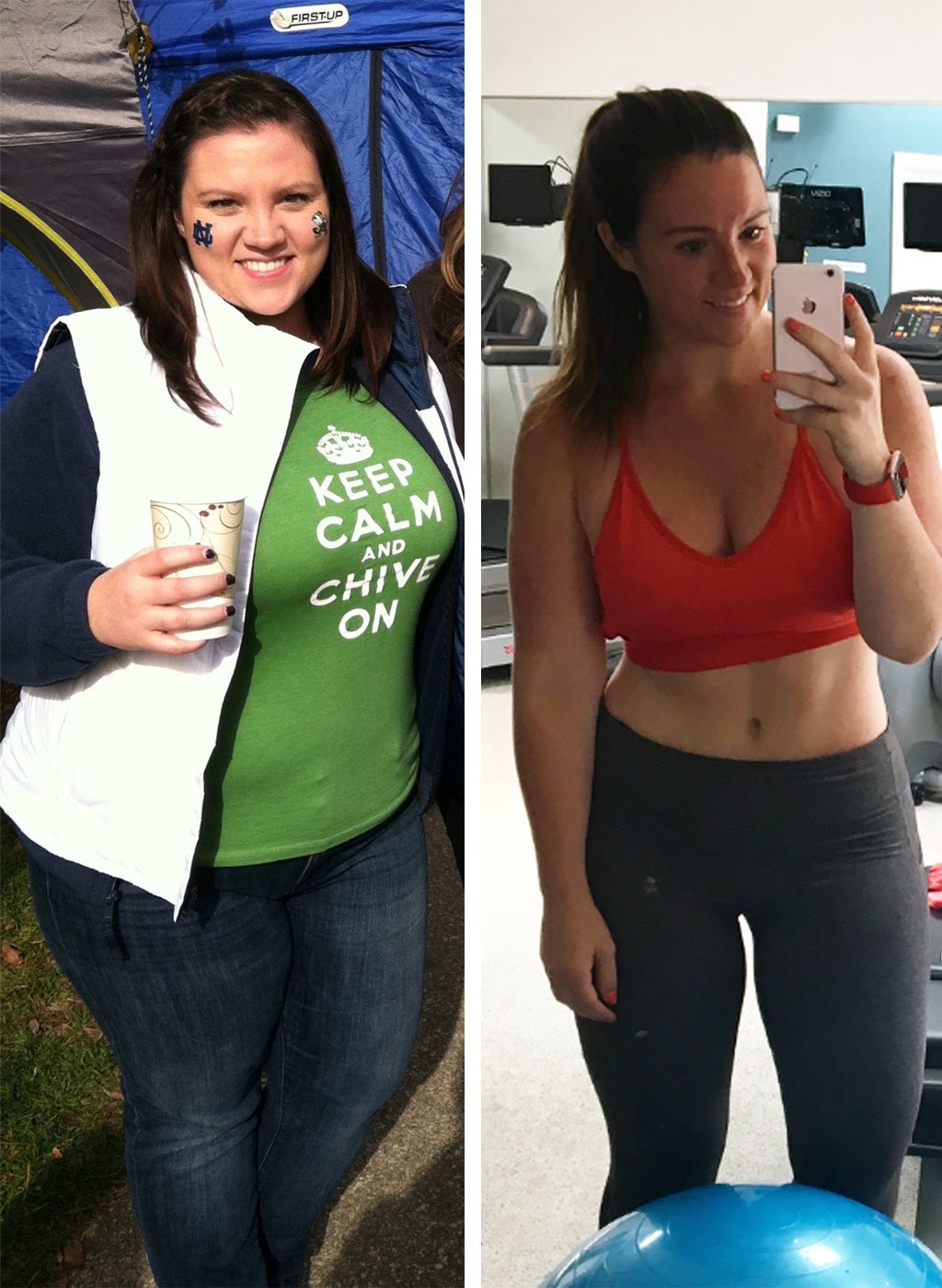 My exercise plan: "In the beginning, my weekly exercises was seeing a trainer two to three mornings a week for 30 minutes. As I got more comfortable in the gym, I would slowly add in some cardio afterwards or on other days of the week. Now, I enjoy going for a two-to-three-mile walk in the morning and doing either HIIT (high intensity interval training) or Crossfit in the evening. Crossfit has become my favorite form exercise I've ever done! I go to Crossfit Old Town Alexandria and it has such an awesome community and great workouts."
My healthy eating plan: "My diet was the largest change I made to achieve a healthier life. The first change I made before making any food changes was dropping my soda habit. I was drinking about three Diet Cokes a day. I quit cold turkey and saw an immediate effect. After that, I began with very basic healthy food choices: salads, more veggies, leaner meats, and more home-cooked meals than restaurant meals.  A majority of my weight was lost by meal prepping food on Sundays to take with me to my internship and then another meal to take to classes at night. For me, eating real, unprocessed foods and mostly vegetables and meat make me feel my best. A huge shift I've made has included introducing probiotics and other gut-healthy drinks, like bone broth or kombucha, into my diet on a daily basis."
How I stuck to my goals: "The people I surround myself with has been the biggest key to my success. When I started, I didn't realize I was at the beginning of a huge weight loss journey. I honestly thought I was kicking a soda habit and healing some digestive issues.  Once it became clear that weight loss was also a goal, the people closest to me supported me day in and day out. They celebrated my small successes each week and never made me feel bad if I passed on dessert or had an obnoxious order at a restaurant."
I feel like the person I thought I could always be.
How I feel now: "I feel like the person I thought I could always be. I'm confident in my skin, embrace its flaws, and appreciate it for all the things it is capable of doing. I also feel proud of myself, the things I've done, and the goals and plans I have for the future.  Self-love and pride is the most empowering and rewarding part of this journey."
One piece of advice: "Follow people who inspire you and unfollow people that make you question yourself or feel bad about yourself.  Be proud of yourself for any and all minor success. If I didn't think it was a big deal each week that I only lost 0.5-1.0 pound instead of 2, it would've never added up to 80."
This interview has been edited and condensed. 
Want to share your transformation story? Email ccunningham@washingtonian.com with details.