Wines from Georgia (the country) are starting to gain more recognition—a DC Whole Foods recently created a dedicated section for them. And restaurants like Compass Rose have helped popularize khachapuri, Georgian breads with butter and cheese. But beyond that, Georgian food is still pretty foreign to most Washingtonians.
Forthcoming Shaw restaurant Supra—meaning "feast" in Georgian—is looking to change that.
Owner Jonathan Nelms, a partner at Baker McKenzie law firm, is not Georgian, but he's had a lifelong connection to the country. Growing up in central Florida, Nelms befriended a Soviet-Georgian exchange student who came to his high school in 1989. Then in the last year of the Soviet Union, Nelms went to what's now northern Russia, where he remembers everyone talking about Georgia being their favorite place. "In my mind, it was like this mythical land far away," he says.
Years later, Nelms moved to Moscow through his work as a lawyer focused on high-risk business transactions. During that three-year stint, the fluent Russian speaker finally made it to Georgia a few times and often frequented Georgian restaurants in Moscow. When he returned to the U.S., he and his wife/co-owner Laura Nelms found themselves missing the food. Eventually, it inspired them to open their first restaurant.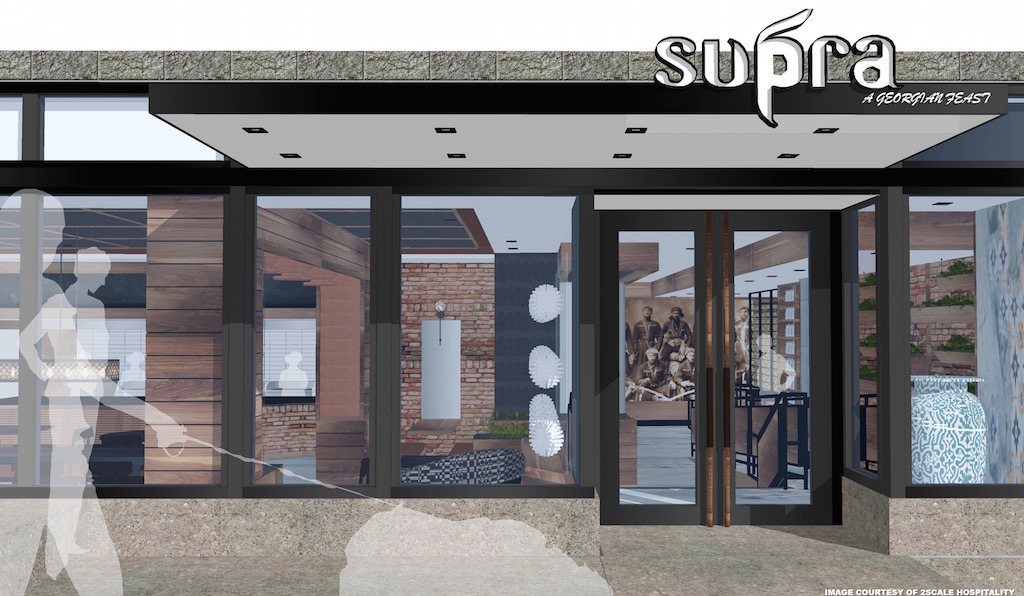 Georgian cuisine shares some similarities with Mediterranean and Middle Eastern cuisines, but the country's relative mountainous isolation means it's also quite unique. You'll find kebabs with sour plum sauce or a chili paste, but also a lot of vegetable dishes. Walnuts and pomegranates play prominently in the food, as do spices and herbs like tarragon, coriander, dried marigold petals, and blue fenugreek. "There's several dishes where you smell this, and you're like, 'Oh that's Georgian food,'" Nelms says of the blue fenugreek.
Nelms has brought on Malkhaz Maisashvili, a former chef of the Embassy of Georgia who's most recently been working in New York, to lead the kitchen. Nelms had unknowingly tried Maisashvili's food in 2011 in Tbilisi, where he was one of the executive chefs of a well-known restaurant group specializing in Georgian cuisine. In recent years, when word got out that Nelms was looking to open a Georgian restaurant, it seemed everyone he met was pointing him in Maisashvili's direction.
Maisashvili will serve traditional staples as well as regional specialties and more modern interpretations of dishes. Yes, there will be khachapuri—at least three to five varieties. "It's almost like pizza, you can do a lot of stuff with it," Nelms says. Nearly all have cheese, but in some regions the savory breads might include beet greens or meat. Some versions are canoe-shaped and open-faced, like a Turkish pide, while others are round and stuffed. The restaurant will also have a traditional Georgian oven, similar to a tandoor, for fresh breads.
Another must-know dish: khinkali, which are similar to broth-filled Chinese soup dumplings. You hold them by a small nob of dough on top, take a little bite, sip out the hot liquid, then eat the whole thing. Georgians traditionally put the nobs on your plate to count how many they've eaten.
Vegetable-heavy small plates and stew-like entrees will round out the menu. One of Georgia's most popular dishes is chakapuli, a stew with lamb or veal, white wine, tarragon, and sour plum sauce.
The wine list will focus almost exclusively on Georgian varieties, with 20 to 30 different bottles to start. The most traditional is amber wine—white wine that's been oxidized with the grape skins so it takes on an amber color. "It's more tannin. It's a very earthy flavor and very different from a normal Western-palate white wine," Nelms says.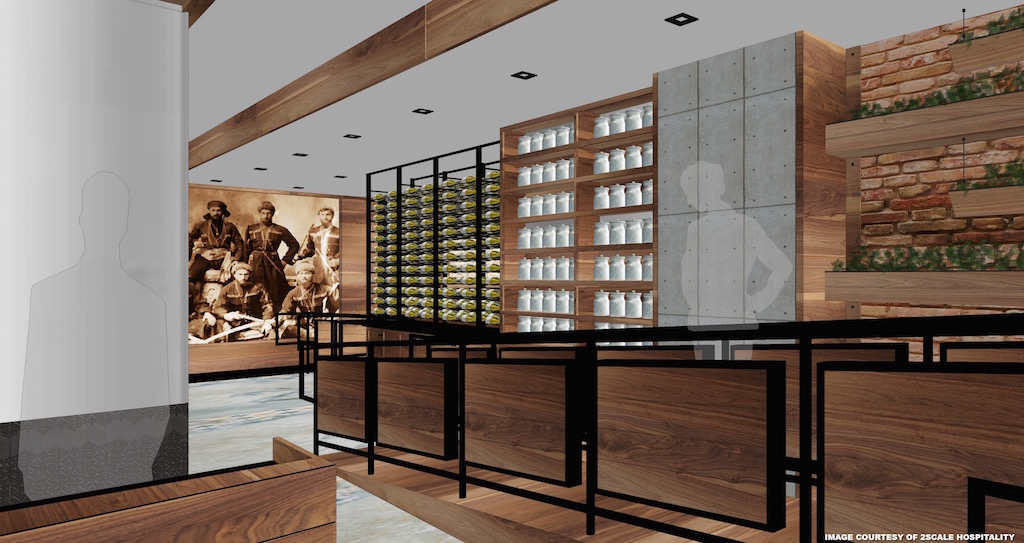 Supra will also serve chacha, a Georgian brandy, as well cocktails that incorporate flavors from the country—even if "the 8,000-year drinking tradition of Georgia doesn't have a lot of cocktails," Nelms says.  There will be at least one Georgian beer too.
The look of the space will be clean and modern with a big open kitchen. Puffy Georgian sheep hats that shepherds wear in the mountains will be on display, along with a collage depicting Georgian horsemen and an image of a traditional supra tablecloth.
The restaurant is slated to open in early fall.
Supra. 1205 11th St., NW.