When Jessica Smith started working at the Historical Society of Washington, D.C. she would always hear the photographer John Wymer's work described by her co-workers as "Google Street View before there was Google Street View." Now, thanks to Jessica and her programmer husband, Thomas Smith, about 2,200 images from the Historical Society's John P. Wymer collection can be viewed as if they were around for Google to map.
Initially created as a case study for Jessica Smith's master's thesis, Wymer's DC now lets researchers, history buffs and anyone else interested in taking a peek at the past see the city as it was circa 1950. It's owned by the Smiths, but is being worked on in conjunction with The Historical Society.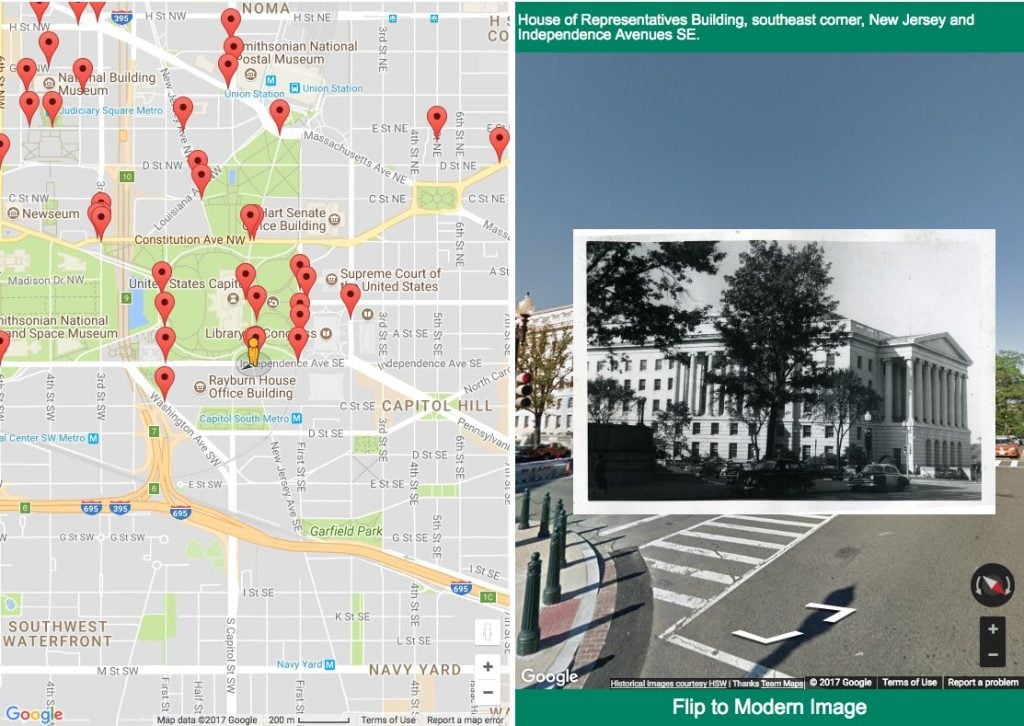 "It worked out really well that this got to be its own standalone project that still lives on," she says.
Wymer worked as a statistician for the Bureau of Standards—the precursor to what's now known as the National Institute of Standards and Technology—and was an amateur photographer. His analytical mind and meticulous cataloguing made his collection of photographs the perfect subject for Smith, even if the photos themselves aren't perfect.
"You can sort of tell from his photos. Sometimes they're crooked or a little out of focus, but they have charm, and that's fine," Smith says. "This project was just his way of getting to know the city."
The Smiths have mapped the digitized portion of the collection and are waiting for the rest of the images to finish the ambitious project. There are currently pledges through the Historical Society to get the rest of the photographs online, and the couple hopes to have the project finished by Spring 2018.
Users can also contribute to the project by offering feedback or volunteering. While Jessica Smith has done her best to place each image, she knows there are people who know the city better than she does and can help improve the accuracy of the Wymer's DC map. The website also offers several volunteer tracks for those who want to get involved.
"It's very much an ongoing thing. People send me feedback all the time, and I love that," she says. "I incorporate their changes … we've done a couple of community hackathons where people come out and join us with their laptops. We really want the community to engage with this."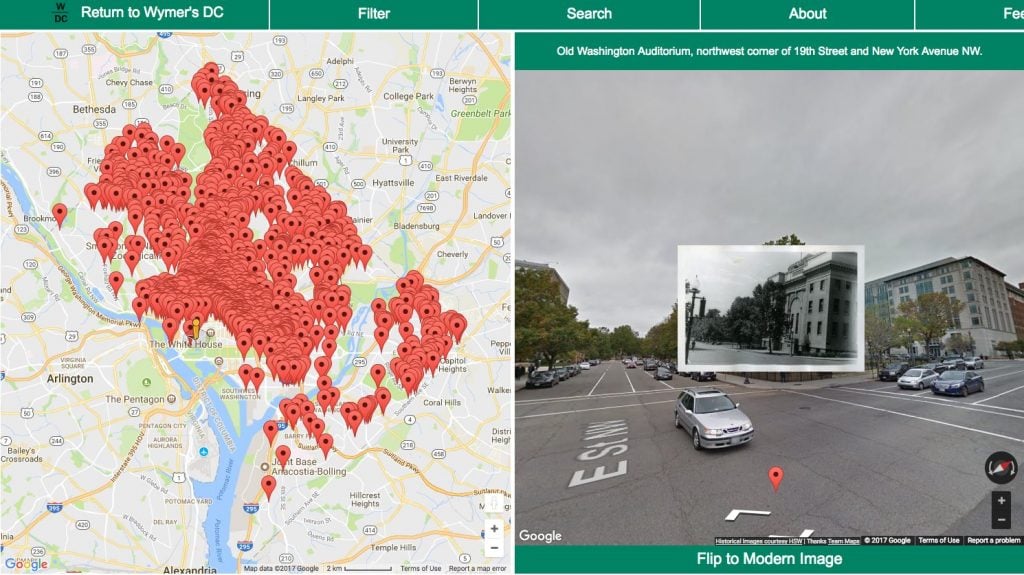 For now users can stroll through the city as Wymer saw it or use the FlipKit software Thomas Smith developed for the project to switch between the past and the present. Jessica Smith suggests tracking your walk to work to see how it's changed or picking a main street with many points to "wander" down.
"You can literally walk down the street and see what Wymer was seeing," she says. "When I tried to explain to Thomas that that's what I wanted he like gulped. He said 'I don't know if we can do that.' But we did it. And that's why this is so great to me."