When Initiative 71 passed in February 2015 and weed was legalized throughout the District of Columbia, recreational users across the city rejoiced–finally, they could buy and smoke weed freely throughout the Capital, just like the freewheeling residents of Colorado and Washington state.
But Washingtonians' fantasies of rolling into a District-run dispensary and purchasing the best bud available were quickly quashed. Initiative 71–which has been billed as a "home grown, home use" policy–effectively made it legal to possess, grow, or "transfer" a small amount of weed to others, but not to sell or purchase the drug. Additionally, smoking on public and federal lands (which make up more than 18 percent of DC) would still be prohibited.
Many questions ensued, via Facebook, Reddit, and other online communities. Joe Tierney, a DC resident and longtime weed smoker, had the answers.
Spurred by the confusion surrounding the new law, Tierney, 37, decided to start a website that would help these consumers navigate the weed scene in DC. A year later after launching his site, Gentleman Toker, Tierney is a go-to source for Washingtonians seeking to purchase and use weed in the city.
"I thought that I had spent my life, wasting it," says Tierney of the days before he started his blog. "I'd do a job, and I'd do a good job at it, but like, who cares? But when legalization hit, and I realized that all the time I'd spent smoking weed could actually be useful…it was just like a dog with a bone."
These days, when he's not at his day job as the director of operations for a small printing business, Tierney is reviewing weed–both the products, and the various delivery services in DC that will get it to you. He's also written a handy guide on how to get weed in DC. 
Having smoked all his adult life, Tierney considers himself more than equipped to answer questions about anything from how to get weed, to what to look for when buying it. He's comfortable firing off seasoned advice, such as, "You need to smell your weed. If it smells good, and you like the smell, then it's good to smoke," or "The size of the buds don't necessarily matter, but you want nice, healthy buds, not little popcorn nugs."
Tierney also gets questions from consumers looking for specific products to help, say, a sick family member. "I try to reach out to people as much as I can, especially when they're talking about a need," he says. "I believe all use is medical. Certainly I want to make an effort to help as many other people as I can."
The blogger, who has used weed since he was 16 to deal with issues such as anxiety and depression, believes he's doing the public a service with his site. With the Gentleman Toker's guidance, he says, users–whether seeking weed for recreational or medical purposes–"won't have to spend like six hours waiting for some dude named Skeeter under a bridge."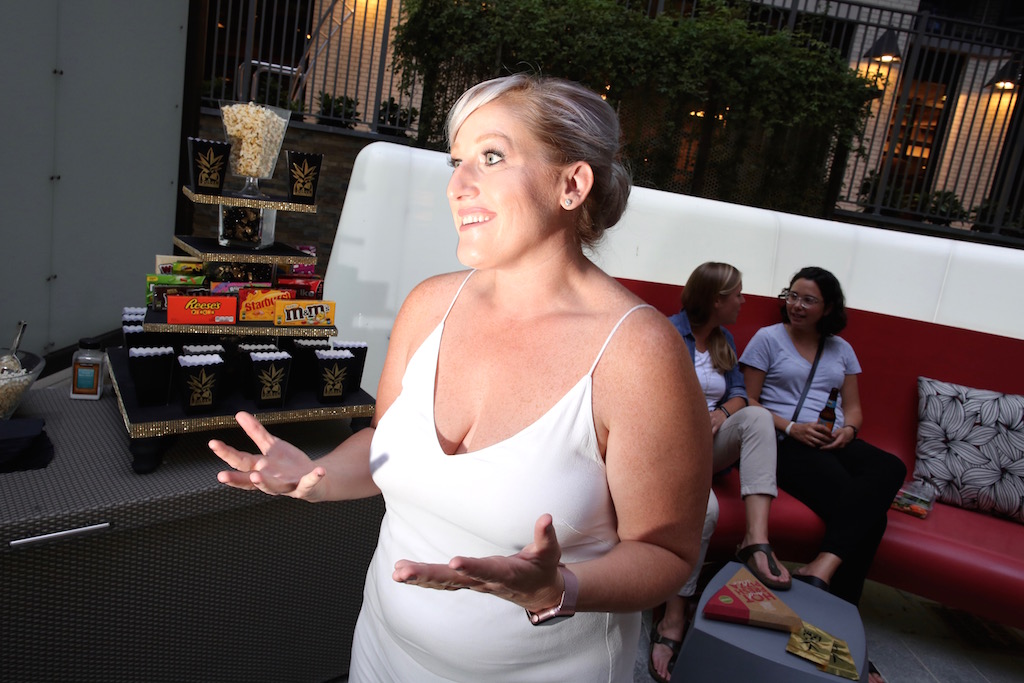 One recent gathering Tierney attended, hosted by Golden Pineapple, hardly had the feeling of Skeeter under a bridge. In the courtyard of a private apartment building, the women in charge of the event served up cannabis popcorn and cocktails in receptacles emblazoned with a gold pineapple logo–a "gift" to paying guests, and a way of getting products to customers without selling them directly.
Tabetha Zimmerman, who recently started Golden Pineapple with her business partner, Nikki Balestrere, says they tested a number of weed delivery services, as well as consulted with lawyers, before starting their own. "There's not that much information from the government, so you have to read it constantly as it's updating," she says of the legislation in DC, which she describes as "pretty vague." Like Tierney, they've noticed there can be confusion about what is and isn't allowed, and use their events to educate the community. "We don't do anything outside of what the law says," Zimmerman stresses.
The opportunity to get stoned off of weed-laced popcorn in the tony backyard of a DC residential building certainly feels new, and at times, surreal. As Tierney puts it, the DC scene is a bit like "the Wild Wild West"–those who do get into the market have to go through a good amount of trial and error to avoid any trouble with the law. And even for marijuana entrepreneurs who do everything right on the local level, weed remains a Schedule I, illegal drug on the federal level.
If vendors manage to navigate the complicated regulations of I-71, Tierney knows there's good money to be made in the marijuana industry–a recent report by Ackrell Capital estimates that the value of the U.S. cannabis consumer market (including revenues from both medical and recreational sales) will reach $37.3 billion by 2024. Gone are the days when the scent of pot conjured images of fun-loving hippies toking up in the backseat of their VW van. "All that hippie stuff is garbage," says Tierney. "This is capitalist competition; this is vicious."
Currently, Gentleman Toker brings in about $3,000 a month from advertising revenue. While Tierney recognizes that many weed entrepreneurs get into the industry to make big money, the blogger sees it as "the path to the middle class." If his site grows enough, he says he may one day make blogging a full-time job.
"That's the cool thing about it," he says."There's opportunity…to help people, and make money at the same time. Who wouldn't want to do that?"
Although Tierney recognizes the toker life might not be for everyone, he certainly has no regrets about getting into the business. "It's not quite as normal as a lot of other white picket folks would like, but I like it," he says. "I have a lot of fun, especially now. This is the most fun I've ever had, ever…I'm winning so hard, it's ridiculous.