If you walk by Chef Brian's Comfort Kitchen—a new spot at 19th and K that's unmissable for its big orange sign—you might see a man in a white chef's coat with an ear-to-ear grin.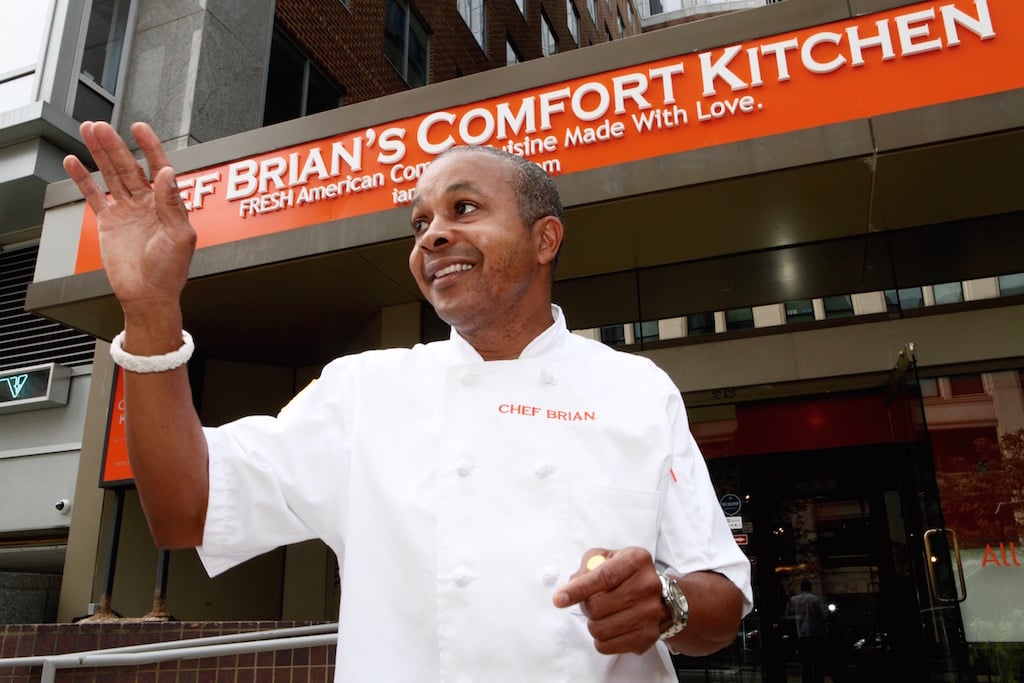 That's chef Brian Hill, the restaurant's namesake, at his usual post where he's greeted passers-by every day for the past month since his restaurant opened. The Petworth native is bringing his take on comfort food back to his hometown after a stint in Los Angeles, where he worked as a private chef and opened his own food truck.
"The reason why I'm standing outside," he says, "is because I want to know the people who work and live around here. I'm shaking hands and kissing babies every day from about 10:30 AM to 2:30 PM while my kitchen manager holds down the fort."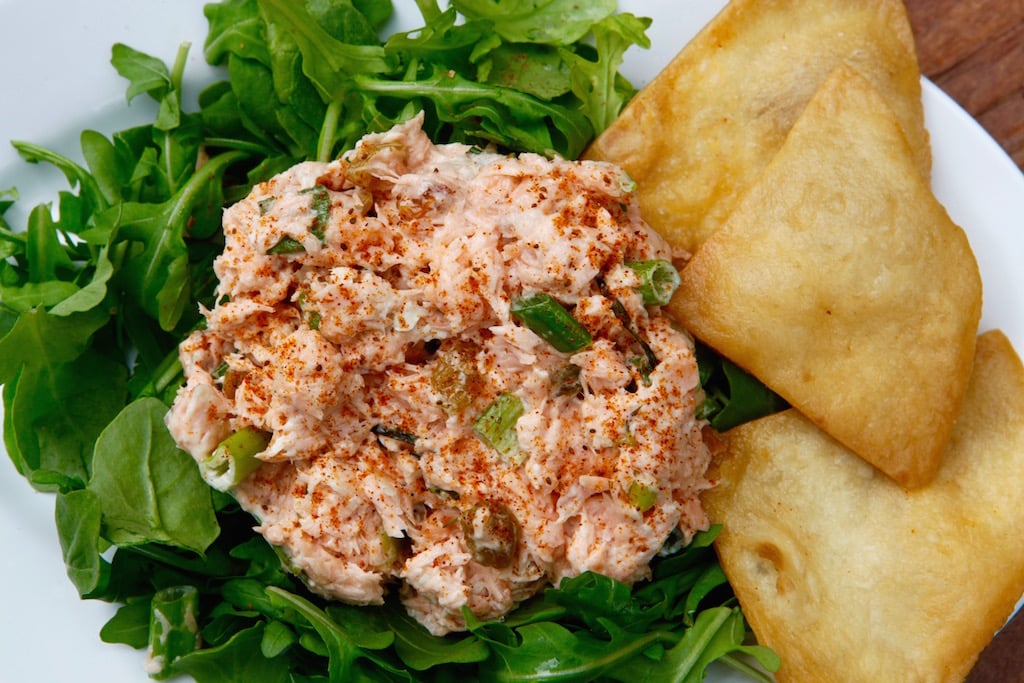 Inside, staff prep for the day, making one of Hill's signature dishes, a Chesapeake Bay salmon salad. Roasted salmon is flaked in a big bowl with California golden raisins, fresh tarragon, and mayo. It's topped with a sprinkle of Old Bay seasoning and served on a bed of arugula with a side of fried tortilla chips—the same chips that Hill claims Mary J. Blige called "crack chips" back when Hill was her in-home chef.
In fact, Hill perfected many of the recipes you'll find on Comfort Kitchen's menu while working for Blige and other celebs like Eddie Murphy and Mariah Carey. On breaking into the celeb-chef world, Hill credits his willingness to work "nine days a week."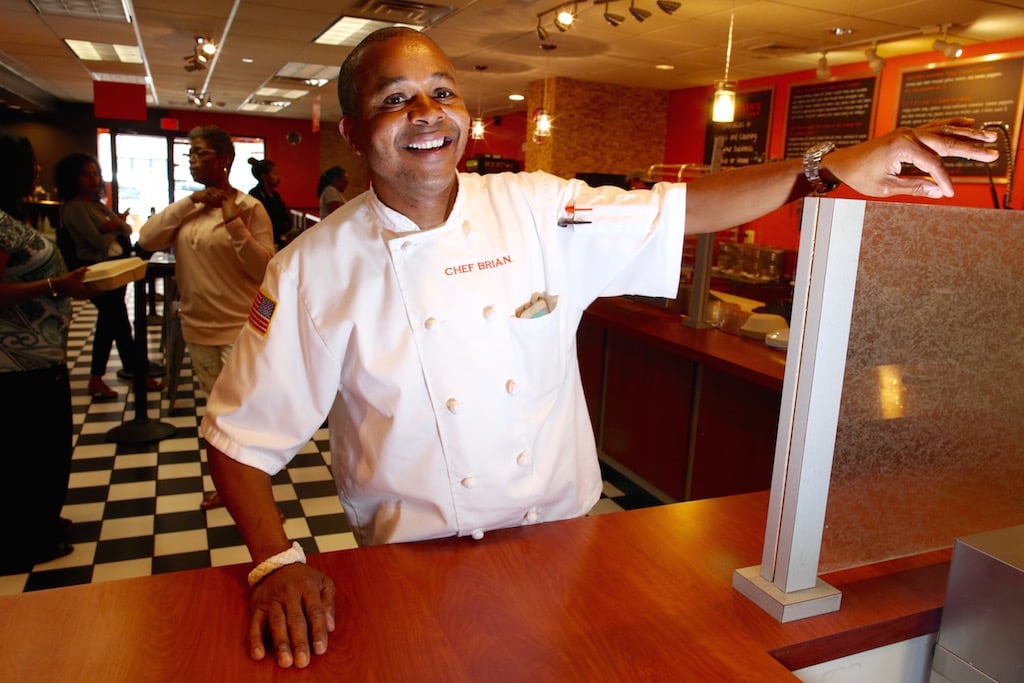 "The great thing about LA is you literally just have to work," he says, "because no one else wants to. So I showed up early and left late, while I was working both in restaurants and in catering."
In 2005, he left his gig cooking for Blige when he scored a spot as a contestant on the first season of Top Chef. (He packed his knives relatively early.) Later, he was also a celebrity guest judge on both MasterChef and MasterChef Junior.
Over the years, he says he's developed a set of 132 original recipes, including American comfort-food classics, as well as light Asian and Caribbean dishes (inspired by a trip to the Bahamas when he was 21 years old). The menu at Comfort Kitchen, adapted from Hill's LA food truck, includes just eight items—all of which are designed "to make you feel good," Hill says. Fried chicken sliders, hand-rolled turkey meatballs, and shredded beef barbecue sliders are a few highlights. And although it's all pretty indulgent, the sauces served alongside the dishes are both kosher and vegan.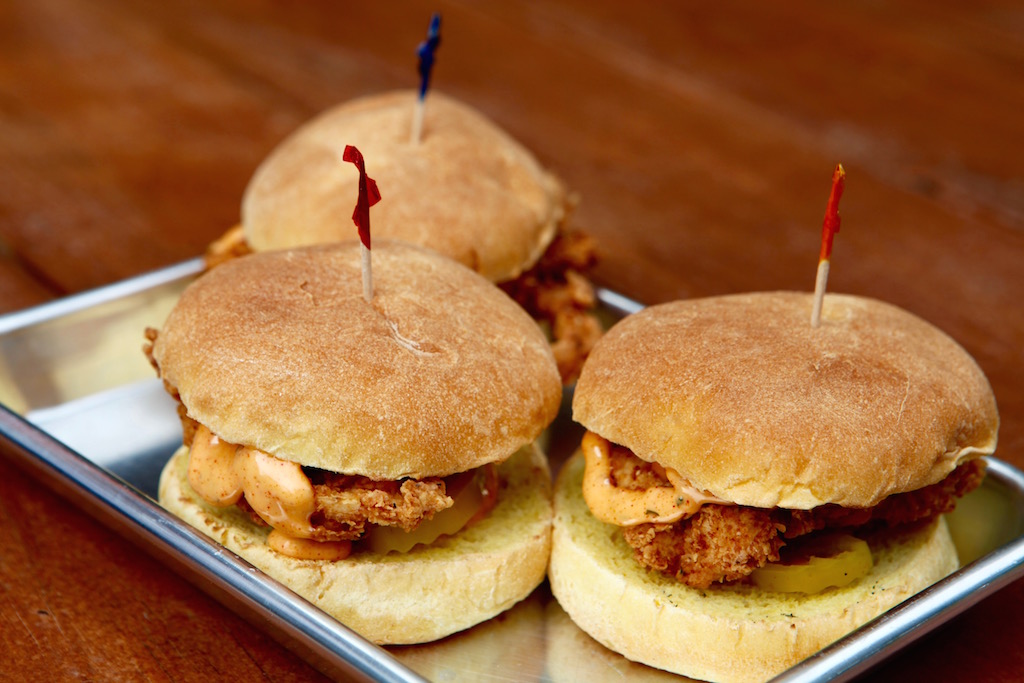 Hill makes clear that his restaurant is not serving up soul food. "People see the 'Comfort Kitchen' sign, and then they see the color of my skin, and they think, 'Oh it must be soul food,'" he says. "That's honestly hurtful to me." Instead, he says the menu just reflects his version of feel-good American fare with a Caribbean twist.
Signs on either side of the restaurant's entryway read "All are welcome," and the prices stand up to that promise: The most expensive item on the menu is $13 (and delivery is free anywhere downtown). In October, the restaurant will begin its Friday special, which will rotate on a monthly basis. First up is St. Louis-style ribs, marinated in cola and oven-roasted.
In a couple weeks, the Comfort Kitchen will also begin accepting George Washington University "Dining Cash" dollars.
Up next for Hill: Chef Brian's Comfort Carwash, a combination carwash and comfort food spot where customers can munch on an order of fried chicken sliders while they wait for their car to be washed by hand. The menu will feature six items—with a few Comfort Kitchen repeats—and all will be priced at $13 or less. Hill isn't disclosing the location just yet, but he says it will open in the District within the year.
On opening a second brick-and-mortar just months after his first, Hill says, "I want to be the culinary Michael Jackson."
Chef Brian's Comfort Kitchen. 1020 19th St., NW; 202-785-0826. Open weekdays 10:30 AM to 7 PM and weekends 10:30 AM to 4 PM.