Chef Victor Albisu knows how to psyche up a crowd for a new restaurant: free tacos for a year. The third northern Virginia outpost of Taco Bamba opens Thursday at 11 AM. And everyone who drops by the boisterous taqueria on opening day will be entered in a raffle, with winners getting one free taco per week for a year (so added bonus: no standing in line).
Even if you don't make it today, there's plenty of reason to visit the new 50-seat restaurant besides the freebies. Similar to the menus in Falls Church and Vienna, Albisu and Taco Bamba chef Tom Hall created a menu of nachos, torta sandwiches, sopes, grilled guacamole, and tacos—served breakfast through dinner, traditional and creative. Albisu has proven that virtually anything can serve as a taco filling, from shrimp tempura to sausages and fries. One new taco riffs on the Chick-Fil-A Deluxe with fried chicken, cheddar, pickles, chipotle mayo, and bacon. Another, the Foo Fighter, pays homage to Springfield native Dave Grohl (crispy fish, tamarind-chili sauce, green papaya slaw).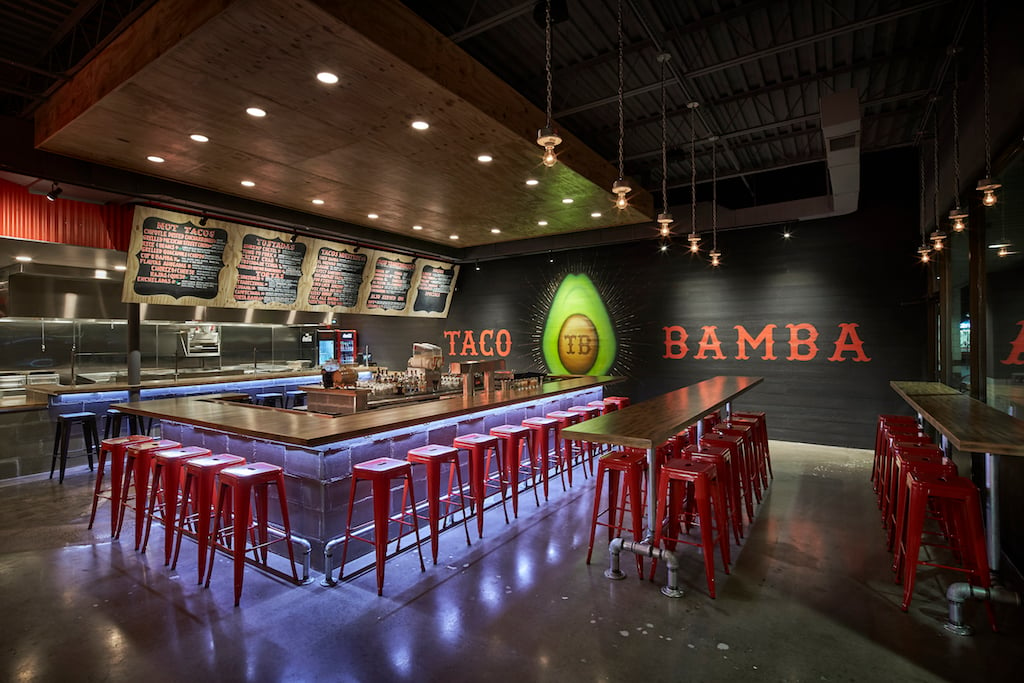 You'll find a number of local nods from Albisu, who grew up in the area and liked to hang at the Springfield mall—hence the Mallrat nachos smothered in spicy ground beef, cheese, bacon, pickled onions and jalapeños, and ranch dressing.
Service is fast-casual as always, but patrons can relax at a 22-seat bar for Amin Seddiq's cocktails. He also designs the drinks for swankier sibling Del Campo, and offers a similar mix here of barrel-aged mezcal cocktails and smoky sips like the Giovani dos Santos with burnt ginger, grilled pineapple, smoked simple syrup, cachaça, and lime. Like Albisu, we'd go old-school with an reinvented orange Julius (aka the orange Julio), a frosty mix of orange juice, coconut cream, lime, and plenty of tequila.
Taco Bamba Springfield.  6691-A Backlick Rd., Springfield; 703-436-1262. Open daily 8 am to 10 PM