Welcome to How I Got This Body, our look at some of the amazing things the human body is capable of and the Washingtonians who put their bodies to the test. Want to share your transformation story? Email ccunningham@washingtonian.com.
Who I am: Tonny Welling, 33, an accounting manager from Wesley Heights
What inspired your change: "I always wanted to be a younger parent. I had my daughter at 27 and tried to juggle being a full-time stay at home dad, a full-time job working remotely, as well as doing all the cooking for the family—including the dogs. Growing up, I was always very, very skinny and was one of those people that could eat anything and not gain a pound. I was insecure about my body then being almost 6 feet tall and about 130lbs. I started to even out as an adult and was about 150lbs in my mid-twenties. After my daughter was born my stress levels sky rocketed, and I think that really changed my metabolism. I ate very poorly most of the day, but made sure my family had healthy meals. Most of the time I ate whatever I could eat with one hand: a cupcake, doughnut, handful of sugary cereal. My only real meal was maybe at dinner time, and sometimes I'd skip that in favor of a nap or shower. Over the course of about 18 months, I climbed to about 215lbs. I felt terrible physically, had no energy, and just didn't want to do anything. I couldn't play with my now 1.5-year-old daughter on the playground without getting winded, which was the whole reason why I wanted to be a younger parent—to be able to keep up! Mentally, I just disliked what I saw in the mirror. Yes, a lot of my motivation was vanity, but I also knew I wasn't healthy. I was bordering on hypertension and with a history of heart attacks in my family, I knew getting healthy and getting fit would fix it."
How I transformed: "My transformation was sort of two-fold. The first was to shed the excess fat I put on, but my long term goal was also to put on some lean muscle mass. During the first phase, I lost about 60lbs in about six months. The second phase, which I am still working on, had me putting on now about 15lbs of lean muscle mass."
My exercise plan: "I started my journey with personal trainer Errick McAdams and worked out with him three times a week, doing a lot of circuit type training and weight training. The days I didn't see him I exercised as well, typically cardio for an hour. Twice a day if I could manage it. Sometimes that just meant putting my little one in the stroller and going up and down the hill at a fast pace near my house for an hour. One thing I have to say about training with Errick though, is that he seemed to know me better than I knew myself. He always knew how far he could push me and show me I was stronger, faster, better than I thought I was."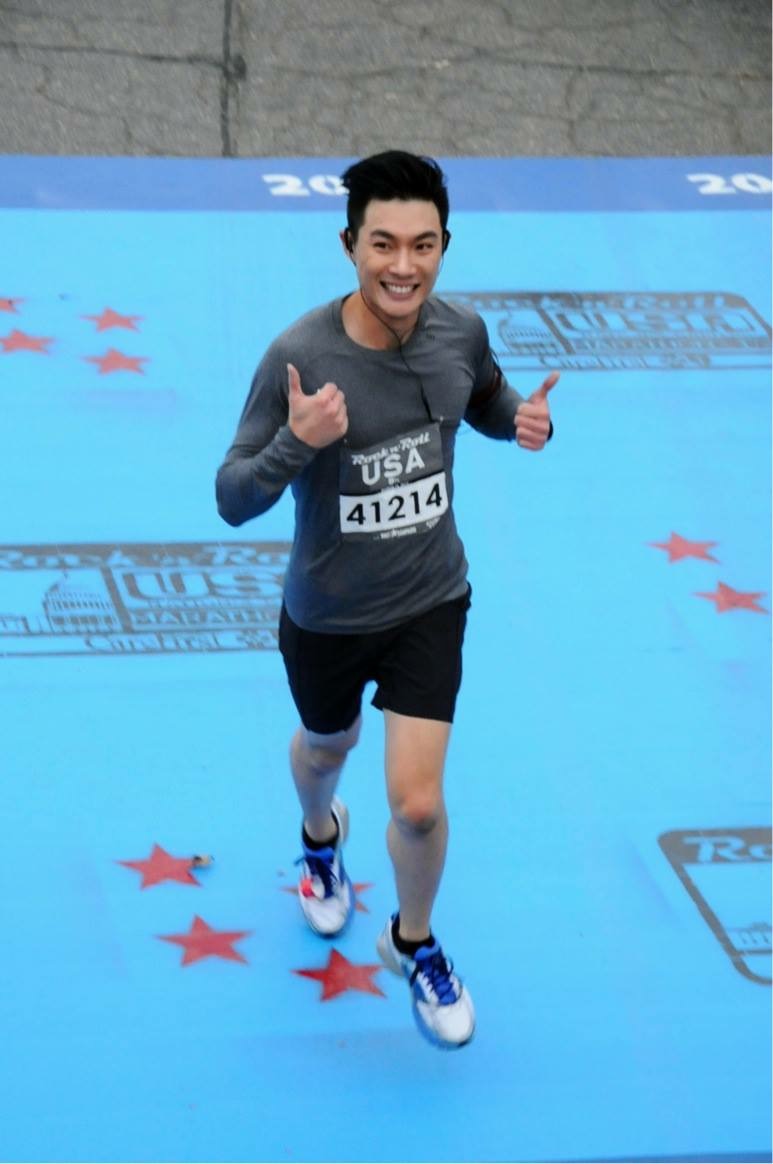 My healthy eating plan: "When trying to lose weight it was a bit of trial and error figuring out what works for me. The majority of my diet was fruits and vegetables, lean meats, fish, and whole grains. The most important thing for me was planning. I planned out my grocery list, my grocery trip days, and made sure I always had healthy food ready. I measured and weighed my food so I would learn what a serving size actually was! I made sure to not have junk food in the house to tempt me. It didn't mean I never had it, it just meant if I wanted ice cream, we'd go out as a family and have a scoop of ice cream, rather than have a few pints in the fridge that I could freely go to in the middle of the night. I still ate out and had sweets and junk food, but in moderation. A lot of times if I was meeting friends out for dinner, I'd plan to eat a small meal before and just have an appetizer with my friends to have better control over my overall intake. I also cut back on alcohol almost entirely for awhile as well, but I still enjoy a glass of wine or two at dinner!"
One thing that I did was actually plan little trips every two to three months where I felt like I had to look my best. That helped me stay on track.
How I stuck to my goals: "So many things! Being proud of what I was able to do of course. I ran my first every race, a 5K. Which I know doesn't sound like a lot, but I had never run a mile before I started this journey. That was highly motivating for me to see what else I could do. Setting a good example of what a healthy lifestyle is for my daughter. And that before picture. I still look at it from time to time, and remember just how felt about myself. One thing that I did was actually plan little trips every two to three months where I felt like I had to look my best—like a party, or a beach trip. That helped me stay on track."
How my self-perception changed: "Honestly I was very stressed, depressed and was just so unhappy with my appearance. I just wanted to hide in my baggy clothes and not go anywhere. Now I feel proud of the discipline I've found in myself to continue to maintain this new lifestyle."
One piece of advice: "Don't fall for fad diets, or the quick weight loss gimmicks. I really believe the only way to make the change and maintain it, is to turn the page and start writing the next chapter with new healthy habits. That means finding an exercise routine that works for you, and learning how to eat in a healthy way that nourishes your body-because we are all difference. But most of all, do it for YOU."
This interview has been edited and condensed.