Sylvia Mathews Burwell is a hardened veteran of Obama-era partisan conflict, having served as budget director during the 2013 government shutdown and overseen Obamacare during her 2½-year stint as Secretary of Health and Human Services. You might think her latest role, as president of American University, would signify a retreat to the relative calm of leafy academia—unless you've been paying attention to campus life lately. University presidents often now live on the defensive, grappling with the limits of free speech, rising reports of sexual assault, and heated debates over "trigger warnings" and safe spaces, among other tough issues.
Three months into her tenure at AU, Burwell sat down to discuss the challenges ahead.
Why did you decide to run a university at a moment when academia is so fraught?
The issues that are playing out on campuses are the issues of the nation. The questions cut across the spectrum, from the future of learning to the future of work. There are large questions about the role of a university. How do we balance liberal arts and critical thinking with technical skills? It's economics: How are we thinking of the value proposition of what we offer and what people pay? It's a challenging time, but that's one of the attractions—to be a part of moving forward on those issues.
I think this job will be hard. It requires focus and listening. But I like coming to a new institution. I like listening and learning.
Last spring, a month before you started at AU, the campus was rocked by racist vandalism when nooses with bananas were hung from trees and lampposts. [An investigation is under way.] What are you doing to change the atmosphere?
I want to build on the work that's already been done by my predecessor, Neil Kerwin, to get to a better place with diversity. There are some immediate steps. I've brought on a diversity-and-inclusion specialist, Makeba Clay, to spend time with us on what will be a longer-term plan.
But it's important to reflect that while race is front and center for us, diversity is much broader than that. There's gender and economic diversity and diversity of point of view. Thanks to the leadership of my predecessor, the campus has become more socioeconomically diverse. We have to think about all of these things in the next five to ten years.
You were a middle-class kid from a small town in West Virginia who went to Harvard. Is it harder today for someone like you to find her way to a competitive school?
The entire education sector, no matter what kind of institution, needs to think about providing access to higher education for those who want it, in ways they can get it. We want to create a prepared citizenry. We want to produce the research that continues to drive innovation and the engine of economy of the United States. That's the mission at American.
I'm thinking about how we fit into the broader sector and all those kids who want to go to higher education. How are they getting it? How does it work? What is our relationship with community colleges?
You originally came to Washington in 1985 as an intern for West Virginia congressman Nick Rahall. How would you advise students today to approach a career in government?
I would start with substance. That's the anchor. Make sure your analytical skills are strong: understanding data and information as well as critical thinking. I took logic when I was in graduate school at Oxford. That's a nice skill set to have when you're approaching government problems. The second thing is to make sure you get exposure to the people you're going to serve. I like [public-interest lawyer and social-justice advocate] Bryan Stevenson's concept of proximity. Proximity to problems is important to really understanding them.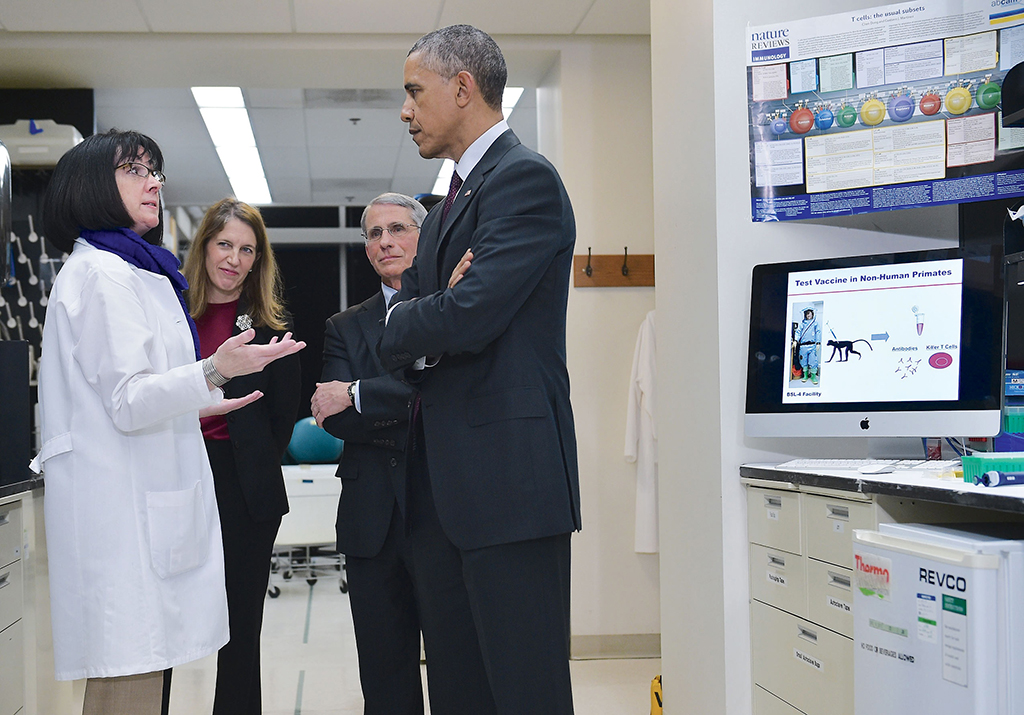 I keep a quilt on the wall from my days [running the Global Development Program] at the Bill & Melinda Gates Foundation. It's an image of a two-year-old child in Senegal whose name is Ndeye. I used to give that picture to everyone who started on my team, with a note saying, "Looking forward to the impact that you will deliver for the boss." Ndeye was the boss. She reminded us to stay close to the problems. For me, the proximity and the substance turn into the politics.
Some might say substance isn't valued much in Washington politics at the moment.
Well, a good recent example is what happened with the Affordable Care Act. When the substance of the issue became the conversation, when the American people spoke up at town halls about the changes they were experiencing in terms of access and health-care quality, the direction changed. People were speaking about what the ACA actually meant to them. Nobody wants to go back to a world where preexisting conditions keep people back. That says a lot about how proximity and substance work in politics.
Many young people come to Washington out of a sense of idealism. They want to change the world. You've been involved in the rough-and-tumble of electoral politics from an early age. You worked on Michael Dukakis's 1988 presidential campaign while in college, and even as a grade-schooler you got involved in the West Virginia governor's race. Have you ever been an idealist?
I still am. Given what I've lived through, I'm also a realist, but in many ways I'm still in that starry-eyed phase. I, too, believe that you can take your energy and your effort and work change.
You can do it a lot of different ways. When I was at HHS during the Ebola-virus outbreak in Africa, our Centers for Disease Control and Prevention teams were rowing canoes up rivers to get blood samples so we could know whether there was Ebola in villages. Scientists at the National Institutes of Health here were [working on] cures, coming up with vaccines.
I would encourage our students who want to work in government by telling them that you can have tremendous impact on people's lives.
You're the highest-profile person in recent memory to be appointed president of American, not to mention the first woman. Can we understand your arrival as an attempt to raise the profile of AU, which has always been seen as a sort of younger sibling to the other major universities in DC?
Well, yes. Part of why I'm here is that American wants to build on its success. People here are energized and want to move. That's a big part of what attracted me and a big part of what we're going to do.
This interview has been edited and condensed.
This article appears in the October 2017 issue of Washingtonian.