Merissa Dyer was never very good at sports as a kid. She enjoyed them, though, and had an interested in being in good shape. So at 17, when she was passing some store windows in Rockville and saw people hitting heavy bags and getting what looked like the workout of their lives, she was immediately intrigued. She signed up for a boxing class the very next day.
At that first class, she met the gym owner, Donte Brown. He began to train her, and she was quickly hooked on the fast-paced sport. Soon, she was sparring with everyone in the gym.
"Donte tricked me into sparring for the first time, and eventually I was sparring with everyone that came through the doors, even 250-pound guys," says Dyer. "People would be surprised when Donte would refer to the second-best fighter in the gym (second to him, of course) and point to me."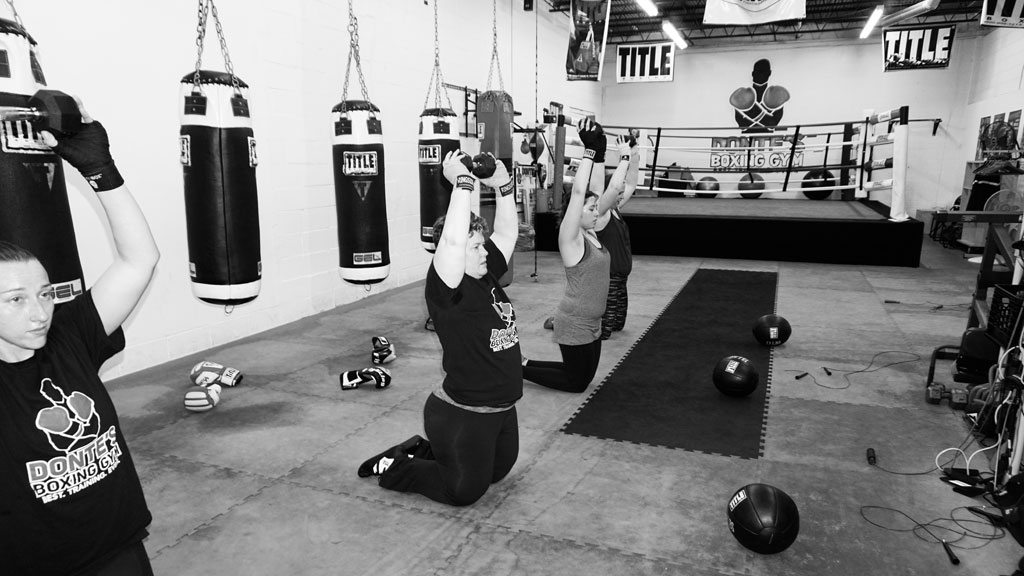 Even though boxing has a reputation for being a men's sport, Dyer, who's now a coach at Donte's Boxing Gym, says she noticed that Donte's "affirmation played a big role changing people's perceptions, at least in our gym, of women being able to fight."
That affirmation also helped inspire Dyer's latest venture, WomenBox, a pop-up boxing gym for women that runs out of Donte's space in Rockville. After launching the concept in January, Dyer has made it her mission to make boxing more accessible to women.
"It was really important for me to create a place for women to become physically and mentally strong, learn to defend themselves, and feel that it's okay to take up space," says Dyer. "Sexual harassment and violence is still a pervasive threat to us every day. My hope is that by boxing, women can gain the sense of confidence that comes with knowing how to punch and defend yourself."
Dyer wants her classes to inspire women to feel more comfortable in spaces that are typically men-only zones, like boxing.
"As a woman, you find yourself navigating gendered spaces on a daily basis. At most gyms, for instance, you can feel what areas are for you (cardio, mat area), and in which spaces you are a guest or not welcomed (the weight room)," says Dyer. "And the more identities you pile on top of being a woman (race, socioeconomic status, having a disability, etc.)…and the more marginalized those identities are, the smaller our safe spaces become."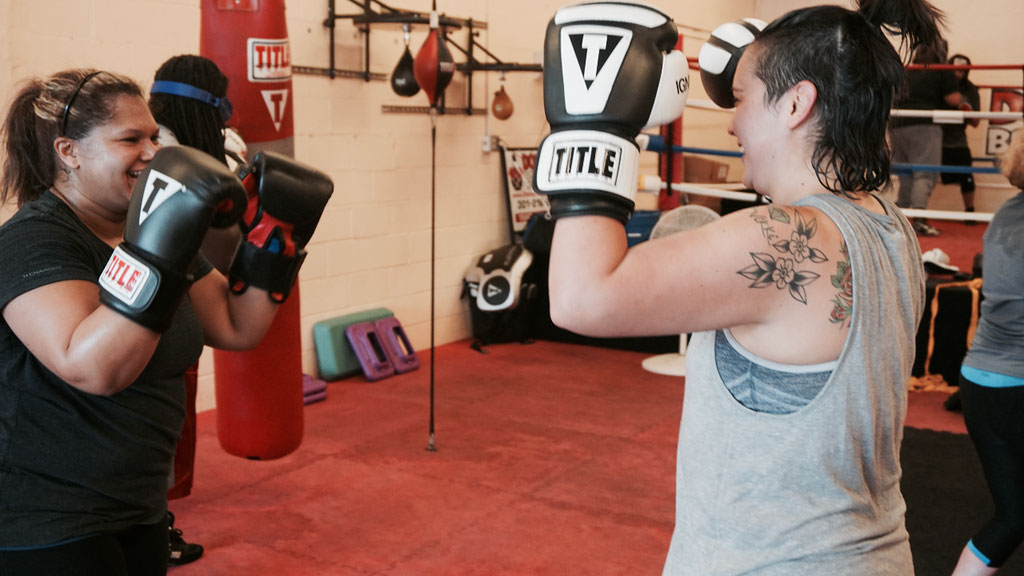 Classes, which are limited to ten people and run around 50 minutes in length, include lessons in shadowboxing, punching, blocking, and hitting the heavy bag. Jumping rope, high intensity interval training, strength training, and circuit training are also incorporated into classes as conditioning, but Dyer believes in keeping technique instruction in every class: "It was really important to me that the instruction they were receiving was not some watered-down version of boxing; they need to learn self-defense and how to punch correctly," she says.
Dyer says the biggest surprise from launching WomenBox has been learning the personal stories of her 50-plus clients. Stories of domestic violence, sexual assault, anxiety, and body image issues are not uncommon. But for those who have faced violence, boxing can help boost confidence. For those who have struggled with eating disorders or body image issues, boxing is a workout that's about learning to fight, not lose weight. And for the stressed, there's something pretty stress-relieving about hitting a punching bag.
After almost a year of hearing these stories, Dyer is hosting a WomenBox charity class at noon on Saturday, October 28, from which all proceeds will go to support local and national domestic violence programs.
 "You don't need to have any experience boxing or want to be a professional fighter to take a class with us," says Dyer. "You just need to be coachable and have a desire to learn. Fortunately, women make my job easy because they come in so humble and ready to absorb everything."