The last time I ate Scott Drewno's food was a year ago at the Source, Wolfgang Puck's haute-Chinese dining room in Penn Quarter, where Drewno spent ten years leading the kitchen. I was tucking into a $79 roasted duck for two and playing an is-that-or-isn't-that game with my dinner companion as we stared at someone who looked a lot like Nancy Pelosi.
Flash-forward to this September. I'm sitting on an indoor picnic bench at Chiko, eating gloriously crunchy soy-glazed wings off a metal sheet tray, and "Party in the USA" is blasting in my ear. Behind the counter—where you order before you're handed a number and go off to find a seat—is Drewno along with Danny Lee, owner of two DC Korean places and now his business partner.
Drewno hasn't just unbuttoned his chef whites—he's balled them up and pitched them into a bonfire. And Lee? He was never all that strait-laced to begin with. At his pair of Mandu restaurants, he wooed a resto-industry crowd with homey Korean cooking, late-night bar specials, and chef collaborations. (Drewno, who lived nearby, became a regular.) After years of hanging out and taking weekly shopping trips to Falls Church's Asian groceries, the two friends, along with Matchbox's Drew Kim—a marketing and business guy—formed a restaurant group called the Fried Rice Collective.
Their much-anticipated Chiko—the name is the first syllables of "Chinese" and "Korean" and pronounced accordingly—is fast-casual in presentation. The walls of the narrow former hot-dog joint are painted black and traffic-sign yellow. Everything comes out either on those sheet trays or in metal bowls, and behind the counter there's a line of takeout bags waiting for pickup. Even if tables are crowded when you arrive, chances are one will free up by the time your food is ready. The place—with its hard benches—doesn't encourage lingering. A cocktail menu consists of DIY mixed drinks from airplane bottles of liquor and fancy tonic or soda. (The tasty gin-and-tonic gets a little something extra—a spoonful of lemongrass-infused basil seeds.)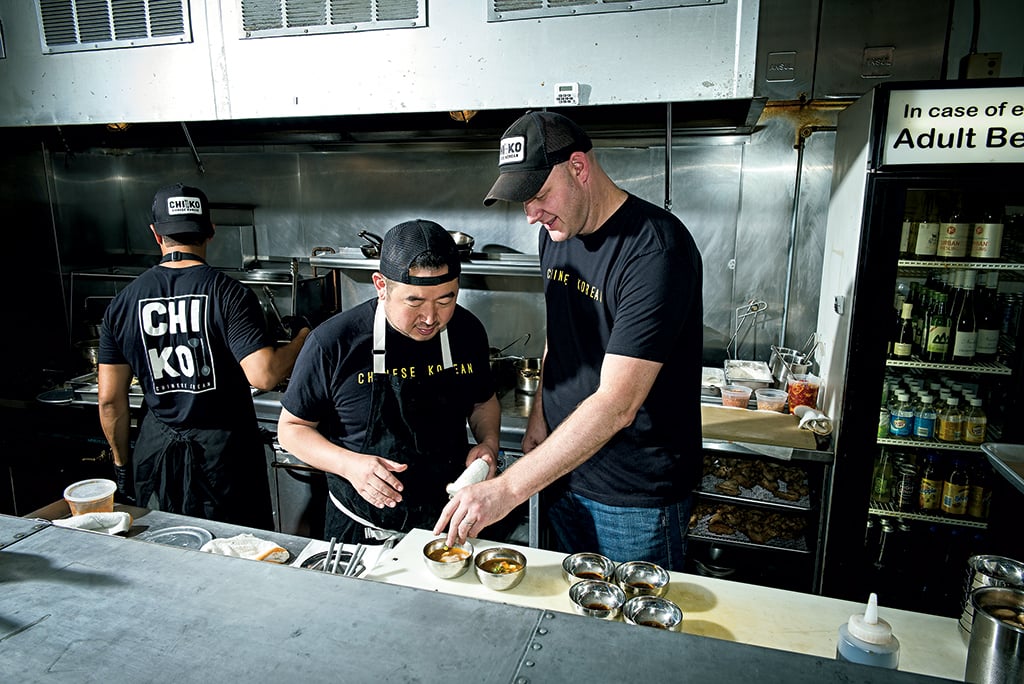 But as you might have guessed, Chiko doesn't resemble anything close to what "fast-casual" has come to mean. There are no steam tables or sneeze guards. Most important, there are no Chipotle-like choices. "Once you give a guest too many options, you're going to end up with a bowl that hasn't been vetted," Lee says. "Honestly, it could be gross." The real goal, he explains, was to modernize the beloved but dying Chinese carryout—more handmade dumplings, freshly ground spices, and seasonal produce; less frozen meat and cornstarchy, candy-sweet sauces.
The dish in which this is most evident is the "orange-ish" chicken, a riff on the drunk-food classic that often tastes like a mix of sodden fry batter and melted lollipops. Here, chicken thighs are brined overnight, dunked in tempura batter, deep-fried, and tossed with Fresno chilies and candied slices of clementine. The sauce, served on the side (sogginess problem solved!), is more haunting and complex than sugary, with fresh orange juice, chilies, garlic, and soy.
Certain dishes lean more heavily Korean (a boldly flavorful kimchee-and-pork-belly stew), others more Chinese (a comparatively timid fried rice with smoked blue catfish). But most everything on the tight menu, Lee says, has been a collaborative effort.
Take what's become the most buzzed-about creation—an ultra-rich bowl of rice laden with slices of meltingly tender brisket and finished with both a runny-yolked marinated egg and a slab of furikake-laced butter. It started in Lee's head—he'd grown up afterschool-snacking on jangjorim, a traditional Korean dish of soy-brined beef that he ate with steamed rice, a fried egg, and nori wraps. He fiddled with a version here, then Drewno jumped in—what if they used smoked brisket instead of cold beef? He called up his buddies at Wagshal's deli and made it happen. The result, in which the spices from the brisket drift into the aromatic soy braising liquid, is brilliant.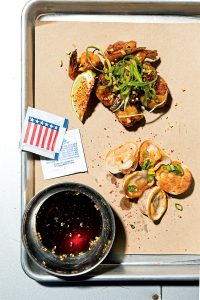 Although there's a perpetually sold out small counter in the back, where you can sample the entire lineup, tasting-menu-style, for $50, you could make a case for treating Chiko like a carryout or quick-bowl joint. Flavors can be so electric that the sensations often cancel each other out.
The first time I tried a bowl of cumin lamb noodles, I dismissed them (too busy polishing off that brisket)—and tried to pass the leftovers on to my friend. She wasn't interested. But the next day, I pulled them out of the fridge. On an uncrowded stage, the dish tasted masterful, with chewy Shanghai-style noodles, braised lamb necks, and an explosion of spices both numbing and incendiary.
If you're sticking around for a big dinner, balance some of the heartier bowls and stews with smaller plates and salads such as the "half-a-cado," mixed with jícama and a bright dressing; a trio of marinated clams; or peel-and-eat shrimp, sticky with XO sauce. Only the dumplings—including stiff-skinned pot stickers—were merely fine. And skip the lone dessert, a fruit plate centered around a bruléed hunk of dragonfruit—one bit of fusion that doesn't quite work.
Still, these are quibbles. If Lee and Drewno's operation is the future of fast-casual—or of the Chinese carryout—consider me a budding regular.
Chiko
423 Eighth St., SE; 202-558-9934
Open daily for dinner.
Neighborhood: Barracks Row.
Dress: Anything goes.
Noise level: As loud as a frat party.
Best dishes: Marinated clams; peel-and-eat shrimp; "half-a-cado" salad; soy-glazed wings; chilled acorn noodles; kimchee stew; brisket and rice; "orange-ish" chicken; cumin lamb noodles.
Price range: Snacks and salads $3 to $11, bowls and stews $12 to $18.
What the stars mean: ★★★★ exceptional; ★★★ excellent; ★★ very good; ★ good.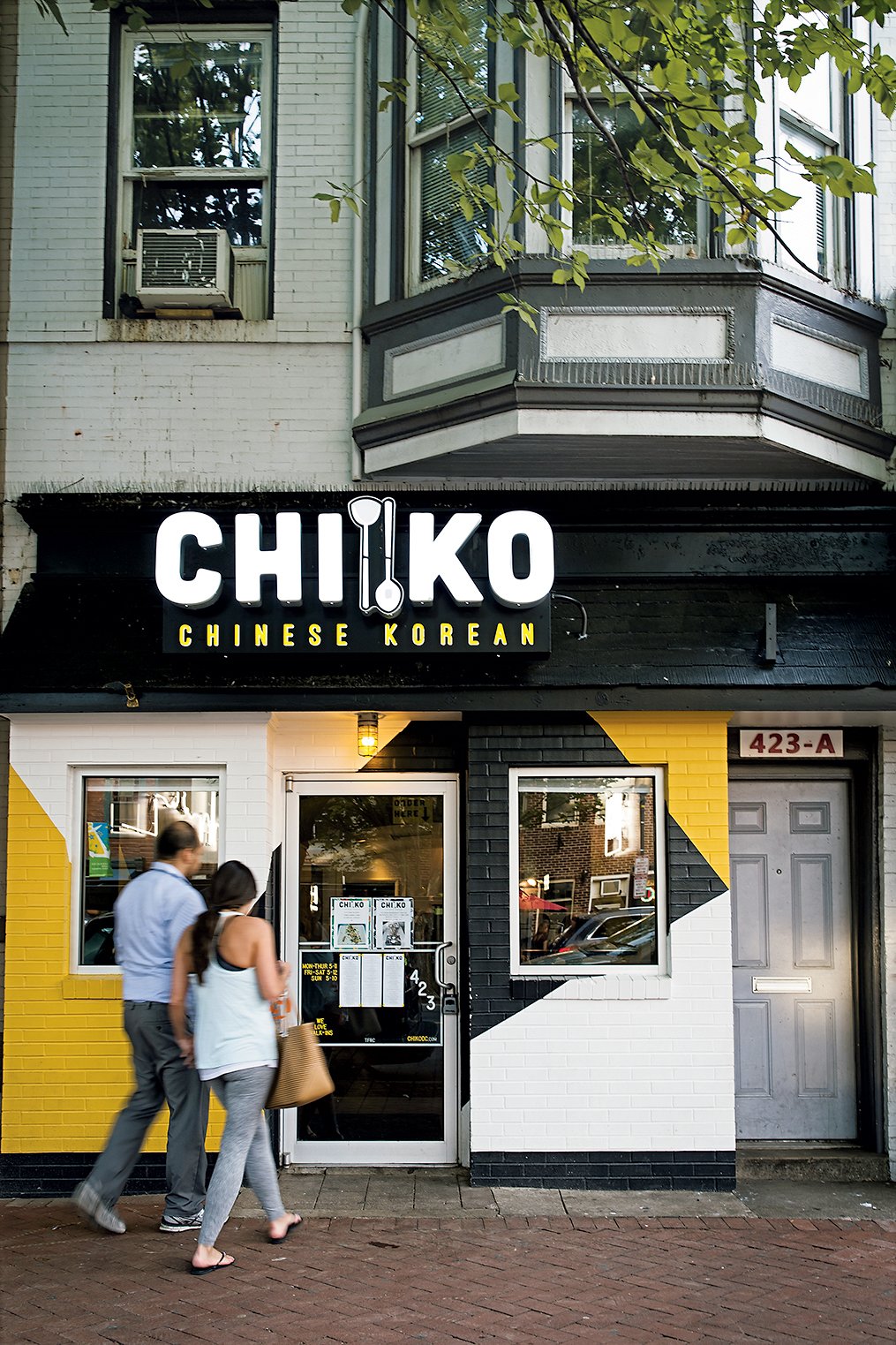 This article appears in the November 2017 issue of Washingtonian.
---