Born and raised in Minneapolis, Norah Cooper is white. Her husband, Randolph Cooper, hails from Liberia and is black. Over four years ago, the couple were preparing to welcome their first child, Grace. As they began considering what stories they might read her, they had an unfortunate epiphany. "We realized that she wasn't going to have any books with images that reflected her or her family in a positive light," says Norah.
Growing up, Norah had a different experience when reading. "I don't even remember the color of characters' skin, because they were all white, like me," she says. "And we grew up in a colorblind time when it was better to not talk about race or acknowledge it."
Since then, there has been some progress in the publishing world. There is an increasing, but still relatively small, catalog of children's books featuring characters of color. However, there are still very few with biracial characters. Many of the titles that are available focus the story on some aspect of the character's mixed race.
So in response to this void in the market, the couple,  who now also have a 2-year-old son, Louis, founded Loving Lion Books, a choose-your-own-character custom publishing company. They funded their venture with a Kickstarter campaign that raised nearly $25,000.  "The goal was to create high quality, beautiful books that reflect a lot of families," says Norah Cooper. "And the books would be acultural rather than multicultural."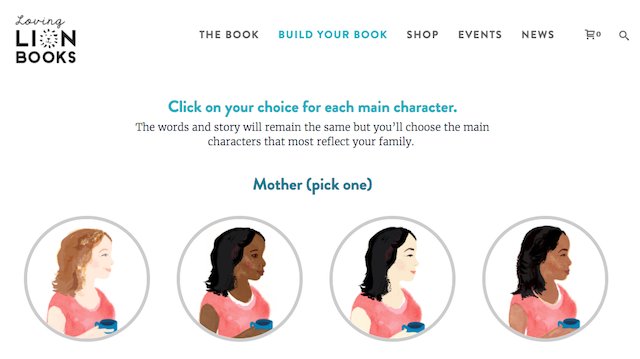 The first title, Love Family, which launched in June, follows a multiracial, multigenerational family as they come together for dinner. Buyers choose the race of the mother, father, daughter, and grandmother in the book, though the storyline stays static. Norah authored the project, her husband oversaw the website creation, and their friend, Joelle Nelson, handled the illustrations.
So far, the response has been overwhelmingly positive. One parent even told Norah their child sleeps with their customized book every night. In the coming months, the company plans to roll out further titles featuring same-sex parents and more racially diverse characters.