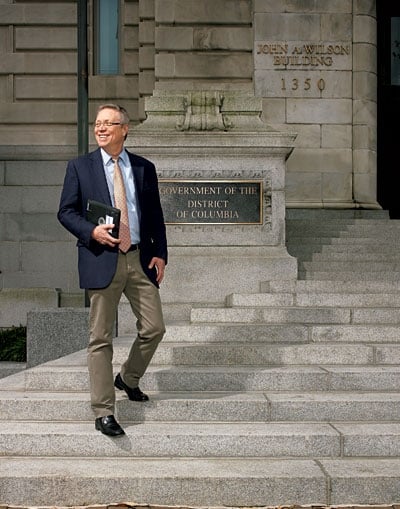 WRC's longtime DC politics reporter Tom Sherwood will leave the station on December 28 after 28 years, he announced Wednesday. Sherwood will continue to appear as the in-studio analyst on WAMU's Politics Hour, a move he says will give him "a chance to be more involved in politics in DC, Maryland and Virginia."
"I'm avoiding the word 'retire' because I'm at WAMU every Friday for an hour," he says.
Sherwood, 71, joined WRC in 1989 after a 15-year stint covering local and national politics for the Washington Post. His original assignment for the NBC station was to cover DC politics, a brief that morphed over the next three decades to include the city's economic decline, redevelopment, and spot coverage on other stories. In 1994, he and Washingtonian writer Harry Jaffe published Dream City, considered to be the authoritative history on DC in the 1970s, '80s,' and '90s under longtime Mayor Marion Barry.
"I was hired 28 years ago to cover politics," Sherwood tells Washingtonian. "The city was in turmoil under Barry. I covered all of that and the recovery. Now the politics in the city still interest me, but not in as much volume."
While covering politics in DC might be, as Sherwood says, "like living in Detroit and covering the auto industry," he says that right now, the most dynamic local politics might lie outside the District's boundaries. "Look what happened in Alabama last night," he says. "Look at Virginia, Maryland's gubernatorial race, Prince George's County and Montgomery County are being reorganized."
Sherwood says that leaving WRC will free him up to better immerse himself in the political scenes outside DC, which, he says, should make him a better analyst. Expect him to pop up at events like a Maryland gubernatorial candidates' forum in Bethesda on Thursday, which he'll use as prep for Friday's Politics Hour appearance by Maya Rockymoore, wife of US Representative Elijah Cummings. Sherwood also plans to spend time in Richmond next month when Ralph Northam is sworn in as Virginia's governor, along with many new legislators who won last month thanks to a Democratic surge in the DC suburbs.
People should also expect to hear a less restrained Sherwood. "I think I might be more unrestrained in making clear what I'm trying to say without saying 'some people say…'," he says. "I guess I'm becoming a talking head, so we'll see what happens with that."