When Stephanie Stebich walks around the Smithsonian American Art Museum and the Renwick Gallery—the two downtown institutions she oversees—she seems to spend as much time looking at the ground as at art on the walls. Over the course of an hourlong tour, Stebich swoops down repeatedly to grab trash from the floor—a receipt, a toothpick, and other inconsiderately discarded bits. At the end of each day, her pockets are full. "Nobody wants to go to a dirty museum," she says.
Cleanliness is nice, but it probably isn't why so many people have been showing up at these two museums' exhibits. From the Renwick's blockbuster immersive experience "Wonder" to its current oddball hit show, "Murder Is Her Hobby: Frances Glessner Lee and the Nutshell Studies of Unexplained Death," featuring crime-scene dioramas, the Renwick and SAAM are offering some of Washington's most exciting and unexpected fare. This spring will bring two more unusual exhibits—one, at the Renwick, devoted to the long-running desert festival Burning Man; the other, at SAAM, to sculptor Do Ho Suh, known for his eye-popping architectural installations.
Stebich joined the Smithsonian last spring from the Tacoma Art Museum in Washington state, replacing Betsy Broun, who had held the position since 1989 and oversaw an expansion of SAAM's physical space as well as the Renwick's rebirth as a major Instagram attraction. Stebich's task is to preserve those gains while further broadening the museums' appeal, especially to local visitors.
Because your museums aren't on the Mall, they bring in a somewhat different crowd from many other local attractions.
Yes, indeed—and I don't know that we get enough of the credit that we deserve. If you look at the numbers, which occasionally I have to do, we were the fifth-most visited art museum in the United States in 2016 if you combine SAAM and the Renwick. We're the second-most visited art museum in DC.
American Art is one of the few Washington museums to stay open past 5:30. Will it continue to be open later than the other Smithsonian buildings?
The security guards asked me that right away [when I started]. But you know what? It makes a lot of sense where we are. It's a restaurant neighborhood, and we're right near the [Capital One] arena. Another number I like a lot is that 53 percent of our visitors are repeat visitors. That means people are not kind of happening by—although that happens, too—but are coming here on purpose. It also tells me we have a local following. I've learned to say DMV—District, Maryland, and Virginia. Do you have a better way of saying that?
We like to say Washington!
See, I come from the other Washington, so I'm sensitive to that Washington part.
Are those high numbers primarily due to the tremendous popularity of the "Wonder" exhibit?
Well, I think we're having another "Wonder"-like moment at the Renwick right now with "Murder Is Her Hobby."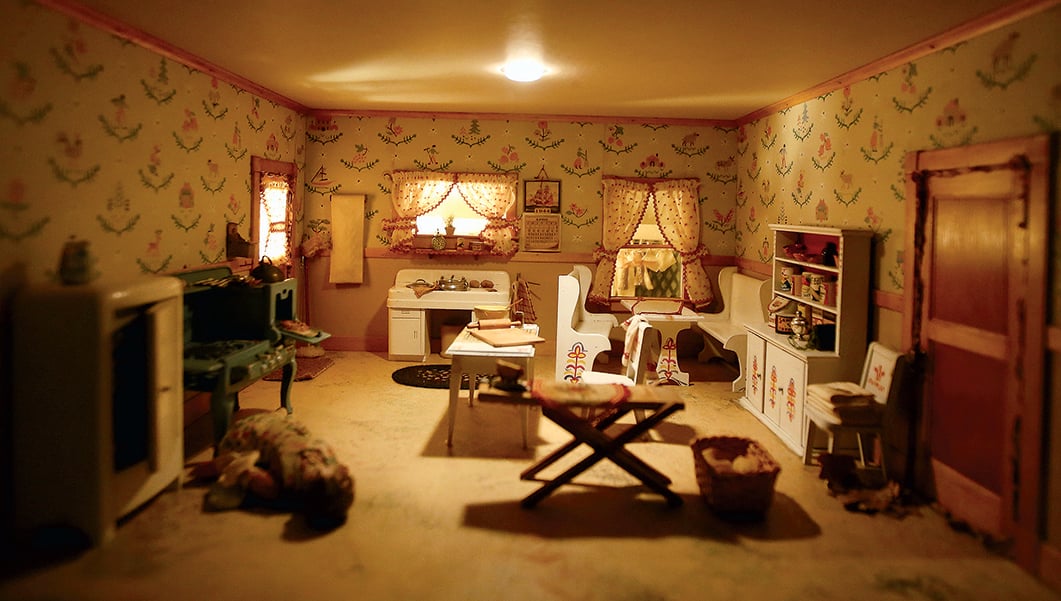 Why has that show connected with so many people? I'd have expected an exhibition of macabre crime-scene models to attract a smaller, more specialized audience.
What's one of the hottest movies at the moment? Murder on the Orient Express. You know—Agatha Christie, Sherlock Holmes: decoding, puzzling. What I like about the exhibition, as a museum person, is it makes people look. I have to tell you, when we had the opening I said, "This may be the first and last time I thank the American Academy of Forensic Sciences and the medical examiner's office of Baltimore."
People right now seem very drawn to the kind of exhibits that look fantastic on social media, such as "Wonder." What else along those lines do you have in the works?
We're doing an exhibition with the Korean-American artist Do Ho Suh. That will have an incredible immersive experience, where he's created [parts] of his various homes between New York, London, and Seoul. And I don't know if you've ever been to Burning Man?
I haven't.
Put it on your list. It's an intense experience—it's 100 degrees during the daytime, it's 60 degrees at night, and there's occasionally a dust storm. How do you convey that in an exhibition? We can show a photograph, show a video, but might we do something with virtual reality on that level?
What other kinds of things are you thinking about as director of these institutions?
What does it mean to be a national museum and a local museum? How do we share our collections or holdings or expertise or education programs or conservation nationally, while at the same time better serving our community here? I think there's an opportunity with the sad closure of the Corcoran to welcome people here, particularly contemporary artists: [hosting] evening events and purchasing their works—highlighting what makes us local, what makes us distinctive. So those are some of the greater challenges.
One of the things I'm thinking about is the position of SAAM in relationship to the Renwick—having two sites with different names.
I was surprised by how long it took me to get in to see "Wonder"—I'm pretty sure it's the first time I ever waited to enter the Renwick. Does the popularity of these exhibits change how you think about what you want to do here?
I'd like to tell you that I knew what would be the blockbusters. Sometimes it's a slow build. What is the "Wonder" effect? Every museum director will tell you that when we get together, we lament how little time people spend looking at works of art. What is it about those immersive exhibitions that invite people to linger? That invite people into conversation, that demand that people spend more time looking?