It's a unseasonably breezy Monday evening in January, and a handful of volunteers from Population Connection Action Fund have boarded the blue line at Foggy Bottom toward Largo Town Center. On the crowded Metro car, they wear t-shirts that say, "OUR FIGHT, OUR RIGHT, OUR FUTURE" and carry posters criticizing President Trump's reinstatement of the so-called "global gag rule," a policy that blocks federal funding to organizations that provide abortion counseling to women abroad.
There's barely a day that goes by in Trump-era DC without an organized protest of some sort, often marked by clever signs and rallying cries. But what happens when these protests become so commonplace that people stop paying attention?  
Tonight, the folks at Population Connection don't plan to gather a large group to protest Trump's "Global gag rule," nor do they have any chants planned. Instead, they're trying the hottest new form of dissent in the city: projecting their message directly onto the Trump International Hotel.
Rebecca Harrington, Population Connection's advocacy director, reached out to Robin Bell for help with the protest. Bell, a DC visual artist, has projected a number of messages onto the Trump hotel over the past few months, most recently "This place is a shithole," following the President's publicized comments disparaging Haiti and African nations.  
"It's become a really useful tactic," Harrington says of the projected messages. "When you can make something visual that sticks in people's minds, it helps them get engaged." Harrington says that although this is the first time they've experimented with projecting their message on the Trump hotel, her organization has spent the past year trying to find new ways to speak out against the White House's agenda.
"It's really been fun for us to get more creative with our actions and to think outside the box, and be inspired by all the things other members of 'the Resistance' are doing," Harrington says.
On this particular night, it's clear that Bell is in charge. About 6:30 PM, the group from Population Connection gathers on 12th Street across from the Trump Hotel, between Pennsylvania and Constitution avenues. Only a dozen or so have come to support the organization, but the exact way this protest will play out remains a mystery.
"I feel like we're doing something illegal," says one member of the group. Tanisha Humphrey, the deputy field director of Population Connection Action Fund, encourages everyone to wait for Bell, who she calls "the maestro," and follow his lead.
Bell finally appears a few minutes later, wheeling a projector down the street and carrying his laptop while flanked by two assistants; all three wear black hoodies. Bell quietly sets up his laptop and turns on the projector so that a few clear messages are seen right above the hotel's entrance. In bright blue letters, they read, "IT DOESN'T TAKE A GENIUS TO UNDERSTAND HOW FAMILY PLANNING WORKS," "FIGHT TRUMP'S GLOBAL GAG," and "#FIGHT4HER," all images that Bell worked with Population Connection to design.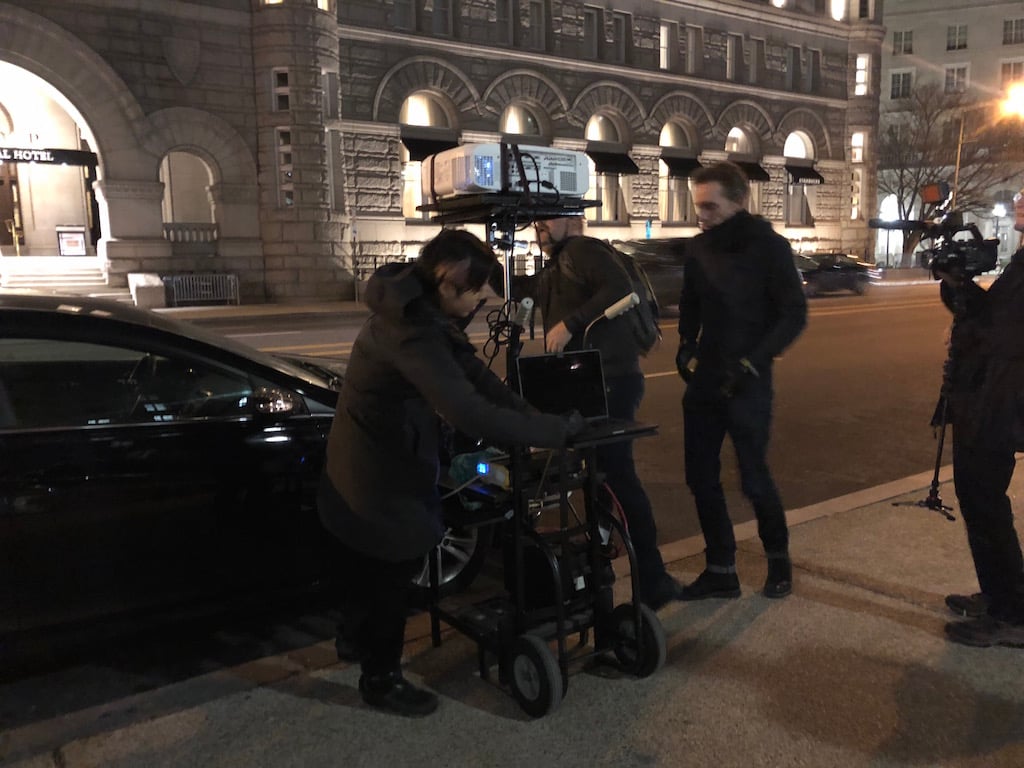 Bell and his team move quickly—when they do these projections, they go in expecting to be turned away at some point, even though nothing they're doing is illegal. "We just have to always just be careful," says the artist, who keeps his black hoodie over his head to avoid being recognized. "We know we're within our rights, but that's why we have to play very careful, because we know the Trump administration doesn't follow the rules."
Sure enough, a Trump hotel security guard who's crossed the street starts looking over Bell's shoulder shortly after the projection starts. He's bald, with a neatly-trimmed mustache and flag pin affixed to his black suit. He doesn't respond when I ask what he's up to. A DC Police car pulls up a few minutes later, and two officers get out. By now, there are three security guards from the hotel outside.
The cops are clearly used to this sort of call by now, as is Bell. The artist works with Noor Mir, a grassroots organizer who acts as a police liaison during these protests. Mir offers her ID to the one of the officers, and another one—her red hair pulled back in a pony tail—emphasizes to Mir that "this is completely within your right," and says she and her colleague are only there to keep the protesters safe. By now, there are images of dancing sharks being projected on the hotel (a nod to Trump's reported fear of sharks). "That shark has better dance moves than me," the officer says.
Mir is surprised the Trump security guards are giving them trouble tonight, but knows that their call to the police is just an intimidation tactic. "We're not really impeding the sidewalk," she says."There's very little they can do."
A few people run past the hotel and stop to take photos while the projection is still going, but in general, it's a quiet protest. Bell says that the real power of the image is that it can be shared to thousands of people across social media for days to come, and boost awareness of an issue that many have forgotten about in the constant tsunami of Trump-related news.
For an organization like Population Connection, the tactic is a no-brainer. It allows organizers to get their message out in a low-risk, but tech-savvy way. Harrington says that for her organization, the threat posed by hotel security guards is a relatively insignificant one in the grand scheme of things: "We're all at the point where being cautious isn't really an option, and it's really not an effective tactic," she says.
Bell says that even if the effects of his visual projections aren't noticed immediately, they can boost morale in small ways: "Your work can't change everything, but you do have the ability to put some comfort to the people affected by what's going on."
It's clear that on this night, this projection brightened the day of at least two young congressional aides. Following the announcement that the Democrats will cede to Republicans to end a three-day government shutdown, they come over to snap a few photos. "We're dumb staffers who got our asses kicked today," one of them says. "This is what we needed."