Washingtonian's 100 Very Best Restaurants issue hits newsstands this week. Our team of reviewers anonymously visited more than 300 eateries across the District, Virginia, and Maryland to narrow down the the top spots—all ranked.
The best? Métier, veteran DC chef Eric Ziebold and wife Célia Laurent's intimate tasting room in Shaw. The husband-and-wife duo are both veterans of the famed French Laundry, and it shows in the details—including canapés in the firelit salon, Ziebold's pitch-perfect riffs on French standards (cassoulet is done up with lobster and dashi), and surprise haute milkshakes to finish.
The toughest part of our job was narrowing the list to just 100—it's a testament to Washington's dining scene that we could have easily included more. It's also a sign of the dining times that nearly a quarter of the restaurants are newcomers. Of these, Del Mar came in highest at No. 3. Fabio and Maria Trabocchi's luxe Spanish spot at the Wharf has thrilled since day one—and that's their sumptuous seafood paella gracing our cover.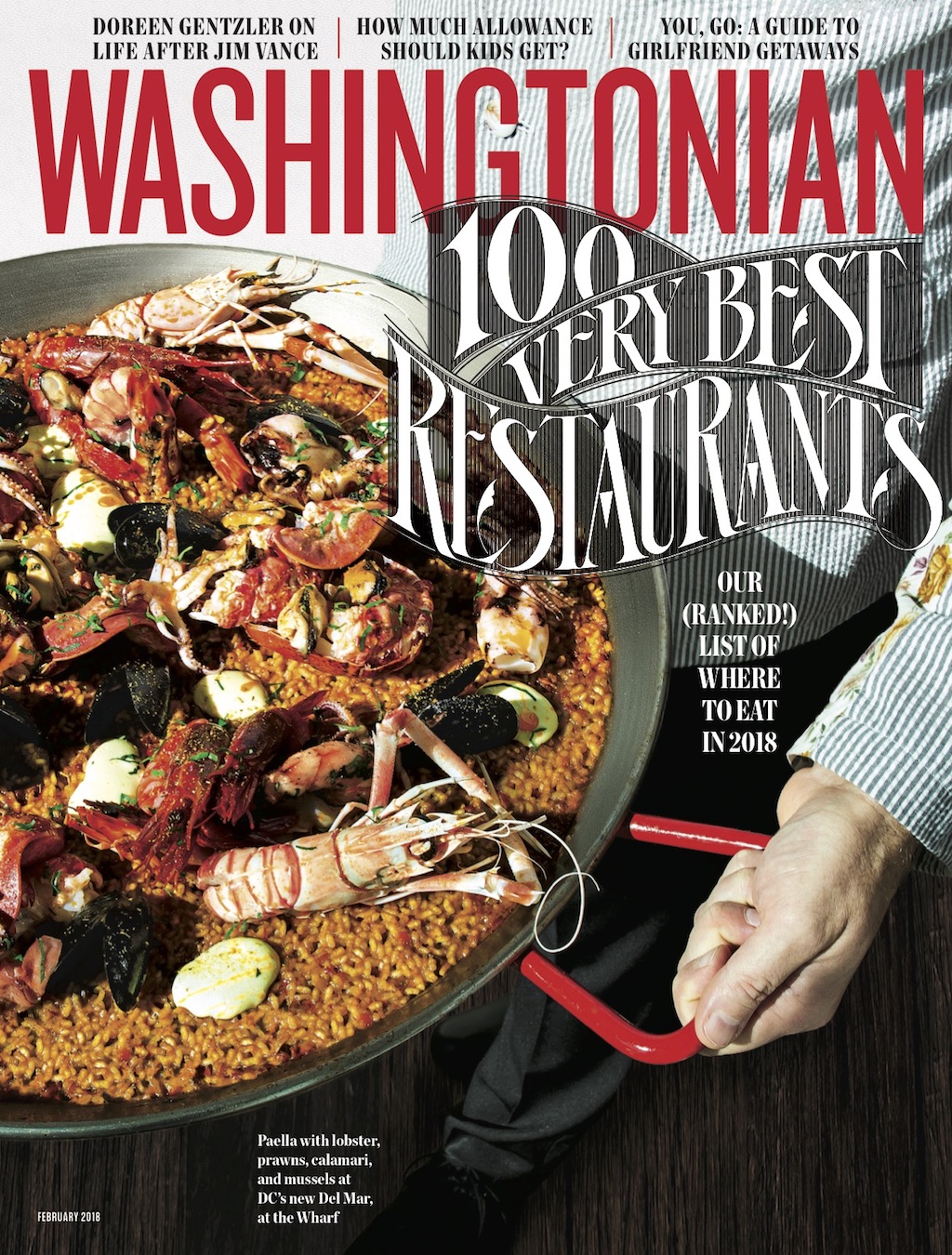 The rest of our Top 25  showcases expensive tasting rooms like Pineapple and Pearls alongside ambitious fast-casual spots like Chiko, plus neighborhood destinations like Tail Up Goat and All-Purpose pizzeria. There are boundary-pushing newcomers (Maydan) next to long-running institutions (the Inn at Little Washington, which turns 40 this month).
Look for the issue to hit newsstands today, and head to Washingtonian's Facebook page on Friday at 11 AM, where head critic Ann Limpert will answer all your questions live. The full list will go online mid-February.
In the meantime, here's a sneak peek at the Top 25:
1. Métier We never thought sea urchin and banana could go together so beautifully, but chef Eric Ziebold is a master of presenting surprising combinations with flawless technique—and creating a dining experience that's unforgettable.
2. Komi Newness may be prized in DC's dining scene, but chef Johnny Monis and Anne Marler's 14 year-old fine-dining veteran continues its reign at the top.
3. Del Mar Chef Fabio Trabocchi paved the way for luxe waterfront dining in DC at Fiola Mare, and his new Spanish spot at the Wharf wowed us with paellas, grilled seafood, and tapas from co-owner and wife Maria's native Spain.
4. Himitsu Carlie Steiner and Kevin Tien's tiny, no reservations Petworth spot puts out Japanese-accented food you'll crave for days (hello, uni toast).
5. Pineapple and Pearls Head to Aaron Silverman's Barracks Row tasting room soon—the price jumps from $280 to $325 a head in April.
6. The Dabney Jeremiah Langhorne has a mind-blowing way with Mid-Atlantic and Lowcountry comfort food.
7. Sushi Taro Washington's best sushi restaurant, at a time when there's more competition in the genre than ever.
8. Tail Up Goat It's tough to pass up the housemade breads and famed lamb ribs, but chef Jon Sybert keeps the new hits coming at this small and lovely Adams Morgan dining room.
9. Bad Saint Chef Tom Cunanan's nouveau-Filipino kitchen is still turning out some of the most transportive cooking around.
10. Masseria The cool indoor/outdoor setting is upstaged only by Nick Stefanelli's pastas and other Puglia-inspired creations.
11. Kobo Our top-ranked Maryland place is this Japanese tasting-menu counter inside Sushiko.
12. Inn at Little Washington Patrick O'Connell continues to draw diners from hours away to celebrate their most important occasions.
13. Field and Main Husband-and-wife owners Neal and Star Wavra have built a destination-worthy restaurant in Marshall, Virginia for hyper-local fare prepared in a wood-fired hearth. 
14. Minibar It's dinner and a show at José Andrés's temple of modern gastronomy where chefs fashion salads from ice and transform Krispy Kreme doughnuts into a dessert fit for the most expensive restaurant in town. 
15. Whaley's Few restaurants master a casual vibe and ambitious food and service so well, but that's the draw at this Navy Yard seafood restaurant.
16. Izakaya Seki This quiet restaurant off the U Street corridor is a destination for Japanophiles thanks to its top-quality fish and hand-written specials menu.
17. Maydan Live fire cooking stars at this atmospheric newcomer from the Compass Rose team, which draws homestyle recipes from Turkey, Lebanon, Georgia, and beyond. 
18. All-Purpose Crave-inducing pizzas and creative Italian-American small plates from chef Mike Friedman make this one of our favorite Shaw destinations. 
19. Rasika/Rasika West End Chef Vikram Sunderam's refined curries and stews set the standard for Indian dining in Washington. 
20. Requin Restaurateur Mike Isabella's finer-dining French spot at the Wharf is worth the trip for its roast chicken alone.  
21. Plume This restaurant inside the Jefferson hotel exudes luxury, from purse stools to tableside preparations like salmon poached in beeswax.
22. Le Diplomate Nearly five years after opening, Stephen Starr's 14th Street brasserie is still one of the buzziest restaurants in town (and our favorite place for a burger or shellfish plateau).
23. Marcel's Chef Robert Wiedmaier's bastion of French fine dining continues to impress with Old World delicacies like grilled squab. (Note: the restaurant is temporarily closed due to water damage; it plans to reopen February 2).
24. Inferno Pizzeria Napoletana Where can you find the best pizza in Washington? Drive to Darnestown, MD and check out fine dining veteran Tony Conte's gem of a Neapolitan-pie shop.
25. Chiko Chefs Danny Lee and Scott Drewno take fast-casual to new heights at their Chinese-Korean joint on Barracks Row, where thrilling flavors arrive on metal trays.