Beer is serious business in Maryland. The entire month of February is an official celebration of craft beer known as FeBREWary (Governor Larry Hogan made the official proclamation three years ago), and it truly is a beer lover's paradise.
The epicentre of the festivities is Ocean City, host of Shorecraft Beer Festival's Love on Tap. Winter is a perfect time to visit this charming beachside town, which features a three-mile boardwalk. The festival's dizzying choice of stouts, porters, and winter ales, among others, will be more than enough to keep you warm and satisfied.
Along the Way
About an Hour In
Take a break in Grasonville with an oyster platter and hot crab dip at the Jetty Dock Bar (201 Wells Cove Rd; 410-827-4959). The palm trees, string lights, and outdoor atmosphere will set the holiday mood for your weekend getaway.
About Two Hours In
There really is a museum for everything. Case in point: The Ward Museum of Wildfowl Art (909 S Schumaker Dr; 410-742-4988) in Salisbury, which features a huge collection of decoys that will delight even the non-ornithologists. This home to American folk art houses a collection of decoys that are amazingly lifelike and beautiful.
Do
Love on Tap: ShoreCraft Beer Festival
It's not a true "beercation" without a weekend at the third annual Love on Tap. On February 23 and 24, you'll find 14 local craft breweries, more than 30 beers and stunning views of Ocean City's bay. Did we mention unlimited free tastings? You certainly don't need more convincing than that.
Love Thy Beer: Winter Warmer Showcase
Ever wanted to pick the brains of the people behind some of Maryland's best beer? Here's your chance. FeBREWary's signature event in Silver Spring sold out last year—and for good reason. Craft beer masterminds come to gather in this cozy setting over delicious seasonal ales. The $75 VIP package features a four-hour tasting session with participating breweries, which practically pays for itself.
Cupid's Curse Challenge
Maryland's craft breweries are battling it out to create the best new beer. They'll release their newest concoctions on February 1 and pour them throughout the month. The winner will be aptly dubbed "Cupid's Curse" and announced at Love Thy Beer, where attendees will get to sample the specialty brews and cast their votes.  Passing the crown (or in this case, a cupid trophy) will be last year's reigning champion, Calvert Brewing Company.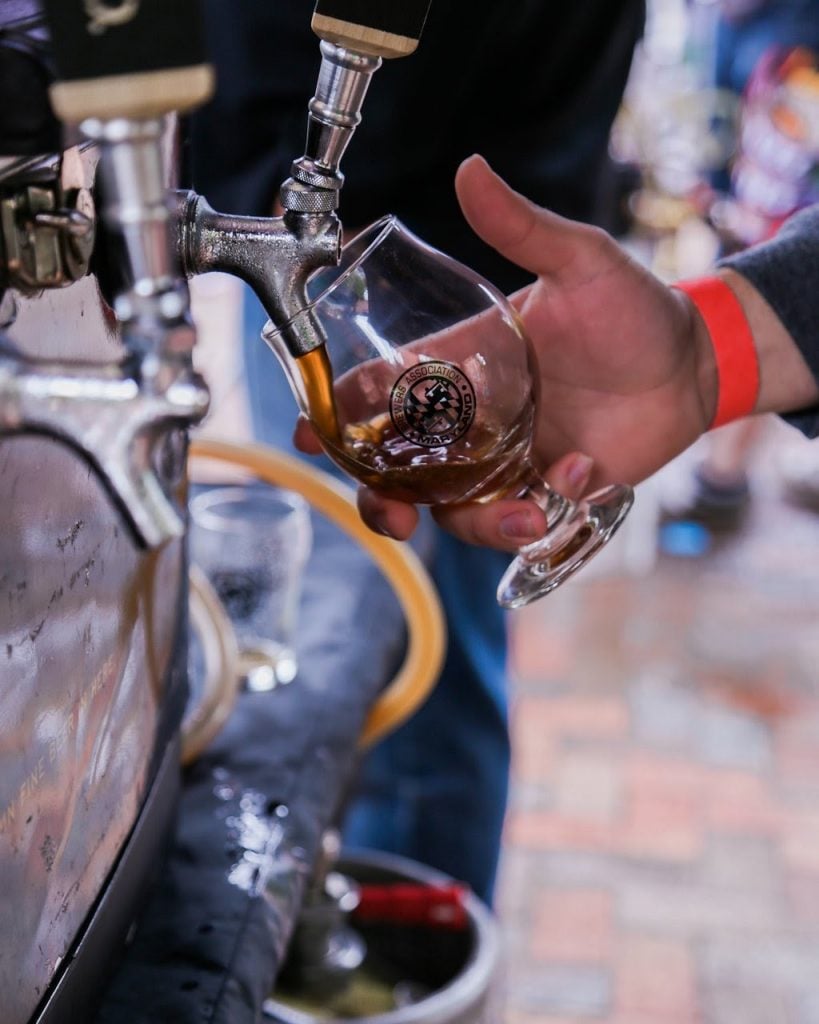 Drink
Romantic Chemistry 
The chemistry is just right with this tasty pick by Dogfish Head Craft Brewed Ales. Expect an India Pale Ale brewed with mangos, apricots, and ginger, and dry-hopped with three varieties of hop for a tropical fruit aroma.
Kohana Chocolate Cherry Stout
This offering by 3rd Wave Brewing Co. is a true Valentine's concoction. Cherries and milk chocolate are used in this classic Russian Imperial Stout, and roasted malts add to the flavor. You'll get hints of vanilla and biscuit, plus a sweet, fruity character that cuts through the espresso finish.
Pine'hop'le IPA
This refreshing, citrusy brew, brought to you by Evolution Craft Brewing Co., is now available in bottles across the region after becoming a favourite in the company's taproom and brew pub. A unique take on an India Pale Ale, it combines all the sweetness of pineapple with the kick of hops—making for a truly delicious (and tropical) sipping experience.
Stay
You can't beat the location of the Park Place Hotel (208 North Baltimore Ave; 410-289-6440). This charming resort property is just a few blocks from the amusements and restaurants of Ocean City's boardwalk. Park Place's package will get you an overnight ocean-front room for two on February 23 or 24, plus a pair of general admission tickets to Love on Tap. Rates begin at $229 per couple.
The "royal" designation for the Royal Sonesta Harbour Court (550 Light Street; 410-234-0550) is warranted. This downtown Baltimore hotel recently underwent a $11 million renovation, modernizing the building while maintaining its European opulence. But it's the hotel's views of Baltimore's famed Inner Harbor that are the biggest draw. Relax by the waterfront while enjoying two flights of beer courtesy of the Royal Sonesta's craft-beer package (which includes overnight valet parking).