Last week, George Washington University's Milken Institute School of Public Health announced that it will conduct an independent review of fatalities caused by Hurricane Maria, the massive storm that ravaged Puerto Rico last Steptember.
The storm's official death toll sits at 64, but media reports have put it at closer to 1,000. Much has been made about the discrepancy, including accusations that the government purposely undercounted. Lynn Goldman, the Milken School's president, says the investigation aims to bring clarity to the count. In an interview, she tells Washingtonian that Puerto Rico Governor Ricardo Rosselló's office reached out to the school about reviewing the true extent of the hurricane's damage and the government response to the resulting devastation.
"We don't know what the number will be until we do the investigation," Goldman says. "We will call it as we see it."
Beyond establishing a more accurate death toll, the research team will make disaster preparedness recommendations for future use and will review the Puerto Rican government's response to the storm.
Here's what Goldman had to say about this long-term project.
What is the timeline of this project?
The project is designed in two phases: the first phase will be three months and it involves the enumeration of deaths and calculation of death rates. It'll be funded by the Puerto Rican government and will cost $305,000. We will coordinate with them but they will have no say over the investigation. The second phase findings will be released in one year and will also examine how the Puerto Rican government initially handled counting the fatalities. The second phase will cost about $1.1 million and will be funded primarily through grants.
The second phase will be more labor intensive but important in terms of being able to actually get down to a more granular level. It'll involve further investigation and we'll be talking to family members and hospitals and clinic staff. We'll look into deaths that are suspected to involve the hurricane. Sometimes it doesn't actually say that in the records, so we would like to be able to make sure that we are very much accounting for hurricane-related mortality. We need to get reports from the community about some of these. Because the island's medical care system can be impaired because of the hurricane, it creates an issue of reporting mortality.
It's been months since the storm. Are you concerned that too much time has passed?
It's a good time to do it now. If you're there in the immediate aftermath it would've been hard to get around island and do an investigation. The roads are open. But all you have to do is fly over the island and see all the blue tarp and anywhere between 40 and 45 percent of the island is still not electrified. Many people in the capital still don't have power. But we are now at a point where we are going to be able to do a reasonable job of data collection. 
Who else is involved with this?
We have several faculty involved. Dr. Carlos Santos-Burgoa, an epidemiologist with expertise in global health in the Americas, will lead the team and will be assisted by Ann Goldman (no relation). Goldman is a study coordinator who just finished her dissertation in epidemiology. She is from Puerto Rico and both are native Spanish speakers. Language is very important in doing research because there can be imprecision in translating and it's important to communicate properly. A number of other faculty will be peripherally involved.  Peak hurricane season in the Western Hemisphere starts in mid-June and the team hopes to have information to share to prepare for future hurricanes.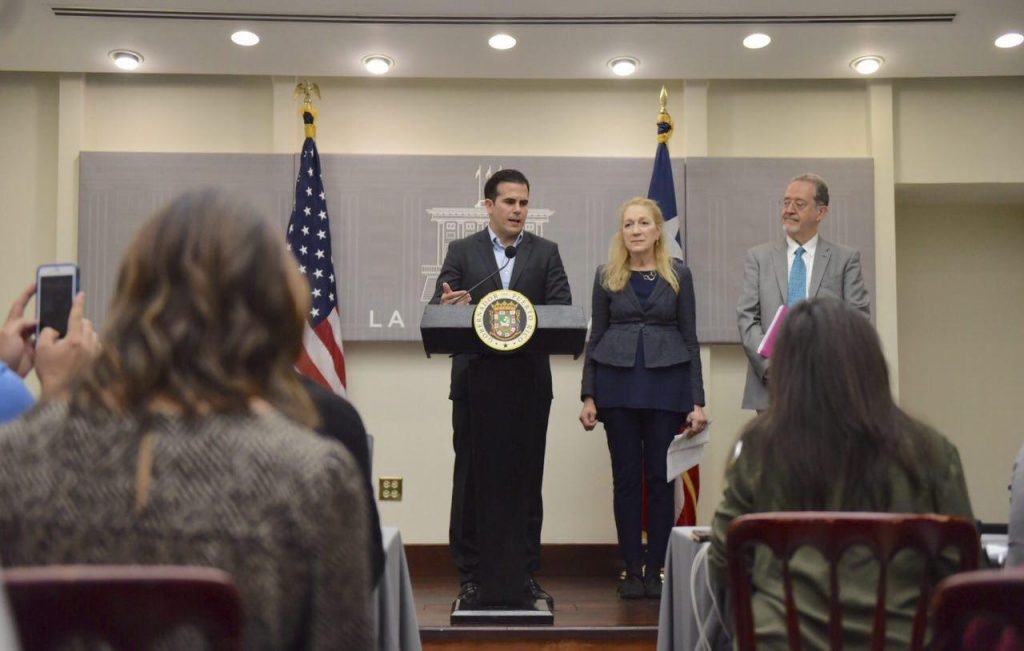 You're collaborating with the University of Puerto Rico. How will that work?
Going out and interviewing people for case finding will require some actual people on the ground to help. We can send people from DC to do that, but we can also train people at that school so they can help out. They were not selected to do [the study] and they understand why, but they are very open to coordinating and collaborating. We are meeting with them and they were enthusiastic. If [Rosselló] had turned to them there would be members of the public who would say, well you are funded by the state budget.
What kind of impact do you think this will have for future hurricane planning?
We learn something from each storm. In Hurricane Katrina, they had to evacuate people from critical care by boat. They had to move patients to other medical facilities far away. We learned that their medical records have to go with them because people on the receiving end didn't understand a lot about their medical histories. This led to a change in process that is used by emergency management folks and now they have to bring the records with them. In Hurricane Sandy, we learned that a lot of people at home are medically dependent on electricity. We need to be identifying who those people are and making sure that public health gets to them because they are very much at risk if they're oxygen dependent and if electricity goes down.
It's important to build because these lessons can be used nationally. The lessons learned from Hurricane Katrina were applied when Hurricane Ike hit Galveston and when Hurricane Harvey hit. Medical care facilities can be vulnerable, and in learning how to do that and being prepared, we forget things that are even obvious. Part of preparedness for these events means there has to be a drill—you have to make a lot of decisions and it's moving fast so mistakes happen. I'm not sure what all we're going to learn from this one but I'm pretty confident we'll learn more. The whole system is getting better at response but society and the ways in which we live are getting more complicated.
This interview has been condensed and edited.