Farmers & Distillers in Chinatown is one big love letter to George Washington, complete with a Mount Vernon mural and a hipster man-bun portrait of the first American president. The Founding Fathers theme will continue at Founding Farmers' forthcoming Reston restaurant. This time, though, it's all about Thomas Jefferson (minus the man-bun, sorry).
The seventh establishment from Farmers Restaurant Group is set to open on April 11 with reservations going live on March 1.
"Each restaurant is like another child," says co-owner Dan Simons. "Same DNA… but each one you produce is going to be its own thing."
For his latest baby, Simons dove into research about the third president at the Library of Congress and made several visits to Monticello. Jefferson was a foodie in his day, known for his love of French cuisine and credited with introducing mac and cheese to America.
Of course it was actually slaves behind the food at his Virginia estate, so Simons wanted to pay tribute to them. The restaurant will feature artwork of James Hemings, who Jefferson sent to France for culinary training, as well as Sally Hemings, mother to several of his children.
"It would just be irresponsible to do the whitewashing of history and talk about Jefferson and Monticello and food and not talk about wonderfully important contribution of African Americans. And yes, they were at that point Africans, and they were enslaved," Simons says.
Many nods to Monticello and Jefferson in the 13,000-square-foot restaurant are less obvious. The restrooms, for example, will be covered in dinosaur fossil wallpaper because Jefferson was a collector. "I thought if this was his restaurant, what would he do?" Simons says.
Maybe he'd add a giant sculpture of a beaver? The Reston location will have one as a reminder to people that a lot of farmland is forest adjacent. "I want to tell all the stories and help us all expand our mindfulness as to what's around us, what we impact," Simons says.  A frozen-in-action clothesline that hangs above the dining room is made with actual clothes from the farmers who invest in the restaurant. 
The menu is one of the biggest yet for Founding Farmers with at least 110 items, says executive chef Joe Goetze.
"People always say, 'Oh, your menu is too big," Goetz says. "A lot of it is easy components. We have all the ingredients already, we just create a couple more dishes. We feel that if there's nice variety for folks, we can develop more of a frequent customer."
As an homage to the "father of macaroni and cheese," the new restaurant will serve a seven-cheese macaroni as well as a dozen other housemade pasta dishes, ranging from cacio e pepe to cheese ravioli bolognese.
Also new: pierogies. Try them steamed or fried with four filling options, including "loaded baked potato" or beef, rice, and cheese.
Expect a lot of Founding Farmers classics too, like bacon "lollies" or prosciutto and fig "farm breads." Instead of fried chicken and waffles, the Reston outpost will serve fried chicken (spicy or Southern-style) with cane syrup-glazed doughnuts. There's also chicken fried steak and doughnuts. The rounds on their own are only a buck—or $3 for filled.
Another section of the menu will be devoted to "Dan's Comfort Foods," which are actually healthyish options like grain bowls or grilled fish. Founding Farmers was the first DC restaurant to serve the surprisingly meat-like Impossible Burger, made entirely from plants. In Reston, it will serve Impossible meatloaf.
The restaurant's First Bake cafe will supply coffee, pastries, and breakfast burritos to commuters on the go. (The restaurant is right next to the Reston Metro, although there's also free parking for customers.)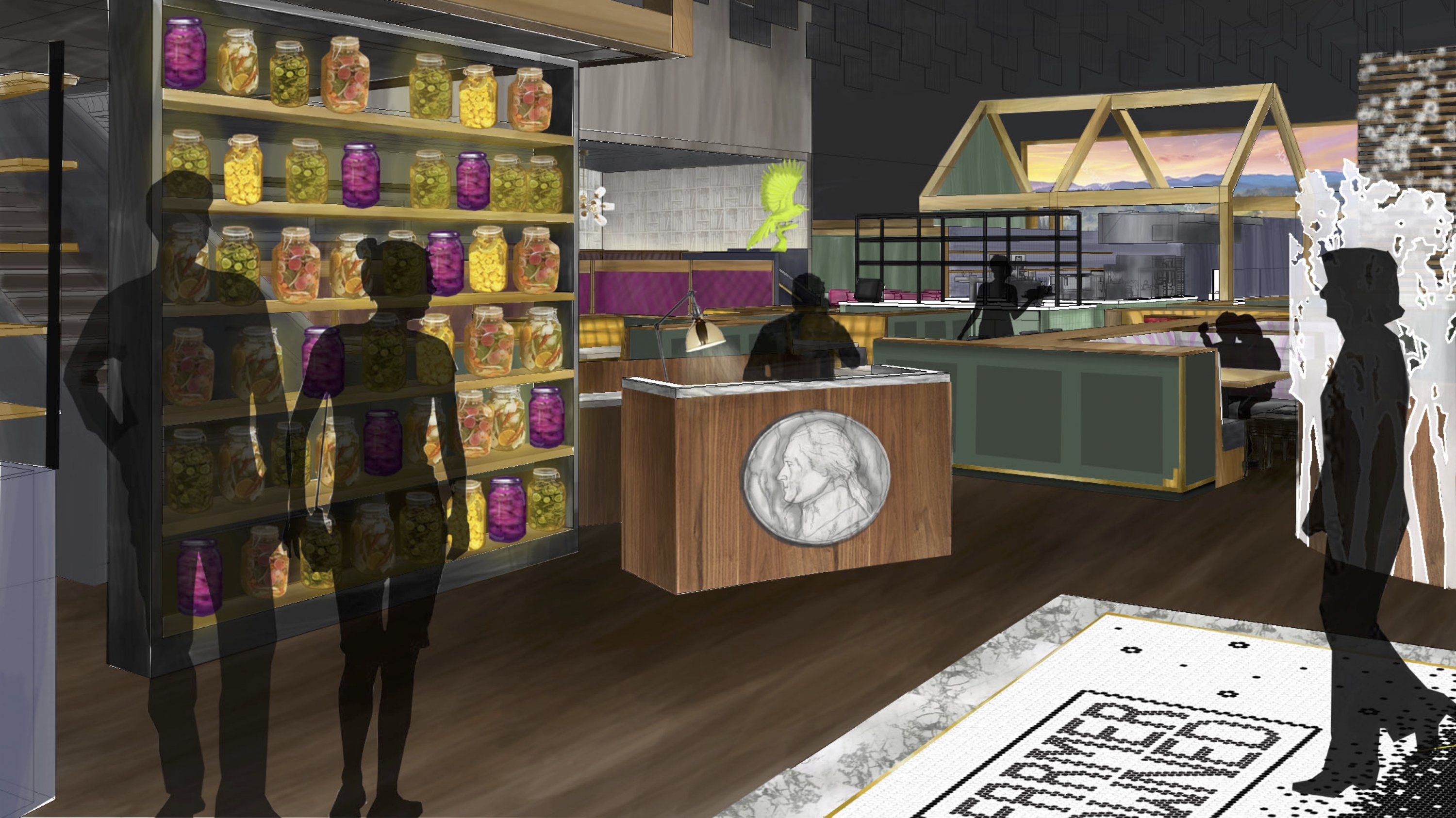 Cocktails will rely heavily on Farmers Restaurant Group's line of spirits, which include vodka, whiskey, rye, gin, and amaro. Beverage Director Jon Arroyo is trying a little bit of everything—a throwback Singapore Sling, a strawberry pisco sour—to see what Reston drinkers will go for. Also expect at least half a dozen beer cocktails, plus 24 draft beers (half from Virginia, half from elsewhere on the East Coast). The wine list focuses on organic and biodynamic wines, plus house rosé and white labels.
For the most part, drinks aren't part of the Founding Father theme, but there is one cocktail called "How Jefferson Would Have Liked It." The author of the Declaration of Independence was known for his love of madeira, but if he were around today, Arroyo thinks he'd probably go for a sour with rye whiskey and amaro.
Founding Farmers. 1904 Reston Metro Plaza Drive, Reston, Va. 
Correction: An earlier version of this story misspelled the name of Founding Farmers' executive chef. It's Joe Goetze, not Joe Goetz.