Have a Food Diary you'd like to share? Email kolsen@washingtonian.com.
Growing up a competitive swimmer, Kate Brock never had to worry about what she ate. "I was always burning more calories than I could consume," she says. A typical breakfast in high school consisted of an instant breakfast shake, a buttery croissant, and a chocolate chip cookie. "I was always thin, so no one ever questioned my eating habits. I was in the mindset that as long as I was skinny, I was healthy."
However, in college, her immune system plummeted. "I was constantly sick and in the hospital for stomach issues every other week. After college, things got significantly worse and I could barely eat. I tried being vegan, vegetarian, you name it. But things didn't get better."
After years of hospital visits—once during a vacation in Egypt—and seeing GI doctors who couldn't pinpoint the cause of her stomach issues, Brock discovered Whole30, which strips dairy, grains, legumes, and sugar from one's diet. "And it completely changed my life."
Now a certified Whole30 coach, Brock follows Whole30's "food freedom" approach to eating, which adds some flexibility to the traditionally rigid diet. Following a mostly Whole30 eating plan "makes me feel my best and keeps me out of the hospital. I also don't like to spend a lot of time cooking, so simple is always better."
To see what Brock eats in a day, check out her food diary below.
 Breakfast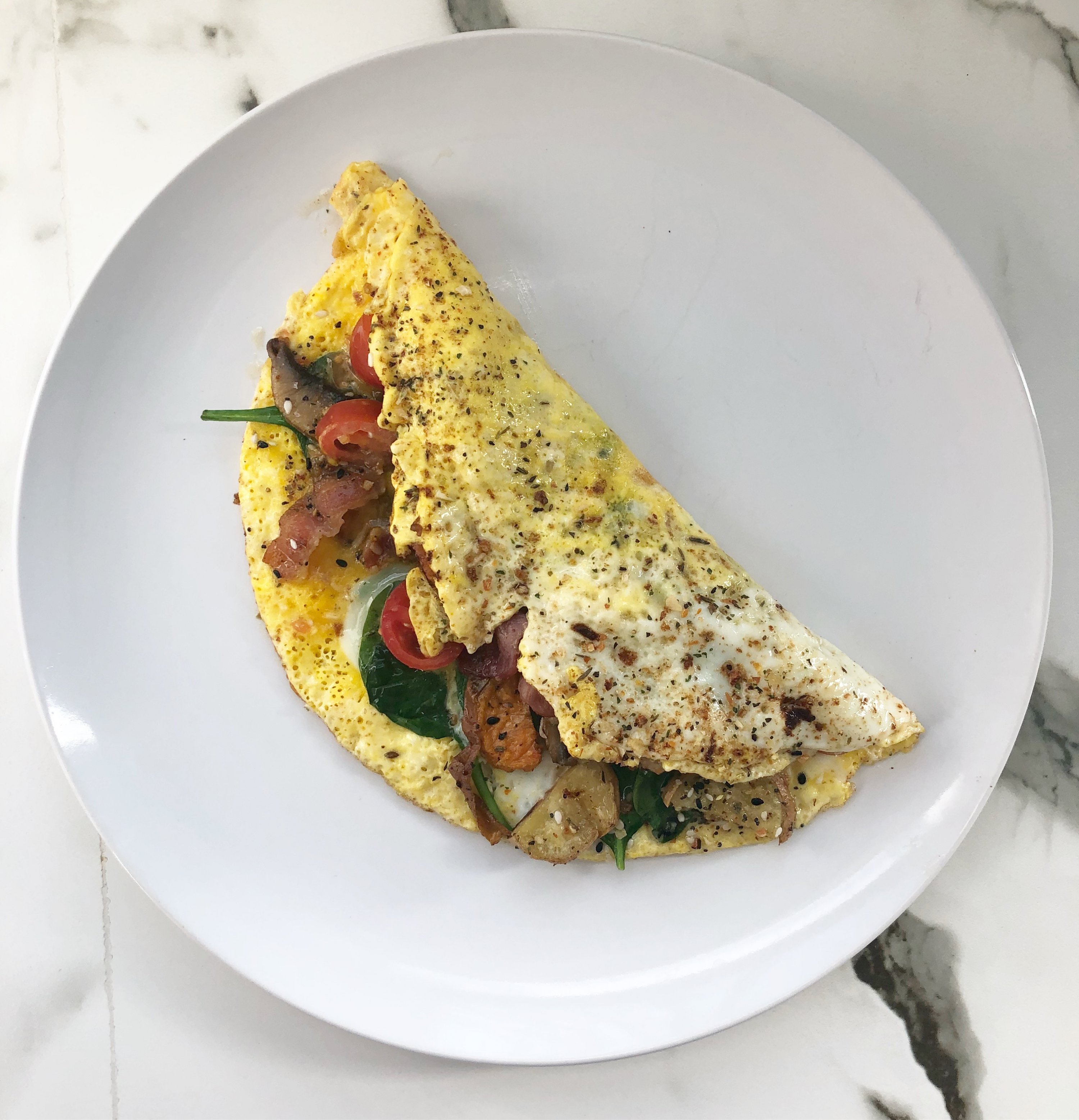 Brock starts her day with protein, veggies, and a little bit of carbs. "Since I'm super busy and always running around, I make sure that I have enough protein to keep me full until I'm able to eat my lunch," she says. This omelet has tomatoes, spinach, mushrooms, a little bit of bacon, and Japanese sweet potatoes for carbs.
Lunch
Lunch is usually leftovers from dinner the night before, paired with a salad. These tacos are made with tortillas from Paleo On The Go (an autoimmune-friendly meal delivery service), salsa verde, beef from PRE (another delivery service), tomatoes, and guacamole. "Ordering food from brands like PRE and Paleo On The Go cuts down on my trips to the grocery store and prep time significantly. These tacos only took me about 10 minutes to prep and cook." 
Dinner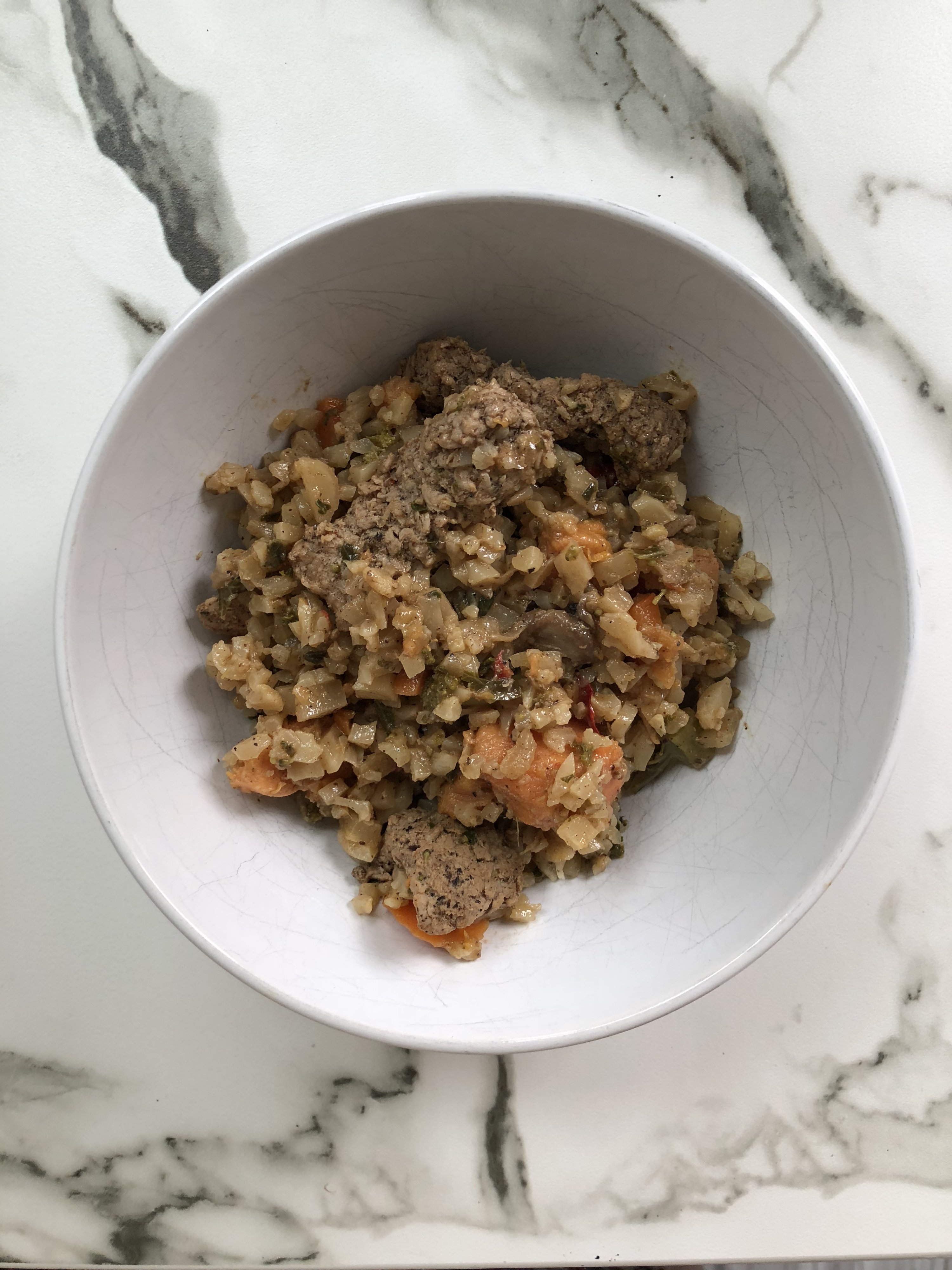 "Dinner, as you guessed it, is another easy meal. This is a blend of frozen cauliflower rice and sweet potato mixed with some pork, coconut aminos, and Yai's Thai almond sauce. So easy to make in big batches and eat all week, which I definitely do!"
When she snacks, Brock either has leftovers or, if she's on the go, a Whole30-approved DNX Bar or Epic Bar, both of which are made from grass-fed beef.
Have a Food Diary you'd like to share? Email kolsen@washingtonian.com.
Consult with your doctor before beginning a new diet. Washingtonian does not endorse any diet without the supervision of a medical professional.