They were just gloves, Louise Linton says. "I didn't take the bloody gloves off because it was cold! It was a little bit of a chilly day. Whatever. I liked that outfit, okay? Don't be mean to me because I wore a pair of gloves. This is the East Coast. People do occasionally wear a pair of gloves."
It's a frigid Thursday morning, and Linton is walking two of her Chihuahuas in Rock Creek Park, on a path along the water that she and her "hubby"—as in Secretary of the Treasury Steven Mnuchin—enjoy trekking together. We have the whole morning to talk, and she has prepared accordingly, wearing a black Calvin Klein coat, black J Brand jeans, and black Uggs (her attachment to the last of these is one that her close friends don't quite understand). Her fringed cross-body bag is stuffed with Kleenex, her dogs snug in pink and blue parkas. But before we get too far, Linton would like to go ahead and clear up a few things, because she knows that the questions about those gloves, for example, will come, and it would be more comfortable for everyone if we just addressed them now.
Here's the thing, she tells me. She knows she was a "bozo" for that "silly" Instagram post last August. You know the one, where under a photo of her and her husband descending the steps of a military jet, she hashtagged her designer baubles (#rolandmouret, #hermesscarf, #valentinorockstudheels) like a crazed Real Housewife and then belittled an Oregon mother in the comments for not being as fabulously wealthy as she. (More on this later.) It was cruel and dumb, the pictorial essence of the excess and obliviousness that often define this administration. She gets it—not a great look.
But "the money picture," as she calls it? "I don't really know what I did wrong," she says, exasperated. This was the photo of her and Mnuchin and the giant sheets of singles that went viral in the fall, when she joined him at the Bureau of Engraving and Printing for a first look at the money bearing his signature.
"It was a really big moment for my husband," she says. "In the same way that a promotion or something like that for any other husband or wife in America is kind of like a big deal—not that I'm comparing it exactly to a promotion, necessarily, but it was a fabulously exciting day for him."
So naturally Mnuchin said, "Darling, I want you to come along. I want you to see, it's so exciting." And naturally his wife replied, "Fabulous—I'd love to be there to support you."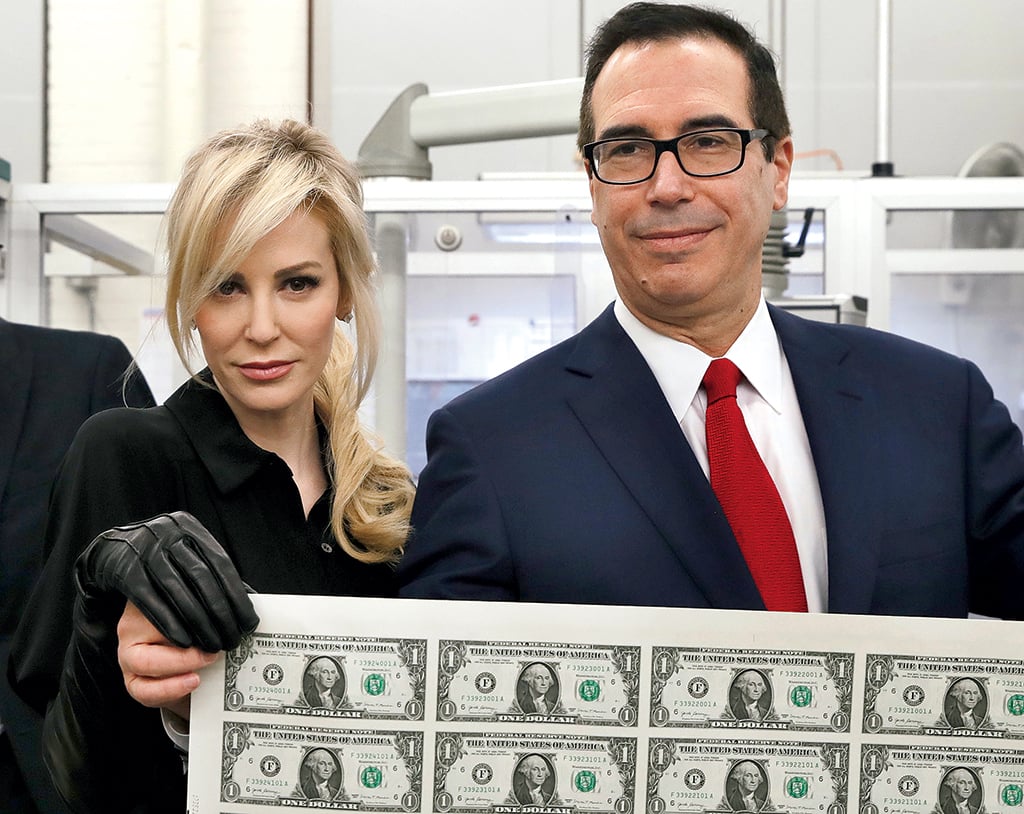 The outfit seemed proper for Washington—monochrome, sophisticated. It was a Michael Kors ensemble just off the runway, all black, a blouse and wide leather belt and tea-length leather skirt and a statement pair of elbow-high leather gloves—impossible to miss.
She watched as multiple photographers snapped pictures of Mnuchin holding a sheet of $1 bills, then heard him say, "Honey, come in the picture." So it was spontaneous, she says. She placed one gloved hand over the money, and the camera shutters took off.
"Then, naturally, they"—that is, the media, with their penchant for "controversy" and "meanness" and "vitriol"—"didn't use any photo once my face was natural and settled. They deliberately selected a photo where I was still stepping into the picture, and it made me look like, 'Mwahaha,' like the cat that got the cream." Indeed, Linton's lips were pursed, eyes narrowed, affect self-satisfied, as though never in her life had the woman who grew up in a Scottish castle and married a man worth $350 million clutched something so precious.
The internet erupted. "Linton is Cruella de Vil," Vogue declared. But when Linton says she doesn't understand why the photo went viral, why she was vilified "like I'm a terrible person," I believe her. Not because she's willfully ignorant or a ditz—to the contrary, I found her to be introspective and quite witty. But because there's a circumscribed code of Washington that Linton, after one year in town, still didn't seem to get.
It was so strange because I thought Washington was going to be so grown-up and everyone was going to be so nice.
Washington elites don't show off their pearls and Asscher cuts to Town & Country (as Linton did before her wedding to Mnuchin) or self-publish bizarrely inaccurate memoirs about their gap year in Africa (as Linton did in 2016, before removing it from sale after a brutal public skewering). The spouse of a Cabinet member doesn't upstage the Secretary. (When was the last time you even heard about the spouse of a Secretary?) Also, Linton is cheeky and bubbly and likes to look sexy. In other words, as one White House official who considers her a friend puts it, she sometimes breaks the "rules" of DC. "Don't talk too much about yourself. Don't talk too much about work," the official says. "I just find her to be playful and fun, and that can rub people here the wrong way. She's not stuffy."
That bothered Linton at first, the gossip and all, the feeling that she just couldn't quite fit in. She had come from Los Angeles, after all, where life was supposed to be razzle-dazzle and frivolous, where tiny denim shorts and a fitted T-shirt, for example, weren't improper but a uniform. The first several months in Washington were hard: Why was making friends so difficult?
Linton will now have you know she has found her footing. She has become close with her wedding planner and some fellow wives of Cabinet members. She doesn't feel bad about declining the occasional dinner invitation to stay in and play with her Chihuahuas. She has made peace with the whole Instagram fiasco. She apologized, felt deep remorse for what happened, and has moved on—even if others haven't.
And people really do need to chill out about the gloves.
So perhaps it's not exactly right to say that Linton still doesn't get Washington. Perhaps the reality is that she understands precisely what's expected of her. Perhaps it's just that she no longer cares.
---
Linton describes coming to Washington as like being sucked through a broken window in an airplane flying at 30,000 feet. Which is the 37-year-old's very specific way of saying "it all happened so fast" but, if we're being honest, also suggests a very sudden death.
She liked her LA life. She had a core group of girlfriends, some of whom she'd known since day one of her freshman year at Pepperdine. (Linton was a Theta, her best friend a Delta Gamma. "Louise didn't have a car freshman year, and I did," the friend says, "so we'd go into the city or Santa Monica in my little Volkswagen.") As grownups, they'd order in dinner and go to rooftop lunches and spin classes and dish about their lives over soy-milk lattes. Linton had her work—roles in movies and television shows, running her own production company. She had her dogs—Teddy, Bisou, and Beersy (short for De Beers). They liked their LA life, too, and that, of course, was important. Linton enjoyed walking them in the "balmy morning air" alongside the palm trees or letting a couple of them play off-leash in Rancho Park.
Then in May 2016, Mnuchin, at the time her fiancé, signed on as finance chairman of Donald Trump's campaign. That was fine: He had to travel quite a bit, and things were busy, but they always had been—he was a finance guy, after all, and also ran a film-production company.
"In retrospect, it all feels like it was such a whirlwind," Linton says, "because while we hoped that everything would turn out well with the campaign and the election, I don't think we were prepared for uprooting our lives and moving over here." Which I take to be her very polite way of saying they thought there was no way in hell Trump would actually become President.
So when Mnuchin was tapped as Treasury Secretary, Linton found herself decamping from her airy Bel-Air mansion to the gaudy confines of the Trump International Hotel in Washington. When they first arrived, "Steven was very busy, of course, so I felt a bit isolated," she says. "I knew no one."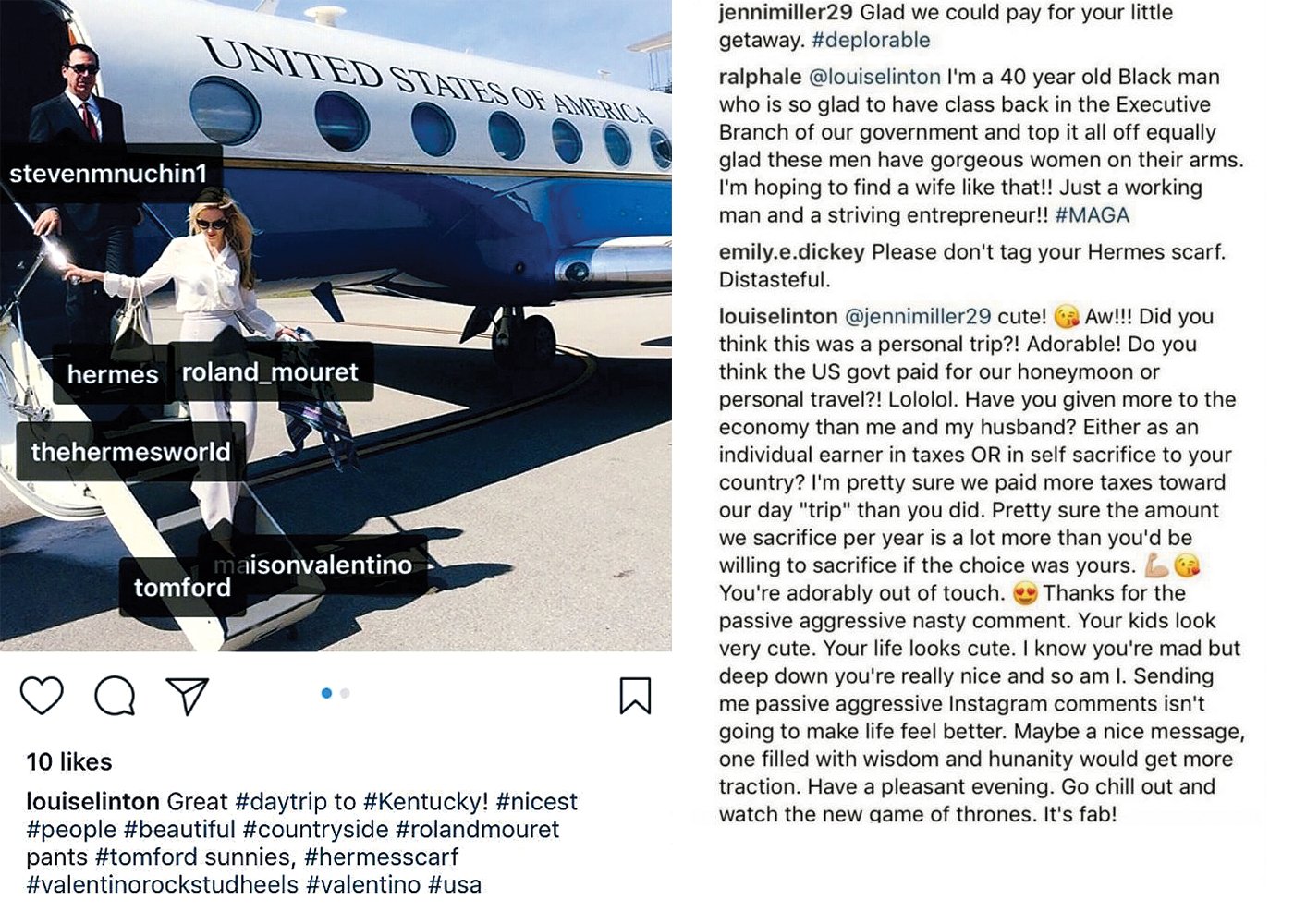 They lived in the hotel for six months while she occupied herself with making over their new $12.6-million home in Massachusetts Avenue Heights. "I had to get it decorated quite quickly so Steven's children could visit, because something that was important to us was making sure they felt as though they had a home here," she says. (Mnuchin has three children from a previous marriage, a 16-year-old and 14-year-old twins.) "So I didn't hire a decorator. I did it myself. I spent the days mostly in this exact outfit—this coat, these Ugg boots, leggings, no makeup, my hair tied up in a bun, Ubering back and forth between the hotel and the house, measuring."
We pause for a moment when Bisou's leash snaps taut. "Oh, baby, I'm sorry," she coos in her Scottish lilt. She crouches down to maneuver the tiny black-and-white, Louis Vuitton–collared dog from a tangle of twigs. "Her foot was stuck. Come on, then, come on."
This reminds her: She didn't have her dogs those first few months, and that compounded her loneliness. It's not that they weren't allowed in the hotel. "It was more that they were happier back in Los Angeles. I didn't want to keep three dogs in a small hotel room," she explains. "My elderly dog—I didn't want to take her up and down in an elevator for her to go out to the loo. It wasn't convenient for them. I missed them horribly, though."
But summer came, and the house was finally ready and the dogs were en route and this, she hoped—this was the moment her real life in Washington would begin.
---
First things first: She wanted girlfriends. Women who could pop over for a glass of wine one evening, or join her for a pedicure at Oriental Oasis on Vermont Avenue on a Saturday (she likes to bring one of the Chihuahuas in her dog carrier), then catch up over coffee at Kafe Leopold in Georgetown after. When invitations to parties and charity events began to trickle in, those seemed as good a place as any to go find them.
It wasn't a smashing success. One woman, for example, found herself seated near Linton at an outdoor affair at the start of summer, before she and Mnuchin were married. The woman is a well-regarded philanthropist in town, and it was the first time she'd come in contact with Linton. "I thought she was totally ridiculous," the philanthropist recalls.
Alone in her office as we speak, the woman then lowers her voice to a barely audible whisper, as though Linton's transgressions were beneath the dignity of a conversational tone: "She changed her place card."
"She did not know how to deal with the dignitary she found herself beside," she adds, her voice back to a normal octave. I ask if she could elaborate a bit. Was Linton gauche? Impolite? But several months after the fact, the philanthropist still seems too stressed by the whole thing to say more. "She just has to learn Washington protocol," the woman says.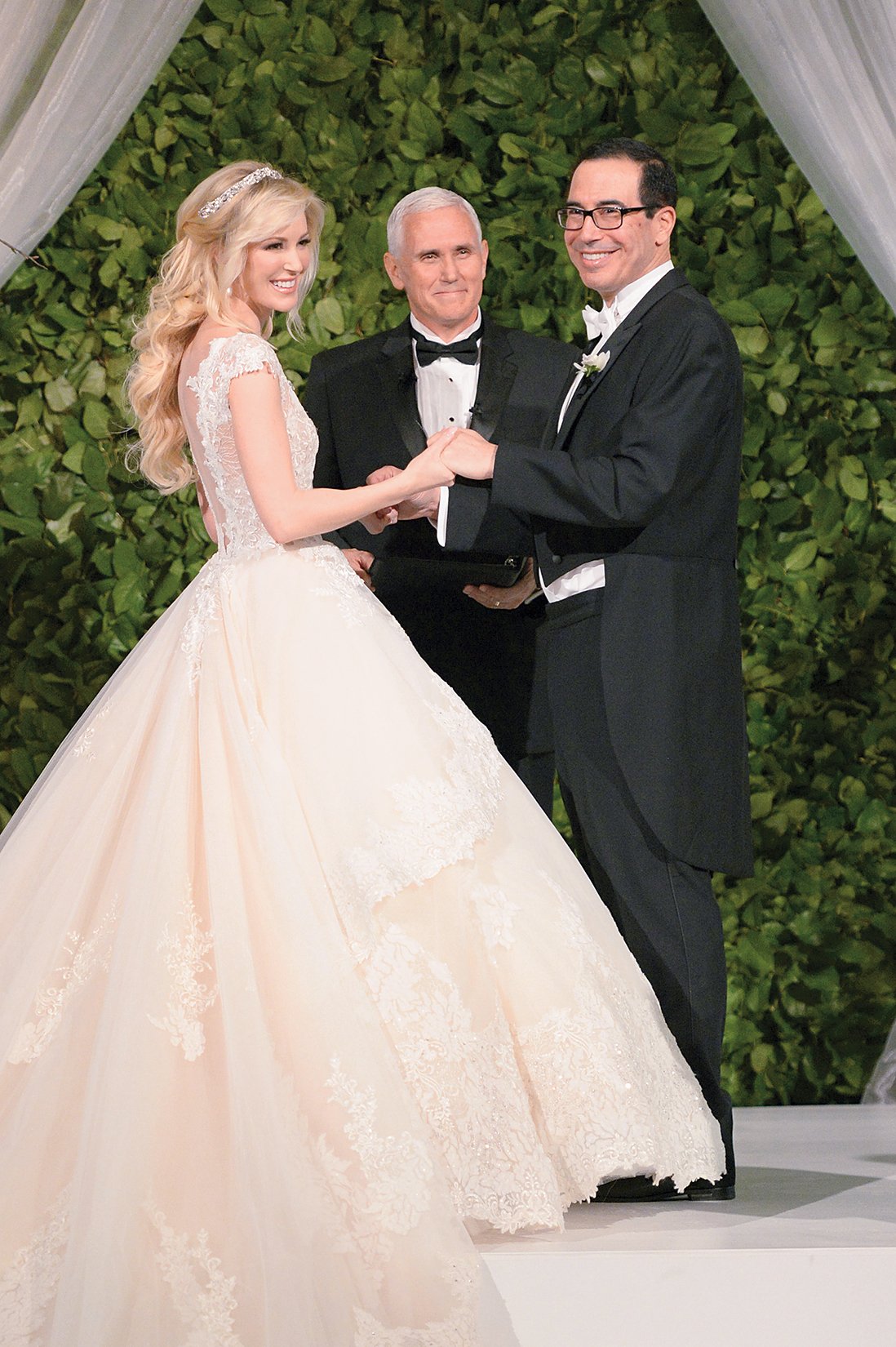 Linton calls the tale a farce. "As a new person to Washington, I know never to do something like that," she says, adding: "I'm not some ditzy moron who has no idea how to deal with a diplomat as if they're some exotic animal." Rima al-Sabah, über-hostess and wife of the Kuwaiti ambassador, e-mails me to say, "I have seen Louise in many different social events with dignitaries—foreign and domestic—and she is charming, graceful, poised, and delightful."
Trivial though it may seem, the episode reflects the painful marriage of the Trump administration and the city as a whole—a union that came about, in large part, because of the former's resentment of the latter. Both camps greeted each other with suspicion from the outset, which was unusual in that it felt personal, not partisan. Barack Obama and his cohort may not have been regulars at Sally Quinn's dinner parties, either, but Lord knows there were always plates waiting should they decide to show. Not so for Team Trump. One prolific hostess and partygoer says that if she ever has a Trump official in her home, "they usually aren't recognizable. But I will still go out of my way to make sure people don't know that person works for Trump." It's not just about "insider versus outsider" politics—it's about character: "These people don't share our values."
The social collateral in this paradigm becomes someone like Linton. She may be a Trumpian by marriage who, more than #draintheswamp, really just wants to find people to hang out with. But it doesn't matter: Battle lines have been drawn.
Ask her if the tenor of the President's campaign or administration—his comments about Mexicans, Muslims, the sexual-harassment allegations—have ever made her uncomfortable, and she demurs: "I can only speak to my experience seeing the President in person, and I've only seen him be warm, kind, and respectful to everyone regardless of their gender, race, nationality, or identity.
"It was so strange because I thought Washington was going to be so grown-up and everyone was going to be so nice," Linton tells me, brushing a lock of hair from her eye. "Then people were saying to me, 'Watch your back in DC.' Why? Really? I have to watch my back in DC?
"I feel like I learned you can't quite be as open or as silly or as goofy with new friends here," she adds. "Because, like I was told, sometimes you have to watch what you're saying to people. . . . It's not like they hand you a Washington how-to guide when you get off the plane."
---
There's a running line inside Treasury that Linton is the agency's "first lady." This is not meant as a compliment.
Linton spent part of that lonely initial stretch in Washington making what some call "frequent" appearances in the building. Treasury employees recall the signs of her arrival, including the sound of "incredibly high heels" clicking down the hallway. And then her unmistakable silhouette, the big bag and structured coat and long hair and beautiful sheath dress. "I've worked at Treasury for the last couple of Secretaries, but I never could have identified their wives. They didn't just wander in," says one recently departed official. "She was around once a week for a while."
Former staffers describe how Linton would glide into the anteroom outside Mnuchin's office and chirp, "Where's my hubsies?" Recalls the ex-official: "And they're like, 'Um, he's on the phone with the chief finance minister of France, but if we need to interrupt him. . . .' "
The agency became a backdrop in preparations for Linton and Mnuchin's nuptials. A few weeks before their June wedding at the Andrew Mellon Auditorium, Linton met Mnuchin in his office so his assistant could notarize their prenup. Then, just before the wedding, Linton brought her family to introduce them to Mnuchin's staff and give them a tour of the building. (It was the first time her father, in his eighties, had been to Washington.) All of which were things some Treasury employees found "disrespectful."
"It's just unseemly that she perceives herself as 'first lady of the Treasury,' which is not a thing," says another recently departed official. "[Former Treasury Secretary Jack] Lew's wife did not accompany him to hearings, did not come take pictures. It's very upsetting to see them try to make the Treasury Department like Hollywood."
What's more, the onetime staffer says, Mnuchin himself seemed to encourage it: "Whenever there is a public event, or even a private dinner, the first words out of his mouth are 'Can Louise come?' "
According to Treasury spokesman Tony Sayegh, "We have welcomed Louise to the Treasury building nearly a dozen times. She has been absolutely respectful of her husband's role and gracious to the staff on every visit. Comments to the contrary are ridiculous fabrications made by people with an unserious relationship with the truth."
It's not necessarily the case that Linton attends more functions than other Cabinet spouses. (She recently opted against Davos for a trip to LA, where her company is filming a romantic comedy and developing several action pictures.) But if she seemed an enthusiastic presence alongside her husband, especially toward the beginning, she says it's because "we moved here and I didn't really have any friends. At that time, for him to bring me to a dinner was a way to make me feel more included."
There's a more obvious explanation, too, but one that doesn't comport with the rich-guy/trophy-wife caricature that most have drawn: They just like hanging out with each other. "We're newlyweds. I love him. He's my favorite person on the planet," she says. "Why is it strange that we might want to spend time together?"
She tells me about the week before, when she returned from visiting her family in the UK. Mnuchin surprised her by meeting her at Dulles, the night before he was to leave for Davos. "I was like, 'Honey, what are you doing here?' He said, 'Well, we only get to see each other this evening, so I thought, hey, it's an extra 45 minutes we get to hang out in the car and catch up and chat.' "
It's just unseemly that she perceives herself as 'First Lady of the Treasury,' which is not a thing.
The couple met in 2013 at a wedding reception in LA. Linton was in a relationship at the time, but she left the event thinking Mnuchin was "funny" and "cool." The usual characterizations of him as "weird" and "awkward," says her longtime friend Aida Takyrbasheva, are off-base. "They're really hilarious together. That's the part no one gets to see," Takyrbasheva says. "They're the biggest dorks. Steven flew in to surprise her one night in LA when I was there, and we just hung out all night and watched Trolls."
Their date nights in Washington are typically low-key. They haven't tried as many restaurants in town as Linton would like—they can't get reservations at some of the "cool, hip" ones such as Minibar, she says, because their plans are always so last-minute. But they love—let me be clear, love—Cafe Milano. (He gets the chicken Milanese, she the panzanella salad.) Linton says the best nights, though, are when they order in from Saigon Kitchen—using fake names, for security reasons—and watch Game of Thrones.
By now, it's nearly noon and we're sitting in a patch of sun outside Kafe Leopold. Her iPhone, which is adorned with a unicorn PopSocket, starts buzzing on the table. "Oh!" Linton says. "It's my hubby."
"Hi, baby!" He's calling from Davos. "Okay, that sounds fun, that sounds fun. . . . Gosh, it's nonstop, isn't it? . . . Aw, well, fab. I'm just very, very busy. Everything's great. So try to get some rest tonight. It sounds overwhelming. . . . Oh, good! That's fun. Say hi. . . . "
A stretch of mumbles, then: "When do you get back? What time?
"Yay!" she squeals. "Yaaaaaaaaay!" She giggles. "But I'm not going to come and pick you up from Dulles."
---
On the corner of 23rd and M streets in the West End is a nearly pitch-black room in which people bounce up and down on stationary bikes to ear-splittingly loud electronic dance music while an instructor with a mike commands them to release that tension and let it all go. This is not the only location at which the ritual of SoulCycle takes place, but it is one of Linton's favorites, often on Fridays at 8:30 in the morning.
When I agree to meet her for this class, she apologizes in advance, because only the "sidebar" is available. "Are you okay with that? Are you a sidebar girl?" What is a sidebar? Am I a sidebar girl? Because I am prideful, I tell her, "Yes, totally!"—and, because I am unfit and afraid, pop an Adderall.
It is the goal of most women I know to be gazed upon by a lover in the way Louise Linton regards a bike at SoulCycle. I learn that the "sidebar" is the small number of bikes flanking the instructor at the very front of the room, which is to say I learn that I'm not a sidebar girl but that Linton very much is. She's wearing a black sports bra, black leggings, and, around her wrist, a thick black sweatband whose function I can't quite discern. When the beat of Tove Lo's "Talking Body" drops and we're instructed to swing our hips maniacally from side to side, I look over at Linton, who moves perfectly with the rhythm, her eyes closed, and I realize I'm witnessing something akin to a spiritual act.
Linton would not be the person she is today, in Washington, were it not for SoulCycle. In the same way that many find their friends at work or book club or Bible study, Linton socializes at spinning class. She'll go there many mornings with Amy Baier, wife of Fox News anchor Bret Baier, or her wedding planner, Ramsey Ratcliffe. She might rejoin Ratcliffe for lunch later at Cafe Milano, texting in the interim about what outfits they'll wear. Some days, she'll bring Mnuchin with her to class. (A source who took an afternoon session with them tells me Mnuchin sat on the bike behind Linton. Between songs, she'd turn around and blow him a kiss.) And as someone who tries to go every day, whether in the West End or Georgetown, she has become friendly with some of the instructors.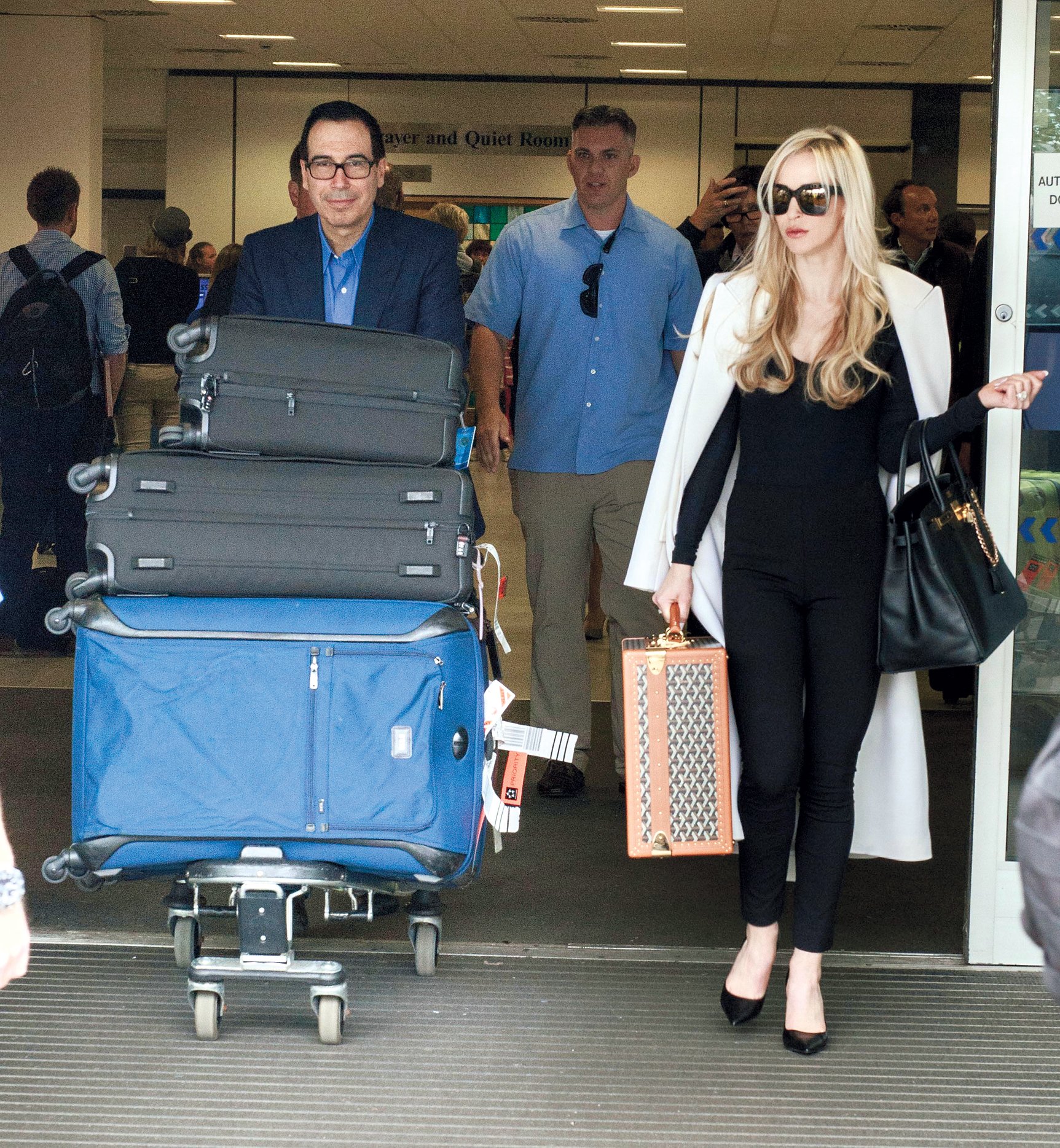 Those were all meaningful connections to have, especially last August when Linton made the very poor decision to post her airplane Instagram. The designer-bait hashtags were one thing, but her response to a commenter, who questioned whether the couple was jet-setting on the taxpayers' dime, is what sent things spiraling: "Aw!!! Did you think this was a personal trip?! Adorable! Do you think the US govt paid for our honeymoon or personal travel?! Lololol. Have you given more to the economy than me and my husband? Either as an individual earner in taxes OR in self sacrifice to your country?" In other words, the girl who attended Scottish boarding school, sports ice-blond hair and eyelash extensions, and married a meg­a-millionaire almost 20 years her senior affirmed your crudest assumptions about her character.
Those who know her well were taken aback. "Because she generally is able to handle everything with poise and elegance, I was surprised she just reacted," Takyrbasheva says.
"I suppose it came from a sense of lacking self-esteem," Linton reflects. "It was really ludicrous and out of character, and I deserved the good, hard slap on the wrist that I got. It was unpleasant but necessary."
According to White House counselor Kellyanne Conway, the "mean girls" of DC were on edge about Linton well before Instagramgate: "I always wanted to say to others, 'I'm sorry she's gorgeous, she's skinny, she's young!' It was easy for those already prone to jealousy and cattiness to be gratuitously unfair or uncool to Louise when she got here, since she's prettier, younger, and skinnier than the rest of us."
But the tone-deaf blunder made Linton seem radioactive. After all, it has long been standard operating procedure for politicians and appointees to profess humility at the opportunity to serve their country. The ones who act as if they're doing the country a favor, or who don't speak in hushed tones about the privilege, offend permanent Washington's entire sense of self.
Never mind that Linton apologized immediately—an anomaly in this administration. "It was just the kiss of death," Sally Quinn says.
"Young women who find themselves in positions of importance in DC should make every effort to help society," echoes Ann Nitze, a Georgetown art dealer. "I have no indication she's done that."
Word may not have gotten out, but Linton does have a cause: animals. She's a longtime "ambassador" to Mutt Match in LA, which rehabilitates abandoned dogs (Teddy, Bisou, and Beersy are all rescues), and a supporter of Kenya-based Ol Jogi, where she focuses on rhino conservation. Linton is also an adviser to the Humane Society of the United States and has met with Interior Secretary Ryan Zinke to discuss controlling the country's wild-horse population in a humane way. She recently hosted an animal fundraiser in her home for Space for Giants, an elephant-advocacy group.
"We were on the phone last summer, and I asked her, 'How was the honeymoon?' " recalls Richard Ustinich, a friend and fellow dog lover from California. "She said, 'Oh, it was really nice, but I would have enjoyed it more with my dogs.' "
It may be that in just one year Linton caught on to the old maxim that takes most people a lot longer to understand: If you want a friend in Washington, get a dog. (Or three.) In reporting this article, I wasn't surprised by how many prominent DC women were eager to bash Linton (all off the record, of course). Rather, I was surprised by how many seemed annoyed—offended, even—that she had never seemed desperate to get to know them. "She's not interested in us. She couldn't care less about us," says the well-regarded philanthropist from l'affaire place card. "She wants to be in the magazines and that kind of thing."
One source dripped with disdain when discussing Linton's conduct at Cafe Milano's 25th-anniversary party in November—the problem, as best I could tell, being that she "sequestered herself in the corner" with her husband rather than getting up and working the room. "She would never be invited to Katharine Graham's parties," the source said.
It seemed pretty clear that Linton would never win this town. That's because, yes, she does want to be in the magazines. She wants to be a movie star, rescue more animals, have a baby, go to SoulCycle, and eat salads at Cafe Milano—none of which has much currency in Washington. The best thing about Linton may be that she doesn't pretend otherwise.
When our SoulCycle class concludes, Linton congregates with a few of her friends in the lobby. They gush about one girl's upcoming wedding and about Oribe shampoo. Someone mentions an article she read about Amazon, how the nice skin-care products are often knockoffs. But Linton doesn't want to hear it, because she gets everything at Amazon. Then her eyes widen as she talks about LA: She's leaving the following week for more than a month to work on her rom-com. "I feel like I'm going to be like, 'Yes! Liberty!' as soon as I arrive," she says. The women will miss her, but as they listen to her rhapsodize about the sun and the air, her old friends, the ease of it all, they can't help but agree: California does sound nice right about now.
This article appears in the April 2018 issue of Washingtonian.